Louis Gomez Named Inaugural Holder of Faison Chair, First Director Of Center for Urban Education
By Patricia Lomando White
Issue Date:
June 23, 2008
Kimberley Gomez to join School of Education, LRDC faculty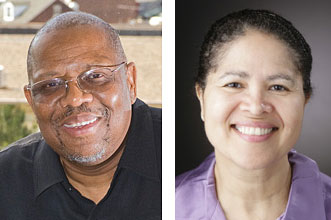 Pitt's School of Education has announced that Louis M. Gomez, Aon Professor of Learning Sciences and Professor of Computer Science at Northwestern University, will be the inaugural holder of the Dr. Helen S. Faison Chair in Urban Education at Pitt and the first director of Pitt's Center for Urban Education.
In addition, Gomez, who will join the University in January 2009, will serve as senior scientist in Pitt's Learning Research and Development Center (LRDC).
Kimberley Gomez, associate professor in the University of Illinois at Chicago's College of Education and a researcher in its Learning Sciences Research Institute, also will join the Pitt faculty in the School of Education's Department of Instruction and Learning and Learning Policy Center and as a research scientist in LRDC.
"The challenge of filling a chair named for Helen Faison was daunting," said Alan Lesgold, dean of Pitt's School of Education. "She is a giant, and we very much wanted to find someone who was both a strong scholar and dedicated to assuring that every child who goes to school in a district like Pittsburgh can become a full and successful member of our global world. We have found such a person in Louis Gomez, and we are doubly blessed by having both Louis and Kimberley Gomez join our faculty."
Louis M. Gomez, who also serves as Learning Sciences Program coordinator at Northwestern, works with school communities to create social arrangements and curricula that support school improvement. He was a codirector of the National Science Foundation-sponsored Center for Learning Technologies in Urban Schools (LeTUS), a partnership comprising the Chicago Public Schools, the Detroit Public Schools, the University of Michigan, and Northwestern. Working with colleagues, Gomez has been dedicated to collaborative research to bring state-of-the-art computing and networking technologies into use in urban schools. Along with several colleagues, he was a founding member of the MacArthur Network on Teaching and Learning, which sought to understand and explore the relationship between research and practice in education. His ultimate goal is to transform instruction in urban schools while supporting the formation of communities within schools. He has worked extensively in Chicago-area schools for more than a decade.
Gomez is currently a board member of CAST (Center for Applied Special Technology), which has earned international recognition for its development of innovative, technology-based educational resources. He just completed two terms as a trustee of the Carnegie Foundation for the Advancement of Teaching. He also has served as a member of the advisory board of the National Research Council's Center for Education and as chair of the Educational Testing Service's Visiting Panel of Research. He is a recipient of the Spencer Foundation Mentorship Award.
Prior to joining the Northwestern faculty, Gomez was director of Human-Computer Systems Research at Bellcore in Morristown, N.J. At Bellcore, he pursued research programs to investigate techniques that improve human use of information-retrieval systems and techniques that aid in acquiring complex computer-based skills.
Gomez' publications include "Reading for Learning: Literacy Supports for 21st Century Work" with Kimberley Gomez, Phi Delta Kappan (2007); "Creating Social Relationships: The Role of Technology in Pre-Service Teacher Preparation" with Meriam Sherin and others, Journal of Teacher Education (2008); "Exploring Coherence as an Organizational Resource for Carrying Out Reform Initiatives" with Christine Madda and Richard Halverson, Teachers College Record (2007); "Preparing Young Learners for the 21st Century: Reading and Writing to Learn in Science" with K. Gomez, Invitational Paper Series of the Minority Student Achievement Network, (2007), Evanston, Ill.; "Integrating Text in Content-Area Classes: Better Supports for Teachers and Students" with K. Gomez and P. Herman, Voices in Urban Education (2007); and, in press, "Supporting Reading-to-Learn in Science: The Application of Summarization Technology in Multicultural Urban High School Classrooms" to appear in Research in Technology Use in Multicultural Settings, R. Bloymeyer, T. Ganesh, and H. Waxman (Eds.).
Gomez received the BA degree in psychology from the State University of New York at Stony Brook in 1974 and the PhD degree in cognitive psychology from the University of California at Berkeley in 1979.
Kimberley Gomez is a learning-sciences researcher whose work focuses on helping children of color experience more equitable opportunities to learn in underserved middle and high schools. At the center of her research and design efforts is the support of literacy to achieve equity. Current projects include a study of the relationship between reading achievement and science achievement with 9th through 11th graders in seven Chicago high schools and a study of technology-rich urban after-school programs, with a particular focus on the development of new media literacies.
Kimberley Gomez' work has appeared in various publications, including Linguistics and Education, Phi Delta Kappan, the Journal of Adolescent and Adult Literacy, Education and Urban Society, and The Journal of Negro Education. Her edited volume with Katherine Richardson Bruna, The Work of Language in Multicultural Classrooms: Talking Science, Writing Science, will be published by Routledge/Erlbaum in July.
Kimberley Gomez received the BS degree in speech pathology from the University of Florida in 1978, the MS degree in speech and language pathology from Florida State University in 1980, and the MS and PhD degrees in educational psychology from the University of Chicago in 1991 and 1994, respectively.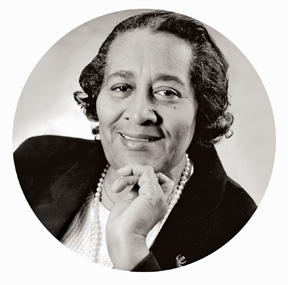 The Faison Chair was established in 2006 to honor Pitt alumnus and emeritus trustee Faison (right), a trailblazing educator who earned all her degrees in Pitt's School of Education—the BS degree in 1946, the MEd degree in 1955, and the PhD degree in 1975.
Faison's storied career includes serving as Pittsburgh Public Schools' first female and first African American high school principal and its first African American superintendent. She has earned a number of accolades from the University, including an honorary doctorate as well as recognition as a Legacy Laureate—a designation that honors Pitt alumni for their outstanding personal and professional accomplishments. She also was named a Distinguished Alumna by both Pitt's African American Alumni Council and the Pitt School of Education.
"Those of us who are familiar with the two institutions—the University of Pittsburgh and Pittsburgh Public Schools—view the appointment of Dr. Gomez to be of mutual benefit," said Faison, Distinguished Professor and director of the Pittsburgh Teachers Institute at Chatham University. "Together, the School of Education, in its preparation of teachers and administrators for the schools, and the Pittsburgh Public Schools, in its delivery of educational services, can expect to achieve the district's goal of 'Education For All.'"
"We at the Pittsburgh Public Schools (PPS) are thrilled that Louis Gomez will be a partner in our work and congratulate the University of Pittsburgh for bringing a nationally respected scholar to our city," said Mark Roosevelt, PPS superintendent. "What most impresses us about Dr. Gomez is that he makes working with urban students and educators his priority. He is no 'ivory tower' professor, and we look forward to working closely with him and Kimberley Gomez as we move forward with the University Partnership School at Milliones.
"Helen Faison is a remarkable figure in the history of the Pittsburgh schools, and we will all best honor her by bringing scholarship and practical knowledge to bear in the interests of better educating our students," Roosevelt added.
The first fully endowed chair in the 98-year history of the School of Education, the Faison Chair was funded through gifts from the Buhl Foundation, the Richard King Mellon Foundation, and the Grable Foundation, with additional support from the Falk Foundation.
Other Stories From This Issue
There are no stories for the issue at this time.
On the Freedom Road

Follow a group of Pitt students on the Returning to the Roots of Civil Rights bus tour, a nine-day, 2,300-mile journey crisscrossing five states.
Day 1: The Awakening
Day 2: Deep Impressions
Day 3: Music, Montgomery, and More
Day 4: Looking Back, Looking Forward
Day 5: Learning to Remember
Day 6: The Mountaintop
Day 7: Slavery and Beyond
Day 8: Lessons to Bring Home
Day 9: Final Lessons