Media-literate Teens May Be Less Likely to Smoke Cigarettes, Pitt Study Finds
By Amy Dugas Rose
Issue Date:
February 2, 2009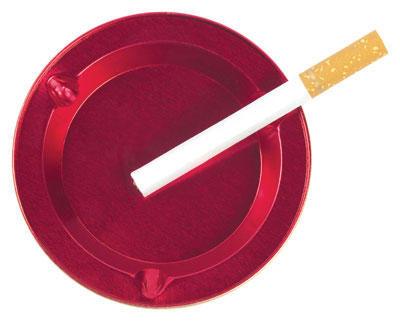 Adolescents who are skilled in interpreting media messages about tobacco may be less likely to smoke and less likely to start smoking in the future, according to a study by University of Pittsburgh School of Medicine researchers. The report is online in the American Journal of Health Behavior.
In this study, researchers assessed the media literacy of more than 1,200 adolescents. Media literacy is defined as the ability to understand, analyze, and evaluate media messages in a wide variety of forms. Building on previous research, the study focused on determining associations between smoking outcomes and particular types of media literacy.
"Of the 442,000 people who die from smoking each year, the majority began smoking at age 18 or younger, and we know from our prior research that media exposure to smoking contributes strongly to the initiation of the habit in adolescents," said Brian Primack, assistant professor of medicine and pediatrics in Pitt's School of Medicine and lead author of the study. "In addition to attempting to change the way smoking is portrayed in the media, we can, as educators, develop innovative and effective ways to help young people analyze and interpret the smoking-related messages they see in the media. This research could help to focus those efforts."
Researchers issued questionnaires to students at a Pittsburgh public high school to gauge their knowledge of and attitudes toward tobacco advertisements and movie placements. Of those who participated, 19 percent were current smokers, while 40 percent of the nonsmokers were identified as being likely to smoke in the future—figures that reflect national averages.
Students participating in the study were asked 18 questions related to three types of media literacy, including questions that focused on the portrayal of the tobacco industry as powerful and manipulative; the promotion of tobacco using appealing images and logos to evoke emotional responses; and the ironic difference between positive portrayal of tobacco in the media and the true effects of tobacco use on health.
The researchers linked students' responses on a broad range of questions related to media literacy to their current smoking habits and likelihood of smoking in the future. Most notably, students who demonstrated an understanding of the sharp contrast between the actual effects of smoking and positive media portrayals of smoking were more likely to be nonsmokers. Likewise, students who believed that cigarette advertising leaves out important information also were less likely to smoke.
"These findings suggest that those with higher media literacy, especially with regard to certain facets of media literacy, may be less likely to smoke," Primack said. "Hopefully, these and other results will help educators design antismoking programming that is appropriately tailored to its target audience."
Coauthor of the study is Renee Hobbs, a professor of mass media and communications at Temple University. Primack was supported by funding from the National Cancer Institute, the Robert Wood Johnson Foundation, and the Maurice Falk Foundation.
Other Stories From This Issue
There are no stories for the issue at this time.
On the Freedom Road

Follow a group of Pitt students on the Returning to the Roots of Civil Rights bus tour, a nine-day, 2,300-mile journey crisscrossing five states.
Day 1: The Awakening
Day 2: Deep Impressions
Day 3: Music, Montgomery, and More
Day 4: Looking Back, Looking Forward
Day 5: Learning to Remember
Day 6: The Mountaintop
Day 7: Slavery and Beyond
Day 8: Lessons to Bring Home
Day 9: Final Lessons