Men's Glee Club: 125 Years of Making People Swoon
By Sharon S. Blake
Issue Date:
March 16, 2015
As reflected in its Twitter page tagline, "Making people swoon since 1890," the University of Pittsburgh Men's Glee Club merges the new with the old. It is the oldest nonathletic extracurricular activity on the Pittsburgh campus, and the club has a tradition of transforming all types of student voices into a rich a cappella harmony.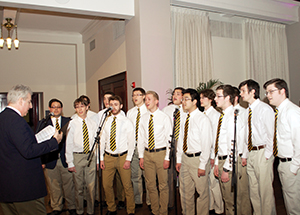 The organization will mark its 125th anniversary with a celebratory weekend March 27-28. More than 500 club alumni have been invited to Pitt to participate in the festivities, which include a reunion dinner, a campus tour, and an anniversary concert.
Club director Richard Teaster has directed the all-male ensemble for 16 years, managing its 60 members who perform at campus and community functions and who tour both domestically and abroad.
"Students over the years have told me how much they enjoy the brotherhood aspect of the club," Teaster said. "They form lifelong friendships."
Dave Hammer (A&S '77, SHRS '79G), who served as the club's president during his junior year, said, "We all had different personalities, but when we got up on stage, we had one thing in common. There was no greater feeling than being on the risers when the first notes came out. We were one as a unit."
The group performs internationally about once every three years. A tour through Italy is slated for April 27 through May 10.
Both current and former members agree—being in the Glee Club requires hard work. Twice weekly rehearsals as well as dress rehearsals in concert season get squeezed into students' busy academic schedules.
"You really learn how to manage your time when you're with the club," said current president and Pitt senior Anthony Verardi.
One constant is the sense of pride that comes with being part of the organization. "I think the club attracts students who are seeking a sense of tradition and school spirit," said Teaster. "We sing, in addition to our choral repertoire, many of the traditional Pitt songs."
And in a nod to today's life-on-a-cellphone mentality, the Glee Club has a YouTube Channel, a Facebook page, and an Instagram account, which is used during tours. Its annual winter concert is broadcast on WQED-FM and online … all efforts to keep up with the times and to spread the music that makes people swoon.
For tickets to the 125th Anniversary Concert on March 28 at First Baptist Church of Pittsburgh, 159 N. Bellefield Ave., Oakland, call 412-624-7529 or visit music.pitt.edu/tickets
Other Stories From This Issue
There are no stories for the issue at this time.
On the Freedom Road

Follow a group of Pitt students on the Returning to the Roots of Civil Rights bus tour, a nine-day, 2,300-mile journey crisscrossing five states.
Day 1: The Awakening
Day 2: Deep Impressions
Day 3: Music, Montgomery, and More
Day 4: Looking Back, Looking Forward
Day 5: Learning to Remember
Day 6: The Mountaintop
Day 7: Slavery and Beyond
Day 8: Lessons to Bring Home
Day 9: Final Lessons