Michael Dabrishus: Securing History for All to See
By Sharon S. Blake
Issue Date:
December 8, 2014
Michael Dabrishus has always been a history buff, dating back to the days when his dad would pile the family into a 1957 Ford station wagon to make the half-hour trip to Gettysburg, Pa. Exploring with his siblings the sprawling battlefield sites is a vivid memory for Dabrishus, and it cemented his interest in not only the dramatic battle itself but also how important it was to our nation's history.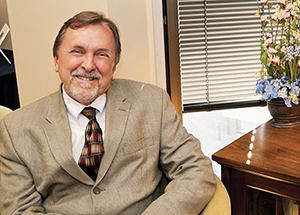 Those interests took him to Western Michigan University where he majored in history, then to Wayne State University where he earned a master's degree in library science, with a focus on archival management. He had successful careers at the Texas State Archives and as the head of Special Collections at the University of Arkansas. Now, as the University of Pittsburgh's assistant university librarian for the past 12 years, he relishes his job of encouraging individuals and organizations to donate their historic papers to Pitt. Once a donation is made, Dabrishus helps the teams of Pitt archivists decide which materials should be digitized, making them accessible to researchers, students, and the global community.
For Dabrishus, one of his favorite tasks is reaching out to potential donors. "I help them to recognize the significance of what they have and the importance of passing it down to future generations," he says. "Then we try to make the materials as 'discoverable' as possible—so that someone could find them when they're not even trying to."
The recent gift of papers belonging to the late Max Lauffer, founding chair of Pitt's Department of Biophysics, is a case in point. Lauffer's widow, Erica, donated her husband's collection to Pitt, and amid the boxes of typewritten papers is a 1947 letter that Lauffer wrote to a medical researcher named Jonas Salk. Lauffer, who was chairing a search committee, invited Salk to apply for a position at Pitt as head of an area that was researching human viruses. Salk applied for the position, and the rest became history when Salk and his Pitt team developed a successful vaccine to defeat polio. The boxes of letters include pages of correspondence between Lauffer and Salk.
Some people are more than happy to pack up letters and papers for a donation, while others need time. Dabrishus recalls his conversations with Daisy Bates, who, along with her husband, founded and published the advocacy newspaper Arkansas State Press in Little Rock during the Civil Rights Movement. When Dabrishus, who was then at the University of Arkansas, visited Bates in her offices, she wasn't sure she wanted to donate the materials. Six years later, she called Dabrishus and said, "Mike, I'm ready to turn over all of this stuff. Can you come down this week?"
Dabrishus was actively involved in Pitt's ambitious efforts in 2006 to digitize a major portion of the Darlington Memorial Library, home to thousands of books, maps, images, and materials related to colonial American history. He also was instrumental in securing the donation from Consol Energy of its mine maps—hand-drawn maps of Southwestern Pennsylvania's underground mines. The maps, some of them 30 feet long, are being flattened, dry-cleaned, mended, and scanned. They are used by property developers and sometimes private homeowners, and, in one case, were essential to resolving a problem due to water buildup in a mine.
As vice president and president-elect of The Manuscript Society, Dabrishus frequently works with collectors and dealers. He and his wife live in the North Hills, and his two grown daughters are also librarians—one at a public library in Georgia and the other at a small college in Ohio.
"They both made up their minds about pursuing graduate degrees in library science without consulting me," he says with a smile. "I think it's because they saw how I always enjoy my work so much."
Other Stories From This Issue
There are no stories for the issue at this time.
On the Freedom Road

Follow a group of Pitt students on the Returning to the Roots of Civil Rights bus tour, a nine-day, 2,300-mile journey crisscrossing five states.
Day 1: The Awakening
Day 2: Deep Impressions
Day 3: Music, Montgomery, and More
Day 4: Looking Back, Looking Forward
Day 5: Learning to Remember
Day 6: The Mountaintop
Day 7: Slavery and Beyond
Day 8: Lessons to Bring Home
Day 9: Final Lessons