Mimi Frisch: Taking local health issues to a global level
By Sharon Blake
Issue Date:
April 27, 2015
Growing up in Buffalo, N.Y., during the 1990s was a multicultural experience for Mimi Frisch.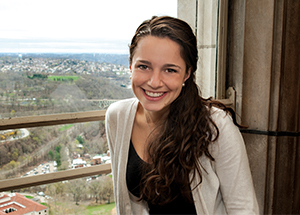 When Frisch was four years old, her parents adopted her younger sister, Naomi, from Vietnam. So in addition to her family's Jewish traditions, there were Vietnamese language lessons, activities at a Vietnamese Buddhist temple, and afternoons learning to make fresh spring rolls, sticky rice, and dumplings. The sisters also took Irish dance lessons and competed in hometown contests against other local and national dancers.
In time, Frisch says, she realized there was something complex about Buffalo's diverse cultures. The discovery came while walking from her high school to an internship at a nearby molecular biology lab. "I had to walk three blocks every Friday through this blighted neighborhood and was always struck by the stark divide between the elite research center and the poor neighborhood surrounding it," she recalls. "It seemed as though the important work done in the institute was separated from the community."
Frisch's passion for improving public health in poor communities had begun. It intensified when her family traveled to Vietnam in 2008 on a work project through the Catalyst Foundation, a humanitarian organization whose mission is building sustainable communities by reducing human trafficking.
Frisch saw desperate poverty. "I left Vietnam determined to get an education and find a career that focused on improving health care in communities," she says.
Today, the 21-year-old Frisch earns a Bachelor of Philosophy degree from the University's Honors College with a double major in urban studies and international and area studies–global studies track.
Her Pitt education showed her that there are many facets of public health, including medicine, policy studies, social work, and biology. But she chose urban studies to better understand the broader factors influencing health issues.
Several overseas trips helped Frisch fine-tune her focus. She made three more trips to Vietnam in 2010, 2012, and 2014, working with Catalyst. Her efforts included organizing volunteers and working in a Camh Ranh health clinic on the nation's southeastern coast. There, she saw extreme malnutrition as well as some possible side effects of salty diets: high blood pressure and diabetes.
Frisch spent a semester of her junior year taking classes—conducted in Spanish— at University ISALUD in Buenos Aires. She also conducted her own research for her BPhil thesis on a 2009 outbreak of dengue fever, an infectious mosquito-borne disease. Frisch is still analyzing the data, which looked at how the outbreak related to socio-demographic-based inequalities. "I want to connect today's scientific research to the populations that need it most," she says. She is now working with a professor in Pitt's Graduate School of Public Health who may use Frisch's data as a base for future studies.
Frisch's Pitt experience also included significant amounts of public service. She led a Pitt student group called Challah for Hunger, whose members baked and sold challah bread to raise more than $4,000 for local and international hunger relief organizations. Through Big Brothers Big Sisters of Pittsburgh, she mentored a local middle-school student and, as a member of the University's Student Government Board, she helped allocate more than $2 million to various student groups. Frisch also helped to organize Pitt Make a Difference Day in 2013 and 2014.
But she never strayed from her interest in improving healthcare for impoverished populations. She remains involved with the Catalyst Foundation and other organizations.
For Frisch, Pitt was an incubator for her talents and drive.
"Just about every professor I met had ten suggestions of other things I could do—inside and outside of Pitt. This has been hugely helpful in preparing my future," she says.
Michael Glass agrees. As a lecturer in Pitt's Urban Studies Program, he taught Frisch in class several times and was a member of her University Honors College's BPhil thesis defense committee.
"Mimi has a very clear focus on the type of work she wants to do. She knows what competencies are required to thrive in the world of global health policy and is very open to searching for those opportunities that will give her those skills."
Frisch wants to pursue fieldwork in global health for a year or two and then pursue graduate school in public health. Her years of preparation at Pitt will soon prove their worth.
Other Stories From This Issue
There are no stories for the issue at this time.
On the Freedom Road

Follow a group of Pitt students on the Returning to the Roots of Civil Rights bus tour, a nine-day, 2,300-mile journey crisscrossing five states.
Day 1: The Awakening
Day 2: Deep Impressions
Day 3: Music, Montgomery, and More
Day 4: Looking Back, Looking Forward
Day 5: Learning to Remember
Day 6: The Mountaintop
Day 7: Slavery and Beyond
Day 8: Lessons to Bring Home
Day 9: Final Lessons