More Than the Boat They Float: Pitt-Johnstown Concrete Canoe Club Applies Classroom Skills to Phantom
By B. Rose Huber
Issue Date:
August 20, 2013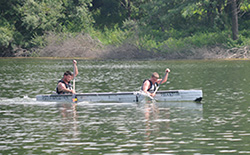 Three thousand hours.
That's how long it took students in the Concrete Canoe Club at the University of Pittsburgh Johnstown (UPJ) to build their boat. And that's before they even knew if it would float.
Named Phantom, the 200-pound concrete canoe resembles a pirate ship with intricate lines along the hull, mimicking water-washed wood. The word Phantom is painted across the side in rigid letters. On the bottom, an etched panther represents the school's mascot.
Th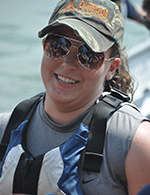 is is the ship (or canoe, rather) that has buoyed the team to regional and national success. The concrete Phantom not only floats, it can transport as many as four students across water with ease. (Well, with the help of a few paddles.)
Club paddlers rowed forth in Phantom at the Regional Concrete Canoe Competition in Johnstown, Pa., this past April, where they won first place, sweeping universities like Penn State and Drexel. In June, they traveled to the National Concrete Canoe Competition at the University of Illinois at Urbana-Champaign, where they earned their highest-ever national ranking at 9th place overall, and a 4th place "golden paddle" for the Final Product category, which judges the overall quality of the canoe and its thematic display. (Phantom's display, for example, incorporated pirate-themed rum bottles.)
Though the club has been around for decades—and has snagged plenty of awards over the years—it has only recently become such a well-structured organization. More importantly, it gives UPJ's civil engineering students the chance to practically apply what they've learned in the classroom.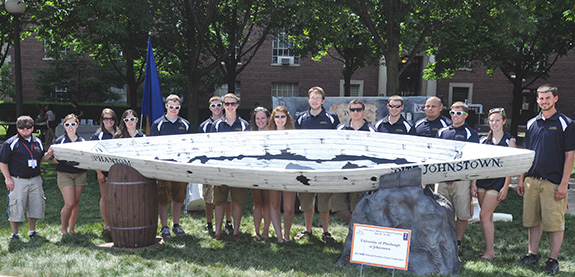 "The processes the team has in place now didn't occur ten years ago," said Brian Houston, club advisor and a UPJ professor of engineering. "This current team instituted the new policies, processes, and workflows that have led them to continued success. Now, they are on a self-repeating system. This is how you know a fire has been lit."
Concrete canoe competitions began in the 1960s, capturing the spirit of old-time cardboard boat races that sought to make "the seemingly unfloatable float." Across the nation, concrete canoe clubs—including UPJ's team—attract student engineers primarily because concrete and other poured surfaces are integral to their future professions. Now, more than 200 university teams participate yearly in concrete canoe competitions competing in categories that challenge their knowledge, creativity, and professionalism. To showcase the durability of their final products, they get in their boats and race in five paddling events: men's and women's endurance races, and men's, women's, and co-ed sprint races.
The UPJ team captains jokingly call the club "an addiction." But really, it's more like a full-time job. These students spend most of the academic year in the basement of the Engineering and Science Building on UPJ's wooded campus, designing and building their canoe. They work so often that the basement houses a microwave and several couches, doubling as a residence hall room and study lounge.
Club members range in age from freshmen to seniors. The elected captains are juniors, and all members are involved in some aspect of the ship. They follow the same trajectory as lessons being learned in the classroom, applying that knowledge to a tangible project.
Cocaptain Stephanie Buncich noted the importance of the club's "project management style." One of her roles has been keeping all team members involved, stressing the importance of taking small steps to achieve a final product.
"It's hard to explain to new members what they're working toward. Everyone has a small task, but it's for a really big goal," Buncich said.
The building of Phantom began in September, once the competition rules—which change every year—were announced. Students selected a theme for their boat (an old, wooden pirate ship), ordered materials, and chose a design for the boat's shape. They said this planning stage was integral as the boat must not only be built creatively but also with racing in mind.
For the next several months, the team formulated a special concrete mixture—which is different from traditional concrete—to determine the best "ingredients" with which to build the canoe. This type of concrete, they said, is lighter than water, allowing it to float.
"I remember seeing a picture of a concrete canoe competition from the '60s where it was literally a square bathtub-looking thing made out of real concrete. This is not what they do today," said Houston.
Team Captain Michael Imgrund explained that, unlike normal concrete (which uses sand and small rocks), concrete canoes are created with lighter, more porous materials. The team spent most of their fall semester designing mixes with these properties, complying with competition rules. They then made trial batches and produced and cured their test samples. Those samples were then "broken" through a series of tests involving compression, tension, and flexure to determine the boat's strength. Throughout, the team was aiming for the right combination of strength and lightness.
During the winter months, the team made a shell for Phantom, and, using a computer program, they designed cross-section views of the entire boat. This design was then transferred from paper to thin plywood and finally cut to shape. Phantom's shell was then sanded and plastered to make a smooth finish. A release agent was used to prevent mold from sprouting.
During the spring semester, the team held its annual "Pour Day"—an all-day Saturday event when they "pour" the concrete. Although, Imgrund clarified, that isn't really what they do. Insead, they carefully pack the concrete around the shell in place by hand. The process can take between six and 10 hours. This day is an exciting one for the team, they said, as they watch their boat transform into something that can race.
Next, they covered Phantom in burlap and placed the canoe in a chamber, curing it for 28 days to build strength. The team sanded the boat, polished it, and, as Imgrund said, "made it pretty." At the same time, the team was busy in the lounge writing a paper describing their boat-building process to be judged at competition as well as developing display elements for the artistry category. They also worked on their professional presentation and exercised at the gym—building muscles for racing.
After all this, there was still one more test to pass before competing in regionals: the "swamp test." Here, the team had to fill the canoe with water, pushing it below the lake's surface. To qualify for all five races, the canoe had to float. Phantom had no problem rising to the top, leading the UPJ team to both regional and national competitions.
On its surface, "Canoe"—as the team fondly calls the concrete canoe club—seems all about the final product and the competition. But the club is much more than the boat it floats, team members said.
"The real benefit of this is not really the canoe part," said Houston. "It's all of the other things these students learn that aren't teachable in a classroom. They learn how to manage a group of people and incorporate diverse skillsets. They go through a long process, working under a rigid deadline with an ultimate goal in mind. They have to readjust their thinking at times. There's no class quite like it."
Houston said that it's those small steps that help these students become influential workers.
"You get to watch them before they become leaders in industry," said Houston, "and that's the most rewarding thing."
Other Stories From This Issue
There are no stories for the issue at this time.
On the Freedom Road

Follow a group of Pitt students on the Returning to the Roots of Civil Rights bus tour, a nine-day, 2,300-mile journey crisscrossing five states.
Day 1: The Awakening
Day 2: Deep Impressions
Day 3: Music, Montgomery, and More
Day 4: Looking Back, Looking Forward
Day 5: Learning to Remember
Day 6: The Mountaintop
Day 7: Slavery and Beyond
Day 8: Lessons to Bring Home
Day 9: Final Lessons