Multimedia "Portal" Lights Pitt Faculty Art Exhibition
By Sharon S. Blake
Issue Date:
August 24, 2015
Visitors to the University of Pittsburgh's Art Gallery will experience the beauty and serenity of the summer solstice in a multimedia art installation called "Portal," featured in the Department of Studio Arts' annual faculty art show.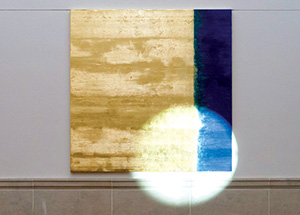 The exhibition, "Reverberations," runs Sept. 10 to Oct. 23 in the Frick Fine Arts Building gallery. It is free and open to the public.
"Portal" was created and designed for the building's rotunda, and it traces the sun's movement using theatrical lighting elements, paintings, and music. Discs of light that mimic the natural light from eight round windows circling the top of the rotunda, glide slowly across the walls and floor. Sometimes the light lands on one of four large gold-and-dark-blue square panel paintings arranged symmetrically opposite one other. This implies abstract representations of the summer and winter solstice and the spring and autumn equinox. The lights move to a soundtrack of music and sounds representing the outdoors.
This combination of light, paintings, and music are the work of three Pitt faculty members— Assistant Professor of Studio Arts Aaron Henderson, whose videos and installations examine movement; Associate Professor of Studio Arts Michael Morrill, who has long been interested in abstract painting and multimedia collaborations; and Professor of Music Mathew Rosenblum, well known for his microtonal music.
"It's a contemplative space," said Henderson, who designed the digitally rendered light that co-exists with the rotunda's natural light. "It makes one think: 'What day is sweeping past me?'"
"We wanted to create an aura that brings the outside in," said Rosenblum.
"This is an intersection of visual arts and music," said Isabelle Chartier, gallery curator. "It could also intersect with other disciplines—astronomy, architecture, or history. We hope to have performances and lectures in this space that coincide with this year's academic theme of the Year of the Humanities."
Other Stories From This Issue
There are no stories for the issue at this time.
On the Freedom Road

Follow a group of Pitt students on the Returning to the Roots of Civil Rights bus tour, a nine-day, 2,300-mile journey crisscrossing five states.
Day 1: The Awakening
Day 2: Deep Impressions
Day 3: Music, Montgomery, and More
Day 4: Looking Back, Looking Forward
Day 5: Learning to Remember
Day 6: The Mountaintop
Day 7: Slavery and Beyond
Day 8: Lessons to Bring Home
Day 9: Final Lessons