National Italian Film Festival Premieres Here
By Melissa Carlson
Issue Date:
March 24, 2014
An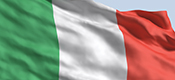 Italian film festival, which will be held in 11 cities nationwide, is kicking off its 2014 national tour at the University of Pittsburgh. Seven contemporary Italian films, presented through Italian Film Festival USA, will receive their Pittsburgh premieres at free public screenings in Oakland from March 27 through April 12.
From the story of a fishmonger who auditions for a reality TV show to a documentary about a sit-in protest by women factory workers, the films in the festival have been chosen to display the range and vitality of contemporary Italian filmmaking.
Lina Insana, organizer of the Pittsburgh segment of the festival and chair of Pitt's Department of French and Italian Languages and Literatures, says that the films will be introduced by Pitt faculty starting with the March 27 showing of Reality, which will be introduced by Distinguished Professor of English and Film Studies Marcia Landy. In a special appearance on April 10, director Massimo Ferrari will introduce his documentary, The Women Workers' War, which will be followed by a question-and-answer session.
Attendees will be invited to participate in an audience competition by rating films on a scale of 1 to 5 stars. Ballots will be tallied from all screenings on the national tour, and the film with the highest score will receive the Best Film Award.
The movies will be shown in their original languages with English subtitles when necessary. The screening schedule follows.
Reality, 7 p.m. March 27, Frick Fine Arts Auditorium. Luciano never misses the chance to perform for his customers in the fish market. At the urging of his family, he auditions for the reality show Big Brother, forever changing his perception of reality.
First Snowfall (La Prima Neve), 7 p.m. March 29, Frick Fine Arts Auditorium. Set in the beautiful Italian Alps, a fatherless 10-year-old and an immigrant who just lost his wife prepare for the upcoming winter and learn to listen to each other while healing.
Balancing Act (Gli Equilibristi), 7 p.m. April 4, Frick Fine Arts Auditorium. Giulio leads a seemingly idyllic life with his wife and two children but after making a critical error that unravels everything, he is forced to discover the thin line between well-being and poverty.
The Best Offer (La Migliore Offerta), 7 p.m. April 5, Carnegie Museum of Art Theatre. A world-renowned antiques auctioneer, who leads a solitary life, is appointed to oversee the sale of a beautiful heiress' art collection and is soon engulfed by a passion that rocks his bland existence.
The Women Workers' War, 7 p.m. April 10, Room 24, Ground Floor, Cathedral of Learning. A documentary recounting the story of two women: one who leads the longest factory sit-in by women in Italy and another who operates a factory that encourages cultural growth among the workers. This screening will feature a special appearance by director Massimo Ferrari.
The Venice Syndrome (Teorema Venezia), 9 p.m. April 11, 1700 Wesley W. Posvar Hall. Venice, the world's most beautiful city, is invaded every day by 50,000 tourists. There are only 48,000 residents, and there are fewer every year as the city becomes nearly uninhabitable. The film shows what remains of Venetian life in a requiem for a grand city.
Long Live Freedom (Viva la Libertà), 7 p.m. April 12, Frick Fine Arts Auditorium. The leader of the most notorious political opposition party mysteriously disappears. His wife and assistant turn to his identical twin brother, who has recently been released from a psychiatric hospital. Will anyone notice the switch?
The Italian Film Festival USA is organized by the Italian Film Festival of St. Louis, a nonprofit organization that educates audiences about Italy by promoting films that might not otherwise be shown in the United States.
Visit www.italianfilmfests.org/pittsburgh.html for more information.
Other Stories From This Issue
There are no stories for the issue at this time.
On the Freedom Road

Follow a group of Pitt students on the Returning to the Roots of Civil Rights bus tour, a nine-day, 2,300-mile journey crisscrossing five states.
Day 1: The Awakening
Day 2: Deep Impressions
Day 3: Music, Montgomery, and More
Day 4: Looking Back, Looking Forward
Day 5: Learning to Remember
Day 6: The Mountaintop
Day 7: Slavery and Beyond
Day 8: Lessons to Bring Home
Day 9: Final Lessons