Nelson Wins Drue Heinz Literature Prize
Issue Date:
February 10, 2014
Kent Nelson has been named the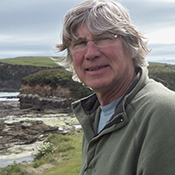 2014 winner of the Drue Heinz Literature Prize, one of the nation's most prestigious awards for a book of short fiction. Nelson's manuscript, Spirit Bird: Short Stories, was selected by esteemed author David Guterson from a field of 350 entries. The collection will be published by the University of Pittsburgh Press this fall.
"Spirit Bird indicates a seasoned talent at work," Guterson said. "It's a collection set in disparate geographies and touching on disparate lives, but it explores consistently the terrain of loneliness and yearning. One of its more impressive features is the way it artfully balances saying too much with saying too little. The stories are moving, which is hard to do, and surprising in the sense that we're unprepared for how they end," he added. "I respect and admire Spirit Bird. It's the work of an author whose passionate immersion in life is evident on every page."
Nelson said, "Writing stories for me is exploration and discovery. I started all these stories with a character in a place and figured out from there where the story might go. This required writing the first page 10 or so times, often more, as I made new decisions about the character and what might happen."
"What Peter O'Toole said about acting applies as well to writing: it's a blend of magic and sweat," Nelson said.
A native of Cincinnati, Ohio, Nelson now resides in Ouray, Colo. He has identified 757 species of North American birds and has traveled to most of the remote areas of the U.S., as well as to Costa Rica, Ecuador, Australia, and New Zealand. He has run the Pikes Peak Marathon twice—26.3 miles, 7,815 feet up and down.
Nelson's novels include Language in the Blood (Gibbs Smith, 1992) and Land That Moves, Land That Stands Still (Viking Penguin, 2003). His short fiction has been included in The Best American Short Stories, The Best of the West, O. Henry, and The Best American Mystery Stories.
Other Stories From This Issue
There are no stories for the issue at this time.
On the Freedom Road

Follow a group of Pitt students on the Returning to the Roots of Civil Rights bus tour, a nine-day, 2,300-mile journey crisscrossing five states.
Day 1: The Awakening
Day 2: Deep Impressions
Day 3: Music, Montgomery, and More
Day 4: Looking Back, Looking Forward
Day 5: Learning to Remember
Day 6: The Mountaintop
Day 7: Slavery and Beyond
Day 8: Lessons to Bring Home
Day 9: Final Lessons