New and Transfer Students Begin Orientation
Issue Date:
August 18, 2014
The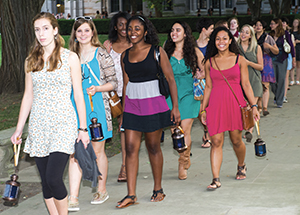 University will welcome nearly 4,500 new students to its Pittsburgh campus for New and Transfer Student Orientation, which begins Aug. 18 and concludes Aug. 24 with the University's oldest tradition: the Lantern Night ceremony for Pitt women at Heinz Chapel.
New students will be cheered by faculty and staff members as they near the Petersen Events Center for the Aug. 20 Freshman Convocation. Pitt Chancellor Patrick Gallagher and other distinguished members of the University community will welcome new students and their families during convocation, which will be followed by a 4 p.m. ice cream social in the Petersen.
"We are so excited to welcome this class to the University of Pittsburgh," said Vice Provost and Dean of Students Kathy Humphrey, who will be overseeing her 10th orientation week at Pitt. "This is a special class, and it is going to be a great week because our entire campus is participating in convocation and many other activities. I know Chancellor Gallagher feels a unique connection to this group of students because he is starting a new chapter in his Pitt journey along with the Class of 2018."
Also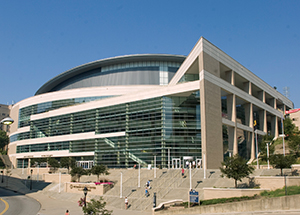 at the Petersen on Aug. 20 at 8 p.m. will be "The Tipping Point," a program that is mandatory for all first-year students and one that addresses campus-safety issues, including alcohol use and abuse, sexual harassment, and assault prevention. At 9:30 p.m. that evening, the Class of 2018 will attempt to become the fifth consecutive new class at Pitt to break a world record for making a huge formation—this year, a world globe with LED lights.
There are more than 85 programs and activities during orientation, which is developed by the Office of First-year Experience and staff from the Division of Student Affairs.
"DiscoverU Day," set for Thursday, Aug. 21, will provide students with an opportunity to explore their passions and interests during specialized field trips and activities arranged by the Career Development and Placement Assistance Office. Among the 27 field trips are an Oakland Art and Architectural Crawl, a visit to MAYA Human Centered Design, Downtown, and a University Honors College Sustainability Tour.
On Friday, Aug. 22, students will participate in community service projects throughout the Pittsburgh area. The event is sponsored by the Office of PittServes.
On Saturday, Aug. 23, students can participate in a variety of "HealthyU" fitness classes and activities, before heading to the Waterfront for a shopping excursion, then a "Pre-Class Bash" on Bigelow Boulevard between Fifth and Forbes Avenues.
On Sunday, Aug. 24, the ever-popular Student Activities Fair will be held from 2 to 5 p.m. at the Petersen, showcasing about 400 student organizations and clubs.
Also on Aug. 24, female alumni will pass the light of learning and inspiration to first-year Pitt women during the University's oldest tradition, Lantern Night, which was first held in 1920. Chancellor Gallagher will welcome the first-year women. Pitt trustee Mary Ellen Callahan will deliver the keynote address. The free and public ceremony will take place at 7:30 p.m. in the Heinz Memorial Chapel.
For a complete list of programs and events, visit www.fye.pitt.edu.
Other Stories From This Issue
There are no stories for the issue at this time.
On the Freedom Road

Follow a group of Pitt students on the Returning to the Roots of Civil Rights bus tour, a nine-day, 2,300-mile journey crisscrossing five states.
Day 1: The Awakening
Day 2: Deep Impressions
Day 3: Music, Montgomery, and More
Day 4: Looking Back, Looking Forward
Day 5: Learning to Remember
Day 6: The Mountaintop
Day 7: Slavery and Beyond
Day 8: Lessons to Bring Home
Day 9: Final Lessons