A New Model for Stronger Community Engagement
By Sharon S. Blake
Issue Date:
July 11, 2016
Community partnership is being reimagined at the University of Pittsburgh.
The University is interested in making an even greater impact in the community by collaboratively creating Centers for Urban Engagement. This concept is aimed at building alliances within urban neighborhoods that are eager to partner with Pitt to create stronger communities. The centers will focus on activities specific to the needs, interests, and input of the neighborhoods that correspond directly with the work of Pitt researchers, staff, and students.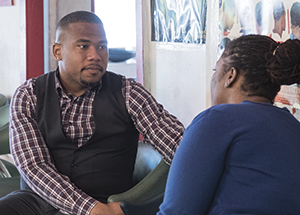 "Developing an even stronger culture of service and engagement is one of our strategic priorities and affords us the opportunity to create knowledge that transforms lives," said Kathy Humphrey, Pitt senior vice chancellor for engagement and chief of staff.
"In this new partnership effort, we are aiming for a vigorous reimagining of community engagement that leads to a dialogue in which both voices in the conversation are heard at equal volume. These partnerships are meant to holistically benefit all parties and to create a synergy that results in valuable outcomes for all involved."
Goals for all Centers for Urban Engagement include:
• bettering the lives of children, youth, and families;
• building stronger, more reciprocal partnerships among Pitt and communities;
• encouraging University-community multidisciplinary teaching;
• sharing knowledge and resources;
• tapping into Pitt's expertise in technology, health sciences, and STEM fields;
• strengthening the capacity of neighborhood institutions; and
• positioning citizens to contribute in the civic arena.
The new centers are designed to respond to communities that invite Pitt's presence and will result in better coordination of the hundreds of activities and services already under way, among which are:
• Pitt faculty and staff providing business consultation services to residents in the Mon Valley;
• the Pitt Dental Clinic, providing low-cost care to residents who could not otherwise afford it;
• the Homewood Children's Village, which provides a host of programming to assist that area's young people;
• the contributions of Pitt employees that resulted in the purchase of adaptive bicycles for local children with special needs; and
• Pitt undergraduates' mentorship of ninth graders at Pittsburgh Milliones in academics, social skills, and teamwork—a project of the Center for Urban Education, directed by H. Richard Milner IV, the Helen Faison Endowed Chair of Urban Education and professor of education.
"Pitt has a rich history of community service, including longstanding collaborations with neighborhoods such as Homewood and the Hill," said Chancellor Patrick Gallagher. "But, until now, these partnerships have unfolded individually, without a coordinated, wide-ranging review of our resident-led community change efforts.
"We are proud of our efforts in these communities. But we can do more to enhance coordination, communication, and engagement for all involved. We can also make these relationships and their projects more transparent and more efficient for our faculty, who now serve as de facto ambassadors between Pitt and our local communities."
Gallagher compared the centers to rural extension programs of the sort typically created by land-grant institutions to support agriculture.
"Extension programs widen a university's network—and deepen its connections to the community—by embedding an office in a specific region or county," he said. "We are proposing the urban analog."
Each Center for Urban Engagement (CUE) will have a dedicated neighborhood ambassador whose mission is to foster collaboration between each participating community and the University.
"In essence, each center will serve as a 'one-stop shop' with dedicated staff who know the community and the University, and who are committed to engaging and partnering with its residents," Gallagher said. "These staff will engage community members to define needs and priorities, identify potential Pitt programs, and guide and support implementation."
For Pitt faculty, the centers will offer the support and coordination needed to thoroughly assess, develop, and sustain community-based education and research programs. They will become familiar meeting places where Pitt can connect with community stakeholders. And each local ambassador will serve as a rich resource of knowledge and expertise about their designated community, its businesses, its residents, and its institutions.
"We hope that these centers will serve as a new model for community-university collaboration—and one that benefits all parties equally, enriches both, and brings out the best in the magic interface between a university and its neighborhoods," Gallagher said.
Community leaders interested in partnering with the University to create a CUE should contact the office of Kathy Humphrey at 412-648-1006.
Other Stories From This Issue
There are no stories for the issue at this time.
On the Freedom Road

Follow a group of Pitt students on the Returning to the Roots of Civil Rights bus tour, a nine-day, 2,300-mile journey crisscrossing five states.
Day 1: The Awakening
Day 2: Deep Impressions
Day 3: Music, Montgomery, and More
Day 4: Looking Back, Looking Forward
Day 5: Learning to Remember
Day 6: The Mountaintop
Day 7: Slavery and Beyond
Day 8: Lessons to Bring Home
Day 9: Final Lessons