New Pitt Documentary to Be Screened Feb. 4 Blue Gold & Black: From Doorway to Distinction is University's 2009 K. Leroy Irvis Black History Month Program
Issue Date:
January 26, 2009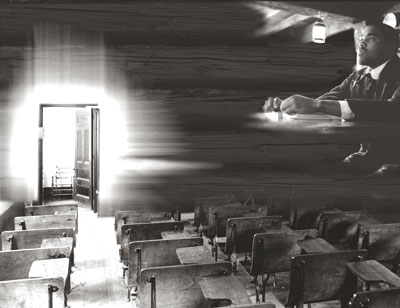 In 1829, a young Black man was hoping to attend the Western University of Pennsylvania, which later became the University of Pittsburgh. But enrolling a Black man in a university was a controversial act at the time, and then-Chancellor Robert Bruce was concerned about the opposition to having a Black student in the classroom. Bruce devised a plan that allowed the young man to sit on a chair just outside the classroom door, where he could hear the lessons and gain the same instruction as the other students.
That young man, whose name is unknown, was the first of many at the University who helped pave the way for Black students to attend Pitt.
A new documentary, Blue Gold & Black: From Doorway to Distinction, will be screened at a by-invitation-only world premiere at 7 p.m. Feb. 4 at the Twentieth Century Club, 4201 Bigelow Blvd., Oakland. The event is the University's 2009 K. Leroy Irvis Black History Month Program, commemorating February as Black History Month.
The film tells the story of the 180-year experience of Black men and women at Pitt. Through their persistence and intelligence, they broke down barriers and took their rightful place in the classrooms, on the playing fields, and in Pitt history.
On Motion Media wrote the script for the documentary, based on a treatment written by Robert Hill, Pitt's vice chancellor for public affairs.
Blue Gold & Black: From Doorway to Distinction is a sweeping tale that documents many firsts.  It features interviews with prominent Pitt African American alumni, including Robert Lavelle (CBA '51, KGSB '54), president of Lavelle Real Estate Inc. and executive vice president of Dwelling House Savings and Loan Association; Rachel Poole (NURS '47, '52; EDUC '77), one of the first three Black students to graduate from Pitt's School of Nursing; James "Jimmy Joe" Robinson (CAS '51), cofounder of the Manchester Youth Development Center and the first African American to play football for Pitt; Curtiss Porter (A&S '69, EDUC '84), Penn State Greater Allegheny Chancellor; and Helen Faison (EDUC '46, '55, '75), an emeritus Pitt trustee, a trailblazing Pittsburgh educator, and a distinguished professor and director of the Pittsburgh Teachers Institute at Chatham University.
Also featured are Laurence Glasco, a Pitt history professor and historical director of the Pitt-produced Free at Last? Slavery in Pittsburgh in the 18th and 19th Centuries exhibition on view at the Senator John Heinz History Center through April 5; Kathy W. Humphrey, Pitt vice provost and dean of students; and Pitt graduates Tonya Groover (A&S '07), founder and program coordinator of Pitt's Technology Leadership Initiative; 2007 Rhodes Scholar Daniel Armanios (A&S '07, ENGR '07) who also was a 2005 Truman Scholar and a 2004 Goldwater Scholar; and 2007 Goldwater Scholar Benjamin Gordon (ENGR '07), assistant project manager at Chester Engineers. The film will be narrated by a number of Black Pitt alumni, faculty, and friends of the University—a story about them as told by them.
Pitt's Office of the Chancellor and Office of Public Affairs present a program every February to mark Black History Month. The programming is named in honor of the late K. Leroy Irvis, (LAW '54) a Pitt trustee, poet, author, lawyer, sculptor, artist, and one of the most influential men in Pennsylvania history. He served, by acclamation, as speaker of the Commonwealth of Pennsylvania's House of Representatives—at that time, the only African American speaker of the house in any of the 50 states. The "Lion of Pennsylvania," as Pitt called Irvis, was a powerful voice for peace during the Hill District riots in the late 1960s. Irvis was the lead author of the legislation that in 1966 made Pitt, Penn State, Lincoln, and Temple state-related universities, saving them from financial disaster.
Other Stories From This Issue
There are no stories for the issue at this time.
On the Freedom Road

Follow a group of Pitt students on the Returning to the Roots of Civil Rights bus tour, a nine-day, 2,300-mile journey crisscrossing five states.
Day 1: The Awakening
Day 2: Deep Impressions
Day 3: Music, Montgomery, and More
Day 4: Looking Back, Looking Forward
Day 5: Learning to Remember
Day 6: The Mountaintop
Day 7: Slavery and Beyond
Day 8: Lessons to Bring Home
Day 9: Final Lessons