A New Vision for the Future at Katz
Issue Date:
March 3, 2008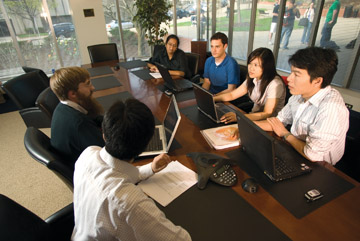 Above, far left: Pitt professor Brian Butler talks with Katz Graduate School of Business MBA students who are participating in a study for pharmaceutical giant GlaxoSmithKline.
Revitalized MBA program emphasizes more experience-based learning, entrepreneurship, value chain management, and a global perspective
The project seemed straightforward to Ying Nee Yap. A second-year Master of Business Administration student in Pitt's Joseph M. Katz Graduate School of Business, Yap and two fellow students were asked to calculate the economic impact of Allegheny County's Department of Human Services as part of a three-credit "project course."
But after a couple of meetings with the county agency's staff, Yap's team felt a bit overwhelmed: The agency deals with more than 400 social services providers in the Pittsburgh region, all of whom had different methods of record keeping. Worse, unlike private industry, where the value of inventory can be measured in terms of profits and margins, social services are difficult to quantify.

With support from faculty adviser Ravi Madhavan, a Katz professor of business administration, Yap's team set its boundaries, chose common data sets for comparison, and concluded that Allegheny County's Department of Human Services returns about $1.75 to the economy for every dollar of tax money spent.
It's important information that will allow county officials to measure the success of future human-services programs. Yap calls the experience one of the most valuable periods of her Katz education.
"Most of us had not negotiated or talked to or been in meetings with executive-level people at all," says Yap, a native of Malaysia with a medical degree from the University of Calgary in Alberta, Canada. "It gave us practical experience in negotiating and also in running a project with people you don't really know."
Experience-Based Learning
Such project courses are one of the most visible signs of how the faculty members of Pitt's graduate school of business are implementing a continuing process of improvement across the curriculum. Since arriving in August 2006, business school Dean John T. Delaney has set a new direction for Katz. The revitalized MBA curriculum stresses real-world, or "experience-based," learning; a solid grounding in the principles of "supply chain" and "value chain" management; entrepreneurship in organizations large and small; the global nature of business; and collaboration with the University's other schools.
"The school has to distinguish itself from hundreds of other business schools and can't adopt a me-too, cookie-cutter mentality," says Delaney. "This is a tremendously challenging time, but we're in a world with greater competition, and it's clear to me that we have to change what we do to be successful."
Delaney's course of change is aimed at ensuring that Katz remains on the cutting edge—and that the school continues its success in placing its graduates in high-paying, prominent roles. Average salaries for new Katz MBAs reached the mid-$70,000s in 2007, not including signing bonuses. More than 60 percent of Katz MBA students have a job offer before graduation, and 93 percent accepted job offers within three months of graduation.
The list of employers who recruited and hired Katz graduates in 2007 includes a number of international business powerhouses: ArcelorMittal, Bristol Myers Squibb Co., Ernst & Young, Ford Motor Co., IBM, Johnson & Johnson, Kaiser Permanente, PricewaterhouseCoopers, and Raytheon Co. Katz placed interns with major multinational firms such as Citigroup, Emerson Electric Co., General Electric Co., H.J. Heinz Co., Nestlé, and Texas Instruments Inc.; some corporations offered more than one Katz student an internship.
Focus on Education, Not Rankings
Katz's demanding doctoral program achieved similarly impressive results last year. It placed students in research and teaching positions at 13 universities, including Texas A&M, the University of Maryland, Bucknell University, and Rochester Institute of Technology. Katz doctoral graduates currently hold more than two dozen endowed chairs at American universities, and several now lead business schools, including Daniel Smith (KGSB '89), dean of the Kelley School of Business at Indiana University, who was named a Katz Distinguished Alumnus in 2007.
Katz also is successful when measured by third-party standards: In January, for instance, the Financial Times of London listed Katz's full-time MBA programs as the 27th-best in the United States among public universities, and first overall in the "value for money" category, while U.S. News & World Report in 2007 ranked Katz 24th among U.S. business schools in public universities.
But Delaney cautions that rankings and alumni achievements offer only a "rear-view mirror" perspective—they show where the school's been, not where it's going.
"You can't focus on rankings if you want to get better," he cautions. "You've got to focus on education."
And that means an end to "business as usual," he says. One clear sign of Katz's new direction is the expanded emphasis on project courses in its MBA curriculum. G.M. "Bud" Smith, Katz visiting senior lecturer in strategy, oversees these three-credit courses, which place small teams of Katz students into partnerships with multinational businesses, nonprofits, and local government agencies. Each client assigns its team a real problem and the team has one academic term to devise solutions, Smith says. For this academic year, Smith has organized 29 projects for 125 students with help from numerous clients, including Allegheny County, Bank of New York Mellon Corp., Bayer, GlaxoSmithKline, and Westinghouse Electric Co.
McKinsey & Company, an international management-consulting firm with offices in Pittsburgh, supports the project courses by providing consulting workshops for enrolled students and by helping to judge a competition between project teams at the end of each term. The project courses may be required for all Katz MBA students in the future, Smith says, but the infrastructure must be developed first to handle the demand.
Variety of Tracks
Demand for a Katz education remains heavy. Katz's annual MBA enrollment, in both full- and part-time and executive programs, includes more than 900 students concentrating in six different areas of business administration: finance; information systems; marketing; operations; organizational behavior and human resources management; and strategy, environment, and organizations.
While many MBA candidates are recent college graduates or are changing careers, about 200 of these students each year are enrolled in Katz's international Executive MBA program, or EMBA, aimed at experienced professionals who need additional graduate-level education to advance their careers. EMBA operates at the University's Pittsburgh campus as well as in São Paulo, Brazil, and Prague, Czech Republic. An Asian site is also under consideration.
Though EMBA students have already established their careers, new MBA students face a challenging job market, Delaney and others say. The implosion of the "Internet boom" in the late 1990s left fewer entry-level positions for new MBAs, and many companies wanted candidates who completed an internship while earning their degrees. This has led students to choose Katz's two-year MBA, created in 2003, which enables them to accept internships between their first and second years of study.
"Recruiters are looking for candidates who can hit the ground running," says Terri Gregos (KGSB '90), vice president and director of college relations at Bank of New York Mellon Corp. Few companies are now able or willing to pay for training and development of new employees, Gregos says: "They are really looking for folks with demonstrable skills."
Ready at the Get-Go
Playing on the just-in-time delivery model that corporations use to maximize revenue and minimize inventory costs, John C. Camillus, the Donald R. Beall Professor of Strategic Management and Katz executive associate dean, says the school has to deliver a just-in-time MBA. "The goal is that students who come from our school will be ready to contribute from day one," he says.
That's why experiential learning has become such a big part of the Katz curriculum. Project courses are one way to immerse students in real-life situations; another way is through highly accurate simulators like the new $2.3 million, 3,000-square-foot trading room under construction in Mervis Hall, the home of the Katz School. A laboratory for running financial simulations, the room will include tote display boards, stock tickers, 58 computer stations, classroom space, and other infrastructure; it also will provide students with continual access to data and to faculty who are very experienced in world financial markets.
Katz also has created what it calls the MBA Transformation Framework, a program to help students plot their career objectives and set educational benchmarks in five key areas: personal development, personnel management, professional networking, experiential learning, and acquiring technical competence.
Developed through faculty input and shaped by the school's Offices of admissions, career services, and student services, the framework is designed to encourage students to take ownership of their education and visualize their future career paths. Incoming MBA students now complete computerized self-assessments that match interests, strengths, and personality types with specific courses and workshops that develop strategies they need for success.
Created during the summer of 2007, the transformation framework was introduced to incoming students in the fall. Camillus calls the speed of the process remarkable. "Usually, something like this takes about two years to develop," he says. "We did it in three months. It hooks in with John's idea of entrepreneurship—if we waited two or three years, the world would have changed, and some elements would have been obsolete."
Entrepreneurship
Entrepreneurship is one of the key values that Katz is trying to instill in graduates, and that doesn't just mean starting a new business, Delaney says. "It means agility and resourcefulness that allow people to succeed in any context," he says. "Entrepreneurship can occur in large corporations. It can occur in government and the nonprofit sector."
And while students have been conditioned to measure their success against standardized tests like the MCAT or SAT, Delaney says, strategies that enable students to score well on tests don't reward initiative or creative thinking.
"The world is not a multiple-choice test," Delaney says. "Students have to learn that they need not be afraid of failure. Failure is how you learn to become more resourceful and more successful. We need to teach students what risks are wise risks to take, and what risks are worth taking."
Dennis Slevin, Katz professor of business administration, argues that while some people are born entrepreneurs, others can be trained. Entrepreneurship is an "organizational behavior," he says, "and we think you can encourage it by compensating people and encouraging them to take risks."
Katz's curriculum teaches students how to evaluate risks through rigorous analysis of statistics and other data, he says. Risk-taking "is not mindless, and it's not like going to a casino," Slevin says, but Katz graduates should be willing to take "high risks with high returns."
Katz's lessons in entrepreneurship extend beyond the borders of the Pittsburgh campus. Slevin is a member of the advisory board of Pitt's Institute for Entrepreneurial Excellence (IEE), which provides educational and consulting services to local businesses through four different centers. IEE also provides experiential learning through internships for students interested in entrepreneurship.
Recognized nationally for its work with entrepreneurs in Southwestern Pennsylvania, the University wants to bring entrepreneurship into its classrooms. Pitt is devising an entrepreneurship curriculum for graduate and undergraduate students, seeking to integrate its strong academics with its top-notch IEE outreach program. The Katz faculty will develop the curriculum, which may include options such as dual majors in entrepreneurship and other business school concentrations (such as finance), a certificate program in entrepreneurship, and even cross-school dual majors (such as engineering and business).
Katz is currently conducting a national search for a senior professor to fill the new Olofson Chair in Entrepreneurial Studies, funded by a $1.5 million gift from Tom W. Olofson (CBA '63) and his wife, Jeanne. The inaugural holder of the Olofson chair will provide academic leadership for this dynamic model of entrepreneurship.
Learning to Solve Problems
Slevin says that all future managers—even those who have no intention of starting their own businesses—need to understand the principles of entrepreneurship. "We live in a world where there's so much change that you really have to be entrepreneurial just to cope with the dynamic environment," he says.
At its core, Madhavan says, entrepreneurship is often about problem solving. "Solving the problem could be as simple as looking around the company, finding other divisions that face the same problem, making the connections, and bringing people into the process," he says.
Because it's important for students to develop "the right reflexes" for evaluating and accepting risks, Madhavan says entrepreneurship and experiential learning go hand in hand. Experiential learning motivates students to act as entrepreneurs, "syndicating various parts of the solution, bringing together the people who have the money with the people who have the technical skill," he says.
Second-year MBA student Charlie Fox says that solving real-world problems allowed him to put classroom lessons into action. He was part of a five-person team that studied the financial structure of Westinghouse Electric Co. after the company's acquisition by Japanese industrial giant Toshiba Corp.
Because Westinghouse is no longer a publicly traded corporation, it had a more challenging time evaluating its risk profile and capital structure. Fox's team developed a model that Westinghouse can use to help decide whether it should acquire other companies or assets. "It was one of the most valuable experiences of my MBA education," he says.
Supply Chain Management
Project courses pay dividends for companies and organizations that partner with Katz as well, says Bob Auray Jr., president and CEO of the Genco Marketplace division of Genco Inc.
Genco, a privately held corporation headquartered in Pittsburgh, describes its own business as supply chain management, the discipline of managing materials or inventory efficiently by choosing the right suppliers, acquiring special skills or technologies from third-party vendors, delivering goods to customers, and collecting and reselling items that are returned as damaged or obsolete.
In the fall of 2007, Katz students studied the different outlets that Genco Marketplace uses to divest surplus and recommended that the company maximize its profits by shortening some sales windows and keeping others open longer.
"They found some pretty profound differences," Auray says. "It was a really nice, valuable piece of work they did."
Supply chain management "started in manufacturing, but it also has a strong place in health care and other industries," Delaney says. "You're trying to ration demands so that you don't leave anything to chance."
Delena Spencer (KGSB '92), a vice president of finance and operations in the High Volume Analog business unit of Dallas-based Texas Instruments (TI), one of the world's largest manufacturers of computer chips and other semiconductors, says Katz's expertise in supply chain management has been a critical factor in her company's decision to recruit at Katz, including the hiring of six Katz graduates who have become senior finance managers. In addition, two of the corporation's newest hires are from Katz's class of 2007.
TI appreciates Katz's new emphasis on entrepreneurship, Spencer says. "We want people who are willing to look at new ways of doing things, especially from a supply chain aspect," she says. "People who are innovators are people willing to question the status quo."
International Expertise
Because of the global nature of the electronics business, Spencer's company also needs people with international experience, she says—and that gives Katz another edge. "The Katz School offers a great opportunity for (students) to interact with people from other cultures," she says. "We're looking for people who are willing to get up and leave home for a bit, because we do a lot of overseas travel, and we're looking for people who are comfortable spending time overseas."
A commitment to international business education is embedded in the Katz structure, says Camillus, who notes that the school was one of the first five within American universities to establish a Center for International Business Education and Research, or CIBER. The Katz CIBER, known as the International Business Center (IBC), is funded by a U.S. Department of Education grant and is a joint venture of Katz and Pitt's University Center for International Studies.
The IBC connects students, faculty, and local businesses to resources ranging from language education to information technology and provides networking opportunities with other business schools around the world. IBC Director Josephine Olson says the center is aggressively looking for other opportunities to add more international content to the curriculum.
"We already offer a master's degree in international business, and we're trying to develop some (MBA) project courses that would involve an international component," says Olson, Katz professor of business administration and economics. This year, for example, four Katz MBA students are working on group research consulting projects with four different "virtual teams" comprising students at other U.S. business schools. Each team will spend two weeks in May in China, Japan, or Brazil as part of its consulting project, Olson says.
"We have a history of institution-building abroad that's resulted in our faculty getting international exposure and knowledge," Camillus says, adding that close to 40 percent of Katz faculty members obtained at least one degree at a non-U.S. institution. "Our students develop international contacts, and our domestic (U.S.) students benefit the most, I think. Not too many business schools are able to do all of this."
Value Chain Management
Delaney says the next step for Katz is a leap ahead from supply chain management into international value chain management, which optimizes an organization's use of knowledge and skills as well as its physical assets and inventory.
"Every business has certain core competencies related to its expertise," Delaney says. "Companies have to decide what competencies are critical to their survival. If you let them go, you cripple your business and risk losing your ability to compete."
As business moves increasingly from the manufacture of physical goods to the delivery of intangible services like information, value chain management will emerge as the most important challenge facing businesses around the world in the next 40 to 50 years, Delaney says. "If we were surfers, we could see this wave coming," he says. "I want us to ride this wave."
Katz has formed a faculty task force to look at issues fundamentally addressed in value chain (as well as supply chain) management. The panel also is designing field-related graduate certificates that will debut later this year.
Most of the changes at Katz have focused on the MBA programs, which constitute the bulk of the school's enrollment and drive its ultimate reputation. But Delaney says that Katz's highly selective doctoral program continues to be a critical component within the school. "The program is important because it contributes greatly to the intellectual environment of the school," he says. "It gives a vibrancy to the whole atmosphere here by encouraging the type of thinking that develops new ideas."
John Prescott, the Thomas O'Brien Chair of Strategy and director of Katz's doctoral program, calls it the school's "research and development lab." Doctoral students bring fresh perspectives and a willingness to strike out in new directions, using leading-edge theoretical and statistical techniques, he says.
"We recruit individuals who desire jobs in a research-oriented university like Pitt and who want to publish in top-tier journals," Prescott says, "and we spend a lot of time mentoring them in the craft of research."
Selective Doctoral Program
Katz's highly competitive doctoral program accepts only 10 to 12 PhD candidates per year and has about 60 doctoral students at any one time, he says. The ratio of mentors to doctoral students is roughly one-to-one, Prescott says, adding that the intense faculty monitoring is a major benefit to students and faculty alike.
And unlike some universities, where doctoral students often are relegated to supporting research projects conducted by faculty, Katz encourages its faculty to treat doctoral students as full collaborators and to share credit. As a result, most Katz PhDs have developed a solid research portfolio by the time they graduate, Prescott says.
"The faculty have done very well by mentoring a small group of PhD students," Delaney says, adding that within the next two years, Katz will be actively exploring additional funding to enlarge the number of positions available for PhD candidates.
The school also is considering extending the funding for doctoral students from four years to five, Prescott says. "It gives them an extra year to work on publishing, and to develop an understanding of what the business of being an academic is all about," he says. Just as with the MBA program, the goal is for newly minted PhDs to arrive at their first teaching or research jobs ready to contribute from day one, he says.
Pitt Connection
Perhaps one of Katz's most compelling advantages over other business schools, Delaney argues, is that it's part of the University of Pittsburgh, which offers a wide range of internationally recognized graduate programs in life sciences, engineering, law, and the humanities. To that end, Katz now offers dual degrees that allow students to earn their MBA while simultaneously working on a another graduate degree, including a juris doctorate from Pitt's School of Law, a master's degree in information systems, or a Master of Science degree in engineering.
In January, Katz and Pitt's School of Pharmacy announced a partnership to offer a course on the business of medicines in health care. It's the first step toward a possible dual-degree program that would provide students with the opportunity to earn an MBA and a Doctor of Pharmacy degree at the same time.
In addition, Katz positions its accelerated one-year MBA program as an opportunity for students already at Pitt who are pursuing full-time graduate study in one of the University's other schools to add another master's degree while they are at the University.
"It makes tremendous sense for us to create joint programs that leverage the school with Pitt's other strengths," Delaney says. "It gives Katz a competitive advantage that will help us in all directions. It also adds value for students. It's the combination that makes the difference."
Collaborative efforts also reach off campus: In the doctoral program, for instance, Prescott notes that Katz students work and study with students and faculty at Carnegie Mellon University's Tepper School of Business and H. John Heinz III of Public Policy and Management. "We have several good cooperative relationships with them. I can't think of too many locations where two world-class universities are next to each other and complement each other's research thrusts, rather than compete," he says.
Prescott says the diverse makeup of the Katz student body provides another advantage for the students and faculty. Katz has a strong reputation for recruiting underrepresented students: Three of the 12 doctoral students accepted this year are from underrepresented groups and, in the full-time MBA program, about 47 percent of students are from countries other than the United States.
"Different people bring different capabilities, different resources, different competencies," says Camillus, and the diversity of cultural backgrounds forces students out of their comfort zones. "Sometimes it's difficult initially to work in a diverse team, but the results are much richer."
"Excellent Value"
Diversity, teamwork, and a global outlook makes Katz's graduates a valuable addition to corporate culture, says Texas Instruments' Spencer. "The majority of our manufacturing operations are overseas, and the majority of our customers are overseas," she says. "We're clearly looking for 'teaming' skills—the ability to both lead and follow. We also look for people with broad educational experience, who have shown that they have excitement or enthusiasm to learn."
In other words, people like Ying Nee Yap, who plans to become a healthcare industry consultant in Asia upon her graduation in April. "At other schools, they do projects on paper in class," she says. "They miss out on a lot. They don't know what's going on in real life and the mindset of people in real companies."
Or people like Charlie Fox, who interned this year with the accounting and financial advising firm Deloitte & Touche. He has accepted a position in GE's Commercial Finance division and will join the corporation's Experienced Commercial Leadership Program, a training program for promising young executives, later this year.
"I knew that Katz had an excellent reputation in the Pittsburgh region, but it also has a strong network of alumni that extends across the nation," says Fox, who holds an undergraduate degree in management from Grove City College. "It's an excellent value. When I consider the cost of my tuition versus where this degree is going to take me, it was the best investment I've ever made."
. . .
Providing Value, Offering Choices
During 2007, Pitt's Joseph M. Katz Graduate School of Business enrolled more than 500 part-time students and nearly 400 full-time students; awarded 300 master's degrees; conferred 11 doctorates; and provided nondegree, postgraduate courses and certificates to more than 1,600 people. Options include:
A doctorate (PhD) for students who intend to become a professor at a leading research university, or to direct research and development at a corporation or government agency;
A full-time, two-year Master of Business Administration (MBA) program, which includes a summer internship, additional project courses, community service opportunities, and as many as 30 electives in a variety of specialized areas;
A one-year, full-time MBA program for self-directed students who want to hone their management skills and then quickly return to their careers;
A part-time MBA program, which allows students to continue to work in the field while pursuing their degrees over a three-year period;
Six dual-degree options, which combine an MBA with master's degrees in management information systems, engineering, international business, or with a Juris Doctorate from Pitt's School of Law; Katz also partners with Pitt's Graduate School of Public and International Affairs to offer MBAs and master's degrees in public and international affairs and international development;
An Executive MBA (EMBA) program designed for experienced business professionals who want to enhance their careers; offered in Pittsburgh, Czech Republic, and Brazil, the EMBA program takes about 19 months, including three weeklong "immersion" sessions with students from the other sites; and
Certificates and nondegree, open-enrollment courses through Pitt's Center for Executive Education (CEE) for professionals seeking additional development in such categories as project management, leadership, personnel skills, and innovation and creativity. CEE also creates customized training programs for corporations, government agencies, and non-profit organizations.
Sources: University of Pittsburgh Office of Institutional Research, Joseph M. Katz Graduate School of Business.
. . .
Making a Difference
Alumni of Pitt's Joseph M. Katz Graduate School of Business are more than 19,000 strong and represent nearly 90 nations. The network includes prominent leaders in both business and education:
880 Katz alumni are board chairs, chief executive officers, or presidents of their businesses or organizations, including James Broadhurst (KGSB '66), chair and CEO of Eat'n Park Hospitality Group Inc.; Stephen Tritch (KGSB '77, ENGR '71), president and CEO of Westinghouse Electric Co.; Kevin Sharer (KGSB '92), chair and CEO of Amgen Inc.; Charlotte A. Zuschlag (KGSB '71), president and CEO of ESB Financial Corp.; Connie Cibrone (KGSB '83), president and CEO of Pittsburgh's Allegheny General Hospital; Paul Saville (KGSB '79), CEO of NVR; Joe Muscari (KGSB '69), CEO of Mineral Technologies; Paul Stecko (KGSB '73), chair and CEO of Packaging Corporation of America; and Ray Smith (KGSB '69), chair of Rothschild North America and former chair and CEO of Bell Atlantic;
195 alumni own their own companies;
72 alumni are partners in their companies or firms;
26 alumni are entrepreneurs or cofounders of their companies, including Jackie Johnson (KGSB '86), founder and CEO of Corazon Inc., who received the Ernst & Young Entrepreneur of the Year award in 2003 and was named one of Pennsylvania's Best 50 Women in Business in 2005 by the Pennsylvania Department of Community and Economic Development; and Mary Del Brady (KGSB '91), president and CEO of Red Path Integrated Pathology Inc. and a member of the National Women's Hall of Fame;
115 alumni are chief financial officers;
Two alumni are college presidents, including Eddie N. Moore Jr. (KGSB '75), president of Virginia State University and winner of the Dr. Martin Luther King Jr. Legacy Award and the Thurgood Marshall Scholarship Fund's Leadership Award;
Five alumni are business school deans, including Daniel C. Smith (KGSB '89), dean, professor, and Clare W. Barker Endowed Chair in Marketing in the Kelley School of Business at Indiana University, and a three-time recipient of a four-star rating from Business Week magazine's Guide to Leading Business Schools;
Seven alumni are associate deans; and
30 alumni hold professorial chairs.
Source: Joseph M. Katz Graduate School of Business
Other Stories From This Issue
There are no stories for the issue at this time.
On the Freedom Road

Follow a group of Pitt students on the Returning to the Roots of Civil Rights bus tour, a nine-day, 2,300-mile journey crisscrossing five states.
Day 1: The Awakening
Day 2: Deep Impressions
Day 3: Music, Montgomery, and More
Day 4: Looking Back, Looking Forward
Day 5: Learning to Remember
Day 6: The Mountaintop
Day 7: Slavery and Beyond
Day 8: Lessons to Bring Home
Day 9: Final Lessons