Newsmaker: Labs to House the Future of Computing
Issue Date:
November 5, 2012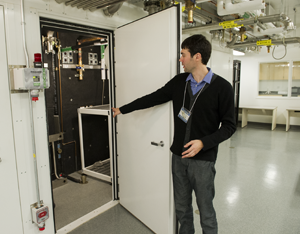 Sergey Frolov, a Pitt assistant professor of physics and astronomy, displays his climate-controlled, acoustically isolated room, which will be used to test components of future quantum computers. The space is part of several newly designed physics laboratories, based in Old Engineering Hall, that were opened to the media and public on Oct. 31. Frolov's space, which holds machines capable of reaching temperatures as low as 10 thousandths of a degree above absolute zero, will be integral to experiments related to quantum computing, which is the use of atomic and molecular power to perform memory and processing tasks. In his lab, Frolov will study a new type of fundamental particle he's discovered, called a Majorana fermion, which, according to Frolov, had been sought for the past 75 years and will be important in terms of information storage in quantum computers.
Pitt's Kenneth P. Dietrich School of Arts and Sciences hosted the two-hour tour of the new laboratories, which were built, in part, with funding from the National Institute of Standards and Technology (NIST). The tour was followed by a formal program of speakers, including Pitt Chancellor Mark A. Nordenberg; Pitt Provost and Senior Vice Chancellor Patricia E. Beeson; James V. Maher, Distinguished Service Professor of Physics, senior science advisor, and provost emeritus at Pitt; Patrick D. Gallagher (A&S '91G), under secretary of commerce for standards and technology and NIST director; George E. Klinzing, Whiteford Energy Professor, professor of chemical and petroleum engineering, and former vice provost for research at Pitt; and N. John Cooper, Bettye J. and Ralph E. Bailey Dean of the Dietrich School.
(Photo by Joe Kapelewski)
Other Stories From This Issue
There are no stories for the issue at this time.
On the Freedom Road

Follow a group of Pitt students on the Returning to the Roots of Civil Rights bus tour, a nine-day, 2,300-mile journey crisscrossing five states.
Day 1: The Awakening
Day 2: Deep Impressions
Day 3: Music, Montgomery, and More
Day 4: Looking Back, Looking Forward
Day 5: Learning to Remember
Day 6: The Mountaintop
Day 7: Slavery and Beyond
Day 8: Lessons to Bring Home
Day 9: Final Lessons