Issue Date:
January 26, 2009
 Long Timers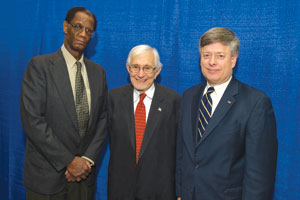 University of Pittsburgh Chancellor Mark A. Nordenberg (right) stands with Sherman Watson Jr. (far left) and Jerome L.  Rosenberg (middle) during Pitt's 2008 Staff Recognition Reception, which honored staff members with at least 20, 30, and 40 years of service to the University. Watson, an outpatient services assistant in Pitt's School of Dental Medicine, was honored for 48 years of service. Rosenberg, Pitt's research integrity officer and chair of the conflict of interest committee, was recognized for 55 years of service. The annual event was held Dec. 4 in the William Pitt Union.
The Fallingwater Cookbook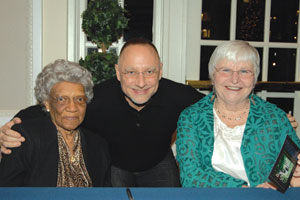 Elsie Henderson (left) was the longtime and last cook for the Edgar J. Kaufmann family and their guests at Fallingwater, the family's architecturally famous retreat home in the Laurel Highlands of Southwestern Pennsylvania. Henderson coauthored The Fallingwater Cookbook (University of Pittsburgh Press, 2008) with Suzanne Martinson (right), former food editor of the Pittsburgh Post-Gazette, and chef Robert Sendall (middle). The trio signed copies of their book during a Dec. 4 reception in the William Pitt Union's Tansky Lounge.
David E. Epperson Chair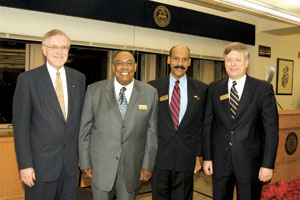 Pitt's School of Social Work (SSW) established the David E. Epperson Chair in honor of David Epperson (second from left), who was dean of the SSW from 1972 to 2001. A reception was held in Epperson's honor Dec. 9 in the school's conference center. The event was hosted by Pitt Provost and Senior Vice Chancellor James V. Maher (far left), SSW Dean and Donald M. Henderson Professor Larry E. Davis (second from right), and Pitt Chancellor Mark A. Nordenberg (far right).
Center on Race and Social Problems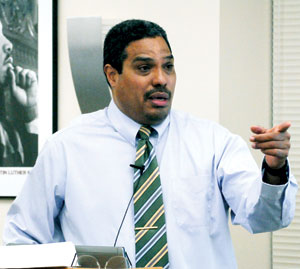 Duke University sociologist Eduardo Bonilla-Silva delivered an Oct. 16 lecture on racism, discrimination, colorblindness, and race matters in today's political America. Hosted by the School of Social Work's Center on Race and Social Problems, Bonilla-Silva spoke to a large audience in the school's conference center in the Cathedral of Learning.
Other Stories From This Issue
There are no stories for the issue at this time.
On the Freedom Road

Follow a group of Pitt students on the Returning to the Roots of Civil Rights bus tour, a nine-day, 2,300-mile journey crisscrossing five states.
Day 1: The Awakening
Day 2: Deep Impressions
Day 3: Music, Montgomery, and More
Day 4: Looking Back, Looking Forward
Day 5: Learning to Remember
Day 6: The Mountaintop
Day 7: Slavery and Beyond
Day 8: Lessons to Bring Home
Day 9: Final Lessons