Issue Date:
September 8, 2014
PITTSBURGH'S HERITAGE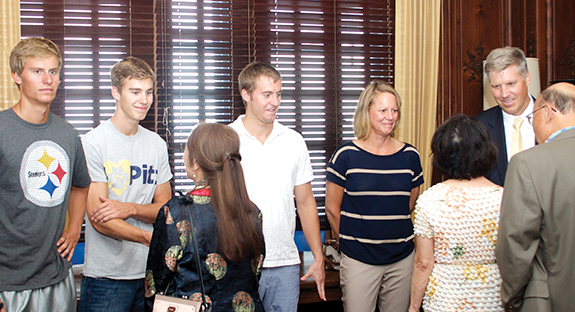 Chancellor Patrick Gallagher and his family were immersed in Pittsburgh's ethnic diversity and heritage during an Aug. 14 reception held by the University's Nationality Rooms Program. The Gallaghers were greeted by an international group of well-wishers: ethnic Pittsburghers who are active with the Nationality Rooms, student awardees of the rooms' Study Abroad Scholarships, program staff, Quo Vadis Guides, and Pitt carpenters and painters who have helped build and maintain the rooms. Irish dancers performed to honor Chancellor Gallagher's heritage—and ethnic dress, finger foods, and desserts were abundant. From left, in the receiving line in the Cathedral of Learning's 12th-floor Braun Room, are the Gallaghers' three sons, Devin, Ryan, and Sean; Chancellor Gallagher's wife, Karen; and Gallagher.
NATIONALITY ROOMS GET NEW TEACHING TOOL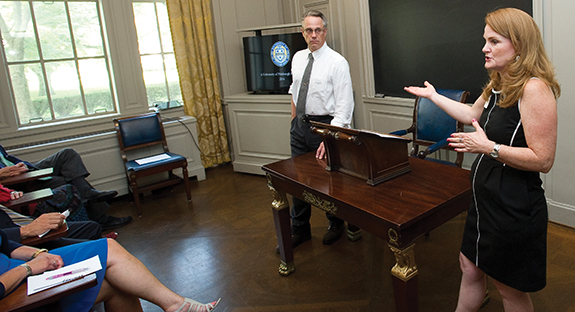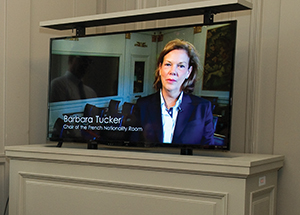 The French and Lithuanian Nationality Rooms in the Cathedral of Learning now have new, custom-designed credenzas containing a 50-inch HD video monitor and internet access to enhance classroom teaching, as well as technology for visitors to listen to a prerecorded description of the rooms. Pitt architect Loretta Killeen joined Ed Gyurisin, manager of classroom engineering in Pitt's Center for Instructional Development and Distance Education (CIDDE), to explain the challenge of creating credenzas to mimic the rooms' architectural design while incorporating modern teaching tools to rooms curated more than 75 years ago. At the push of a button, the TV screen retracts into the credenza leaving the rooms with a piece of era-appropriate furniture. Pictured on the screen is Barbara Tucker, chair of the French Room Committee.
LT. GOV. JIM CAWLEY VISITS TO TOUT TECH FUTURE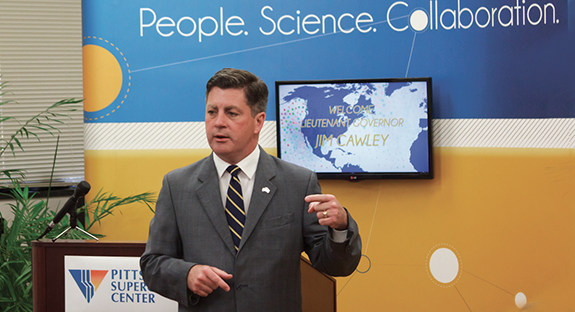 Pennsylvania Lieutenant Governor Jim Cawley visited the Pittsburgh Supercomputing Center on Aug. 27. Cawley spoke about the state's future as a technological hub. He also addressed the center's role in bolstering state and regional high-performance computing capabilities and the importance of science, technology, engineering, and math (STEM) education from high school to graduate study.
INDIA DAY 2014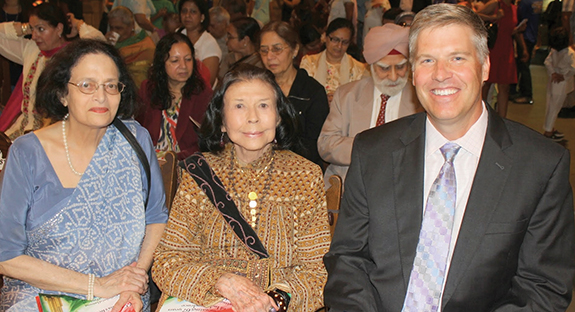 The University's India Day 2014 Celebration was held in the Cathedral of Learning's Commons Room on Aug. 17. The annual event commemorates India's independence day and is sponsored by Pitt's Nationality Rooms. From left, Saroj Bahl, chair of the Indian Nationality Room Committee; E. Maxine Bruhns, director of the Nationality Rooms and Intercultural Exchange Programs; and Chancellor Gallagher.
READY FOR FREDDY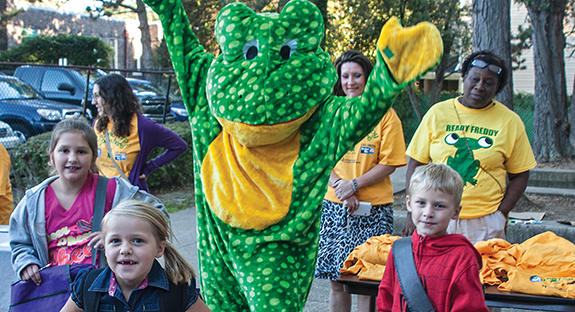 "Ready Freddy" greeted students on their first day of kindergarten at Pittsburgh Langley K-8 School in the West End on Aug. 28. The mascot also visited nine other Pittsburgh Public School sites that day. The Ready Freddy program, created by Pitt's Office of Child Development in 2008, helps to increase awareness about kindergarten's importance and to ease students' transition from the home to the classroom. Ready Freddy now serves as a model for similar programs nationwide and has boosted kindergarten enrollment at many schools.

Other Stories From This Issue
There are no stories for the issue at this time.
On the Freedom Road

Follow a group of Pitt students on the Returning to the Roots of Civil Rights bus tour, a nine-day, 2,300-mile journey crisscrossing five states.
Day 1: The Awakening
Day 2: Deep Impressions
Day 3: Music, Montgomery, and More
Day 4: Looking Back, Looking Forward
Day 5: Learning to Remember
Day 6: The Mountaintop
Day 7: Slavery and Beyond
Day 8: Lessons to Bring Home
Day 9: Final Lessons