No Geek Myth: Computer Science Department Reprograms Its Mission to Stress Creativity in Today's Diverse World
Issue Date:
August 22, 2007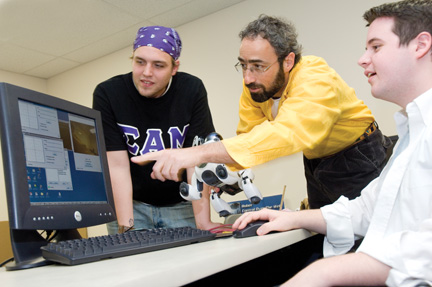 Daniel Mossé (center) with students Craig McDaniel (left) and Joshua Stachel.
Daniel Mossé presses his hand flat on his desk, an inch from an empty bottle.
"Tell me how to pick up that bottle," the Pitt computer science professor challenges an office visitor.
"Lift your hand," his puzzled guest ventures. Mossé raises his hand high above his head.
"Not that far," the visitor corrects Mossé. "About two inches above the desk."
Mossé obediently lowers his hand—but to the left of the bottle, not in a position to grab it.
Directed to turn his hand to the right, Mossé unhelpfully swivels to the right in his chair.
"I meant twist your hand at the wrist," says the frustrated visitor, who has just learned a cardinal principle of programming computers: Be very specific.
Just as interactive learning figured into Mossé's impromptu lesson, it's a key ingredient in his department's larger effort to increase and diversify its enrollments while better preparing Pitt students to meet the growing demand for computer-savvy workers.
For example, for this fall Mossé has revamped a section of his department's Introduction to Computer Programming course to include a different kind of hands-on exercise: Creating and directing animated films using a program called "Alice."
"Alice" includes thousands of preprogrammed moves for some 100 characters in various action scenarios such as ice-skating. Students will dictate camera angles, their characters' movements, and their films' plots. As they direct, students will learn that computers need precise instructions, Mossé points out. For example, if you instruct a computer-animated character to run, it will run…and run…and run, like Forrest Gump, until you tell it when, where, and how to stop.
The bottom-line goal, says Mossé, is for students to learn not only computer code, but also the logic behind computer communication, as well as the fact that computer programs consist of minute steps seamlessly sewn together.
Intro to Computer Programming fulfills a portion of the general education requirements for students in Pitt's School of Arts and Sciences, and Mossé overhauled the course in the hope of luring undecided freshmen into computer science by making their first foray into the field fun and creative.
Computer science and information technology (IT) are undergoing unprecedented growth and need new blood, says Pitt computer science chair and professor Rami Melhem.
"Computer science is everywhere now," he observes. "You have computers in your cellular phone, your refrigerator, and your car. If you look at who employs our students now, it's not limited to Microsoft, Intel, and IBM. It's Wall Street, banks, and pharmaceutical companies. UPS and Federal Express track deliveries by computer. Every major company has a huge IT department, even [fashion retailer] American Eagle."
Melhem says his department will design specific study tracks for some of these career paths in the coming years.
"The old general curriculum of programming and system building is not enough now," he maintains. "Computer science students will need different skills in banking than in retail. The options are too many, and we can't have all our students learning the same thing."
In that vein, Alexandros Labrinidis, an assistant professor in the department, recently received an Innovation in Education Award from the Provost's Advisory Council on Instructional Excellence to design what's called the Virtual WebDB Laboratory (DB=database).
Through this lab and two new department courses, upper-level Pitt computer science students will learn to design and build user-friendly, interactive, data-intensive Web sites. (Think of Facebook or a Web site of restaurant reviews for the Oakland area).
Students in the virtual lab also will create successful data "mashups," wherein features and data from existing Web sites are combined to forge a new site with an original function. An example of a "mash-up" Web site is Housingmaps.com, which lists available properties by various criteria drawn from craigslist.com and also plots their locations through Google Maps.
For Mossé, increasing his department's enrollments requires shedding computer science's reputation as a haven for techno-hermits who pore over lines of computer code during all-night Mountain Dew binges.
"Many students think being a computer science major is being a geek," Mossé says. "People think you sit in front of a computer all day and never talk to your friends. You do spend a lot of time in front of a computer, but you're always talking to people and working on group projects. In computer science, there is always interaction."
In addition to reconfiguring a section of Intro to Computer Programming, Mossé helped to create a computer science learning community at Pitt called Virtual Worlds. With a target membership of 20 students, the community will combine computer science education with a less technical subject of a student's choice.
"When we diversify [computer science] courses and present information in a fun way instead of a tedious way, it will appeal to a larger segment of the population," Mossé says.
Last year, 120 of Pitt's 155 undergraduate computer science majors were White and 137 were men, according to Mossé. Among the department's graduate students, he says, men outnumbered women 62 to 18. (Of the 68 men, 25 identified themselves as White and 24 as Asian/Pacific Islander. Of the 18 female graduate students, 12 were self-identified as Asian/Pacific Islander and four as White.)
Those numbers are consistent with national averages among computer science students, Mossé notes. According to National Science Foundation figures for 2003 (the most recent year for which such numbers were available) 70 percent of the 1.8 million people working in the United States as computer scientists and IT professionals were White and just over half were White males.
Among the Pitt programs aimed at diversifying computer science is the Technology Leadership Institute. Founded by Pitt computer science student Tonya Groover, the six-week summer institute offers area high school students academic and career-success workshops as well as more than 90 hours of course work in mathematics and computer science.
With the U.S. Department of Labor predicting strong demand for employees in computer-related fields, more people and different perspectives are needed to satisfy the variety of jobs available, says Melhem.
"There will be a shortage of computer scientists in the near future, and advancement in many sectors relies on having enough IT workers," he says. "As a university, we need to provide these professionals, but we can't, for instance, overlook women and miss 50 percent of the population. People of different backgrounds pursue fields [of interest] that vary widely, and have ideas based on their experiences."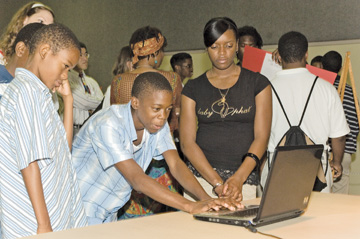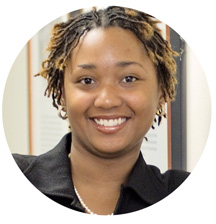 Pitt's Technology Leadership Institute (TLI) held its 2007 Student Recognition and Exhibition in the William Pitt Union Aug. 2. The event recognized achievements of area high school students who participated this summer in TLI, a six-week program aimed at teaching them the knowledge and skills necessary to gain admission into competitive college programs in computer science and information science. Among the speakers at the Aug. 2 event was TLI director and founder Tonya Groover (pictured at above right). Having completed her BS degree in computer science here last spring, Groover is beginning graduate study in the department this fall.
Other Stories From This Issue
There are no stories for the issue at this time.
On the Freedom Road

Follow a group of Pitt students on the Returning to the Roots of Civil Rights bus tour, a nine-day, 2,300-mile journey crisscrossing five states.
Day 1: The Awakening
Day 2: Deep Impressions
Day 3: Music, Montgomery, and More
Day 4: Looking Back, Looking Forward
Day 5: Learning to Remember
Day 6: The Mountaintop
Day 7: Slavery and Beyond
Day 8: Lessons to Bring Home
Day 9: Final Lessons