Nordenberg Fellows Are Set For Global Internships
By Ervin Dyer
Issue Date:
May 16, 2016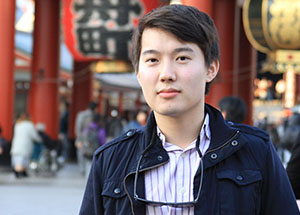 When Batkhuu Dashnyam looks toward his future, he sees the world stretch before him: Asia, the Caribbean, Europe, and other parts far flung.
That future just got a little closer thanks to a Nordenberg fellowship. Dashnyam has been chosen as one of five Pitt law students to be a 2016 Nordenberg Fellow.
The fellowships are funded by the Chancellor Mark A. Nordenberg University Professorship, which is held by Professor Ronald A. Brand and coordinated by the center he founded, Pitt's Center for International Legal Education (CILE). The program is now in its 10th year, and more than 27 law fellows have served legal internships in places such as Luxembourg, Germany, Serbia, Mexico, Kenya, and Ethiopia.
"These fellowships," says Brand, "allow our students to step out of the box, enter a different culture, gain practical experience, and stretch themselves beyond the typical law experience."
Dashnyam, who will begin his second year of law school in the fall, will use the fellowship to help with travel and living expenses for a nonpaid internship this summer with the law firm of González, Peñaherrera & Asociados in Quito, Ecuador.
Other 2016 Nordenberg Fellows are:
Adam Boucek, Class of 2017, who will intern with the U.S. Department of State at the U.S. Embassy in Australia.
Robert Cimmino, Class of 2018, who will intern with the Department of International Legal Cooperation of the Kosovo Ministry of Justice.
Valerie Merlina, Class of 2017, who will intern with Vjosa Osmani in the Kosovo Assembly. Osmani earned her Master of Laws and Doctor of Juridical Science degrees from Pitt's School of Law.
Zachary Uram, Class of 2018, who will intern with the law firm Lombardi Aguilar Group in Panama City, Panama.
The 2016 Fellows and their placements showcase how these international legal opportunities are important to CILE's mission and to Pitt's efforts to cross boundaries that too often divide disciplines, institutions, cultures, and countries, says Brand.
This will be Dashnyam's first trip to the tiny nation that sits in a northwestern corner of Latin America, but in many ways he has been preparing for this journey his whole life.
He grew up in Ulaanbaatar, the bustling capital and largest city in Mongolia. His father is a businessman and his mother an accountant. His father and mother sent him to private school, where he studied English and Russian languages and gained a deep appreciation of world cultures.
"I have grown up wanting to be the person who is always interested in knowing what is happening on the other side of the world," he says.
In 2002, the family sent Dashnyam, then 12, to live with a Mongolian diplomat and friend in Washington, D.C. Dashnyam missed his family, but living in a new culture enthralled him and stirred him toward wanting more.
Over time, he developed an affinity for Latino culture. He took Spanish in high school and lived with a Peruvian roommate in a Spanish-language residence hall at the University of Virginia, where he studied economics and foreign affairs as an undergraduate.
After graduating, he worked for five years with the World Bank, further broadening his international horizons. He worked on sustainable development, with a focus on Latin America and the Caribbean. He traveled to Haiti on a tourism project and worked to fight poverty and to build green infrastructure in Honduras. He also focused on climate change, researching, writing, and pursuing other efforts to support the 2015 global climate conference in Paris.
In 2014, Dashnyam gained his U.S. citizenship, and in thinking about the future, he decided legal training would give him the toolbox of diverse skills to make him globally competitive in the 21st century.
Dashnyam earned a Diversity Scholarship and entered Pitt's School of Law in fall 2015. Almost immediately, he designed a way forward that engaged his international interests. He is working on an International and Comparative Law Certificate offered through CILE and will soon begin studying French.
In January, he learned of the Nordenberg Fellows program and was encouraged to apply by Richard Thorpe, CILE's executive director. As it happened, Gustavo Arrobo, an attorney from the Ecuadorian firm, was at Pitt studying for a Master of Laws degree.
Through Arrobo, Dashnyam learned about the internship opportunity with the law firm, interviewed for it, and was ultimately offered the internship by the firm's managing partner. In several weeks, Dashnyam will leave for Quito after finishing his internship in the criminal division of the U.S. Attorney's Office for the Western District of Pennsylvania. His legal duties with the firm will include researching and drafting contracts, and he'll be in Quito until mid-August.
Dashnyam is excited about Ecuador because it brings together, he says, "my deep cultural interest in Latin America, the chance to improve my Spanish, and my desire to be exposed to a civil law system." In 15 or 20 years, he sees himself working with an international organization, an international law firm, or positioning himself to return to Mongolia, using politics or law to provide a world of opportunity to citizens in his native country.
Other Stories From This Issue
There are no stories for the issue at this time.
On the Freedom Road

Follow a group of Pitt students on the Returning to the Roots of Civil Rights bus tour, a nine-day, 2,300-mile journey crisscrossing five states.
Day 1: The Awakening
Day 2: Deep Impressions
Day 3: Music, Montgomery, and More
Day 4: Looking Back, Looking Forward
Day 5: Learning to Remember
Day 6: The Mountaintop
Day 7: Slavery and Beyond
Day 8: Lessons to Bring Home
Day 9: Final Lessons