Nordenberg Hall Bucks Trend for University Residence Halls
By John Fedele
Issue Date:
August 20, 2013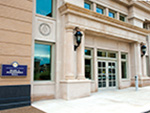 Mark A. Nordenberg Hall, which opened its doors to its first freshmen residents on Aug. 19, is bucking current trends in college housing with its move away from suite-style living. In fact, University officials had to convince Mackey Mitchell Architects, a national architectural firm specializing in designing collegiate residential facilities, to go against the trend and toward a design that encourages socialization among residents.
"This is important, especially for new students, because research has shown the importance of getting freshmen engaged early in their academic career," said Pitt Vice Provost and Dean of Students Kathy Humphrey. "In fact, students' ability to connect with other students within the first six weeks of their college experience is a key factor in their decisions to remain at the school for the duration of their college careers."
The new $59 million dollar residence hall, at the corner of Fifth Avenue and University Place next to the University Club, will house 543 first-year men and women in double and triple rooms, as well as 16 Resident Assistants. Each floor features two large lounge areas, smaller study lounges, a laundry room, and communal bathrooms with private stalls. The co-ed residence hall will house men and women in separate wings. The "flow" of the building was intentionally designed to route students through common areas to get to their rooms, increasing the chances for socialization with their peers. The freshmen-only residence hall will also help the first-year students create a sense of community among their class.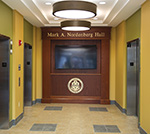 Pitt's Board of Trustees named the facility to honor Chancellor Mark A. Nordenberg's "commitment to students of the University throughout his distinguished career" and to "serve as a lasting tribute to this Chancellor, under whose leadership Pitt has reached unprecedented heights of achievement, impact, and prestige," according to board chair Stephen R. Tritch (ENGR '71, BUS '77G).
The first floor houses the University Pharmacy, and a branch of PNC Bank will open in October. One or more retail shops are expected to be added to the ground floor. The second floor houses the University's Wellness Center, consisting of Student Health Services and the University Counseling Center.
Student rooms begin on the third floor, which also houses the building's fitness room and two rooms fitted for noise reduction for student musicians to practice without disturbing their classmates. The third floor also features an outdoor patio for students to study, relax outside, or have small get-togethers. In keeping with Pitt's commitment to providing campuswide wireless Internet access, the entire building has wireless Internet available.
As with most of the new construction and renovations on campus, Nordenberg Hall has been designed to meet Leadership in Energy and Environmental Design (LEED) silver certification as a "green" building. The facility features high-efficiency, low-low plumbing fixtures designed to reduce water consumption; energy efficient lighting, heating and cooling systems; and a light-colored roof deck and light-colored street-level paving to help cool the building naturally. All the adhesives, sealants, coatings, paints, and carpeting have low or no VOC's (volatile organic compounds). More than 20 percent of all building materials have recycled content, and more than 20 percent of the materials were locally produced or manufactured. More than 75 percent of all the construction-related waste has been recycled or reused. An aggressive recycling plan, with daily pickups of recyclables, will cut down on the waste generated in the building.
The facility's urban location adds to its "green" designation, as it benefits from retail shopping, food, banking, and other services within walking distance, as well as robust access to public transportation. Indoor bike lockers enable residents to park their bicycles safely inside the building.
The City of Pittsburgh also installed a new set of traffic lights at the corner of Fifth Avenue and University Place, to make crossing the street to lower campus safer for students.
The residence hall is part of the University's 12-year plan, and is part of the University's commitment to increase available on-campus housing. Mackey Mitchell Architects was assisted by local architectural firm MacLachlan, Cornelius and Filoni. C.J. Dick was the construction manager for the project.
Other Stories From This Issue
There are no stories for the issue at this time.
On the Freedom Road

Follow a group of Pitt students on the Returning to the Roots of Civil Rights bus tour, a nine-day, 2,300-mile journey crisscrossing five states.
Day 1: The Awakening
Day 2: Deep Impressions
Day 3: Music, Montgomery, and More
Day 4: Looking Back, Looking Forward
Day 5: Learning to Remember
Day 6: The Mountaintop
Day 7: Slavery and Beyond
Day 8: Lessons to Bring Home
Day 9: Final Lessons