Oakland Community Food Pantry Thrives with Pitt's Support
By Jill King Greenwood
Issue Date:
November 17, 2014
Three Pitt volunteers busily stack soup cans and peanut butter while another helper sorts through boxes of fresh produce. It is Thursday and, in a bit, members from the local community and beyond will fill the Oakland Community Food Pantry to shop for food essentials.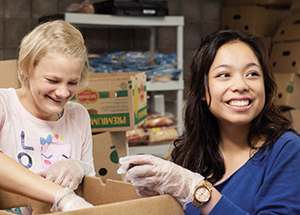 Through the hard work and generosity of the University of Pittsburgh and its many student and alumni volunteers, the food pantry—which is overseen by the nonprofit Community Human Services (CHS)—has become an essential part of its Oakland neighborhood. Located at 370 Lawn Street, it serves more than 1,200 people each month—a 12-fold increase since opening five years ago.
The pantry serves families and individuals who live in Oakland and anywhere in Allegheny County. Among the factors drawing clients from other areas outside of Oakland are the pantry's lack of a residency requirement and its easy, no-fuss signup process. The pantry provides fresh food, nutrition and dietary support, and access to other resources, including medical care and early childhood education as well as referrals for housing. There are childcare and learning facilities on site for after-school and summer programs.
"The food pantry is very important to so many people because it may be what gets them through the month, or what keeps them from deciding whether to buy food or their medications," said Mel Cronin, food pantry coordinator.
When the program began in late 2009, it served about 100 people each month, said Jon Hoffmann, director of policy and planning for Community Human Services, which oversees the pantry and other human services available at the Lawn Street location. Three years later, it was serving 602 people monthly, representing 223 households.
By this fall, the pantry was helping to feed 1,274 people, or about 472 households, Hoffmann said.
The food pantry serves clients with a median household income of $35,000 or less. A family of three typically receives food valued at about $92 a month.
"We're only able to serve that many folks because of the generosity of our individual and corporate partners," Hoffmann said, adding that the pantry can serve 1,200 people at a monthly operating cost of just $5,000, or about $4 per person served per month.
Organizers rely heavily on corporate and individual monetary donations from Pitt and from private organizations to buy food at cost from the Greater Pittsburgh Community Food Bank. They also receive donations from area farmer's markets, Clarion River Organics, and from Plant to Plate, a Pitt student organization.
Contributors to Pitt's annual United Way of Allegheny County fund drive can support the food pantry by donating to Community Human Services. Hoffmann said Community Health Services has decided, for the coming year, to put 100% of its contributions from United Way toward funding the pantry.
Cronin cites several reasons for the food pantry's growth, including the closure of other area food banks, a struggling economy, unemployment, and the rising cost of food and medications.
The University helped found the food pantry, and has remained instrumental in its success, Cronin said. The majority of volunteers are current students or alumni, and they come weekly to help stock the shelves and offer support and assistance to clients.
Hoffmann is a Pitt graduate, having earned a psychology degree in 2007 and a master's degree in social work in 2012.
"A lot of people are already uneasy about coming to a food pantry," Cronin said. "There is a stigma attached to it, and people in poverty are subjected to enough of that. We are proud of the work our volunteers do to make everyone feel welcome and accepted."
One volunteer, Hannah Goodnight, 21, has been volunteering since January. A junior majoring in anthropology and nutrition, she learned about the pantry through the Pitt Student Dietetic Association.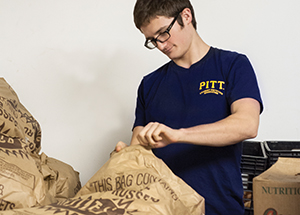 "The cool thing I like about what we do here is we get so much fresh produce," Goodnight said. "Canned goods are OK for an easy meal, but fresh produce is expensive and difficult for some people to access."
Goodnight said she loves seeing clients discover produce they hadn't previously brought into their kitchens.
The food pantry also offers a selection of specialty foods, including low-sugar, low-sodium, vegetarian, gluten-free and vegan products.
Lauren Faux, 20, a Pitt senior majoring in English literature and social work, said her volunteer work at the food pantry helped set her life direction.
"Being here helped me figure out that social work is what I want to do with my life," said Faux, of West Chester, outside Philadelphia.
Pitt has contributed to the pantry's operations in other ways, too, Hoffmann said. A group of students from Pitt's Swanson School of Engineering recently studied the pantry's food stocking and distribution processes and then offered ideas about making them more efficient.
Pitt nursing students, meanwhile, regularly are on hand during the food distribution days, offering blood-pressure checks and referrals to health resources. Pitt social work students often volunteer there as well.
"Part of our philosophy is that if you are coming here for food, you probably have other things happening in your family. We want to help address as many needs as we can, so that eventually someone may find themselves in a better position where they no longer need the food pantry," Cronin said.
Food distributions take place Thursdays from 3-6 p.m. and Fridays from 11 a.m. to 2 p.m., Cronin said.
For more information, contact Jon Hoffmann, 412-246-1608. The CHS Oakland Community Food Pantry is located at 370 Lawn Street, Oakland.
Other Stories From This Issue
There are no stories for the issue at this time.
On the Freedom Road

Follow a group of Pitt students on the Returning to the Roots of Civil Rights bus tour, a nine-day, 2,300-mile journey crisscrossing five states.
Day 1: The Awakening
Day 2: Deep Impressions
Day 3: Music, Montgomery, and More
Day 4: Looking Back, Looking Forward
Day 5: Learning to Remember
Day 6: The Mountaintop
Day 7: Slavery and Beyond
Day 8: Lessons to Bring Home
Day 9: Final Lessons