Outbreak! Pitt Program Helps High School Students Save City From Deadly Virus
By Morgan Kelly
Issue Date:
May 12, 2008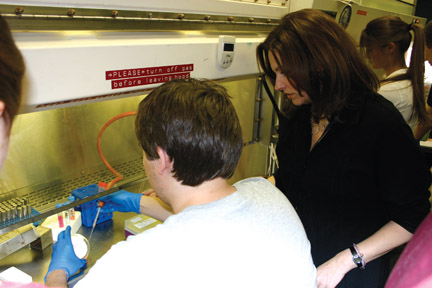 May 5, 09:00: Last month, Panther Hospital in Pittsburgh admitted three patients with low-grade fever and flu-like symptoms. They soon developed a high fever, bone and joint pain, shortness of breath, and swollen glands. All three died within 16 days. As of this morning, 58 people have died under like circumstances and another 136 show symptoms.
And with that information, students from Butler County, Pa., Knoch High School's advanced biology class are starting their morning with saving Pittsburgh from a possible epidemic.
This is the scenario behind Outbreak, one of several educational outreach programs in the Department of Biological Sciences in Pitt's School of Arts and Sciences that go beyond dissecting frogs to expose middle and high school students to biological labs and equipment they typically would have seen only on educational videos.
Acting as scientists from the federal Centers for Disease Control and Prevention (CDC), the Knoch High students are investigating a serious and mysterious wave of illness at the fictive Panther Hospital (Pitt's Clapp Hall) using techniques and equipment similar to those that CDC investigators would employ to identify and contain a rampant virus. The students must uncover the germ responsible for the chaos and then determine whether it's contagious.
Like CDC scientists, explains biological sciences' outreach director Alison Slinskey Legg, the students know nothing about the scenario except for the few details provided when they arrive—they have to figure out the rest.
"This program emphasizes asking the right questions and thinking independently," she says. "They form their own conclusions based on their knowledge and the data. We don't tell them anything, and if they pursue the wrong theory, we don't stop them."
Patient A is in the advanced stages. Patient B was exposed to Patient A, but exhibits no symptoms. Patient C is a healthy individual never exposed to infected people.
Kendra Schira, a senior at Knoch, peers into a hemocytometer, a device for counting cells. Her thumb clicks a handheld counter as she records the number of cells in a sample from Patient A. She finds 70—this patient is very ill.
Schira and her classmates receive cell samples (prepared rat cells) from the three "patients" and analyze the samples for virus particles, cell morphology, and cell growth over a certain number of days. The students need to figure out that the infected cells—ravaged by a contagious tumor virus—grow in clumps and multiply quickly.
This information emerges as the students count cells and spot pathogens with an electron microscope, among other lab work. By trolling for answers, the students learn about basic biological equipment and research processes through application rather than disquisition, says David Hornack, a biological sciences senior lab specialist who helped design the program along with biological sciences research assistant professor M. Teresa Sáenz-Robles, microscopy facility manager Thomas Harper, and Slinskey Legg.
"We wanted to tie biological concepts and methods into a task and into one another," he says. "The students learn that these techniques are not islands, that they all produce results that help solve a problem. This is the core of science."
The students' teacher, Ray Greco, says Outbreak and the other outreach programs not only spark his students' interest, but also reinvigorate his enjoyment of his own curriculum. Greco has taken part in several programs, including Pitt's biological sciences' Gene Team program, wherein selected high school biology teachers and students conduct actual research into gene-based health problems.
Greco translates those experiments into fresh lessons for his classes.
"We don't just do lab procedures, we apply this science as it's actually used," he says. "I can't tell you how important these programs have been for them and for me. At a certain point, for teachers and students, school can just feel like a job, but with these workshops, you get the excitement of trying to accomplish something."
Back in the main lab, Knoch senior Ford Stepp and junior Travis Tasker graph their hemocytometer cell counts for all three patients.
"That's weird," Stepp says, reviewing the data.
"Yeah, Patient B's count leveled off," Tasker interjects, turning his eyes to his paper to figure out why. …
For more information, visit the Biological Sciences Outreach Programs Web site at www.pitt.edu/~biohome/Dept/Frame/outreach.htm.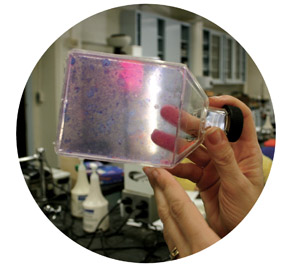 Other Stories From This Issue
There are no stories for the issue at this time.
On the Freedom Road

Follow a group of Pitt students on the Returning to the Roots of Civil Rights bus tour, a nine-day, 2,300-mile journey crisscrossing five states.
Day 1: The Awakening
Day 2: Deep Impressions
Day 3: Music, Montgomery, and More
Day 4: Looking Back, Looking Forward
Day 5: Learning to Remember
Day 6: The Mountaintop
Day 7: Slavery and Beyond
Day 8: Lessons to Bring Home
Day 9: Final Lessons