Papers of Jazz Pianist Erroll Garner Donated to University
By Sharon S. Blake
Issue Date:
June 15, 2015
The professional materials of Pittsburgh-born jazz pianist Erroll Garner—a brilliant virtuoso who was one of the most influential musicians of his genre—have been given to the University of Pittsburgh Library System.
Assembled by his long-time agent, manager, and civil rights advocate, the late Martha Glaser, the collection is an exceptionally complete record of a major mid-20th-century musical career and of both Garner's and Glaser's roles in removing racial barriers in the music industry and asserting artists' rights.
The Erroll Garner Archive, donated to Pitt by Glaser's estate, will be housed within Pitt's University Library System.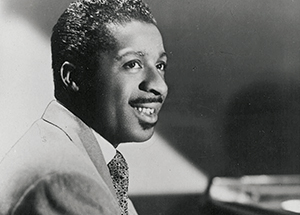 The materials include correspondence, performance and recording contracts, photographs, sheet music, awards, sound and video recordings, and memorabilia ranging from an illustration of Garner sketched on a cocktail napkin in a Paris jazz club to a telephone book he sat on to boost his short stature (5 ft. 2 in.) while performing, so he could better leverage the piano keys.
Garner, born in Pittsburgh on June 15, 1921, began playing piano when he was three years old. By age seven, he was performing on KDKA Radio with a group called the Kan-D-Kids. He attended Westinghouse High School and moved to New York City in 1944. Ten years later, he recorded his best-known composition, Misty, a lush ballad that was recorded by hundreds of instrumentalists and vocalists over the years and became the signature song of Johnny Mathis. Garner died of lung cancer in 1977 at age 55 and is buried at Homewood Cemetery. Today, Monday, June 15th, would have been his 94th birthday.
To mark the anniversary of Garner's birthday, Sony Legacy will announce June 15 the release of a new Garner album, The Complete Concert by the Sea, co-produced by Pitt Jazz Studies Director and pianist Geri Allen. The album, to be released jointly with the Octave Music Publishing Corporation, will feature 11 previously unreleased tracks and never-before-heard interviews of the Garner Trio.
It is fitting that the Erroll Garner Archive has found its permanent home at Pitt, says Steven Smallowitz, spokesman for the Glaser estate, because both Glaser and Garner were from Pittsburgh and because of the "long and marvelous history of Black music and jazz that originated in Pittsburgh."
"The University has one of the top-rated archival facilities in the country," he added. "It's also one of the few universities with a 45-year commitment to jazz studies, including a Jazz Studies Program with a PhD concentration, directed by internationally renowned pianist Geri Allen. Pitt's willingness to see the Garner Archive as a bridge to the community for the strengthening of jazz studies, performance, and preservation, has been most central to our decision to donate the collection to Pitt."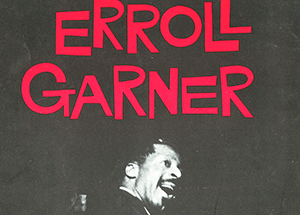 Providing a permanent home for the archive is well-aligned with the strengths of the Department of Music, says N. John Cooper, the Bettye J. and Ralph E. Bailey Dean of Pitt's Kenneth P. Dietrich School of Arts and Sciences, which houses the Jazz Studies Program.
"This collection, an amazing legacy of one of the most original and individualistic pianists in the jazz narrative, will be a strong draw for scholars and prospective music doctoral students," said Cooper. "Jazz is one of the most important art forms original to America, and one that we at Pitt are committed to preserving and expanding through the artistry and scholarship of our faculty, the quality of our teaching, and our engagement with the broader community."
Allen said the archive "offers an opportunity for a deeper or more definitive understanding of Garner's contributions and his musical legacy, and thereby a richer understanding of the cultural history itself."
"Mr. Garner's innovative singular piano technique personifies a joy of fearless virtuosity and exploration," she added. "One of the defining precursors to bebop, he embodied the very spirit of swing, free improvisation, and the blues."
Those wishing to view or use the collection for research purposes may contact Ed Galloway at 412-648-5901 or edwardg@pitt.edu.
Other Stories From This Issue
There are no stories for the issue at this time.
On the Freedom Road

Follow a group of Pitt students on the Returning to the Roots of Civil Rights bus tour, a nine-day, 2,300-mile journey crisscrossing five states.
Day 1: The Awakening
Day 2: Deep Impressions
Day 3: Music, Montgomery, and More
Day 4: Looking Back, Looking Forward
Day 5: Learning to Remember
Day 6: The Mountaintop
Day 7: Slavery and Beyond
Day 8: Lessons to Bring Home
Day 9: Final Lessons