Partnering with Pittsburgh's Past
By Sharon S. Blake
Issue Date:
November 17, 2014
About 100 people convened at Pitt's University Club on a recent rainy Tuesday, drawn by a love of the past and a yearning to save a piece of it for the future.
They had come to the right place: an Oct. 21 celebration of Pitt's Historic Pittsburgh Web site, http://digital.library.pitt.edu/pittsburgh launched by the University Library System in 1999 with just two partners.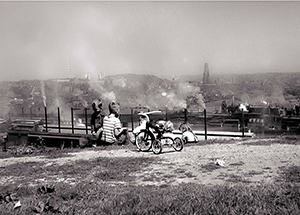 Today, the website has 14 partners that provide content, mostly in the form of images and photos. The partners range from Pitt's vast Archives Service Center and the Sen. John Heinz History Center to the Pittsburgh Symphony Orchestra and Rodef Shalom Congregation. In addition to more than 32,000 photographs that document the city's history, the site includes books about Pittsburgh, as well as census data, videos, maps, and a timeline representing 300 years of city history. Together, they offer a compelling look at how Pittsburghers lived and worked in the 19th and early 20th centuries.
Some of the attendees wanted to learn how to preserve old family photos. Others wanted to know how to trace their family tree. And seemingly almost all were connected by a strong interest in old photos, documents, texts, and a hunger for Pittsburgh history.
Representatives from each Historic Pittsburgh partner were available during the fair, as were other experts who shared historical information or gave attendees guidance on preserving family photos or documents.
"I have photos of my great grandmother and my grandmother and her siblings as children," explained Rich Riccardi of the North Side to University Library System Media Curator Miriam Meislik, who was quick with advice. Scan the originals for display and store the original. Never use sleeves that contain polyvinylchloride, which can damage the photos. If possible, keep the room temperature where photos are stored at 68-70 degrees and never display them in direct sunlight.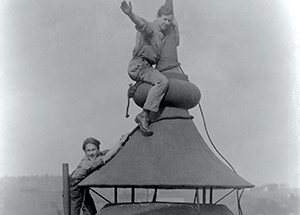 Pittsburgh Post-Gazette multimedia producer Steve Mellon presented a visual journey through the Hill District, taking the audience back to 1932 and the scene of the daylight murders of the Volpe brothers who sold bootleg booze to Pittsburghers during Prohibition. The narrative with photos, many from the Historic Pittsburgh Web site, was part of the interactive PG project, Pittsburgh: The Dark Years. A second talk, by Angelique Bamberg, an instructor in Pitt's Department of History of Art and Architecture, covered Chatham Village, an enclave of 1930s townhomes tucked away on Pittsburgh's Mount Washington. It was illustrated with photos gleaned from Historic Pittsburgh.
Ed Galloway, director of Pitt's Archives Service Center and an organizer of the fair, said updates are planned for the popular Web site, including improved search and sorting tools and additional content, ranging from more videos and audio material to tens of thousands of digitized manuscripts.
The well-attended session came to a close and participants departed back into the day's rain, armed with a better sense of their city and how they might document their lives for generations to come.
Other Stories From This Issue
There are no stories for the issue at this time.
On the Freedom Road

Follow a group of Pitt students on the Returning to the Roots of Civil Rights bus tour, a nine-day, 2,300-mile journey crisscrossing five states.
Day 1: The Awakening
Day 2: Deep Impressions
Day 3: Music, Montgomery, and More
Day 4: Looking Back, Looking Forward
Day 5: Learning to Remember
Day 6: The Mountaintop
Day 7: Slavery and Beyond
Day 8: Lessons to Bring Home
Day 9: Final Lessons