Pederson Returns to Lead University's Athletic Department
Issue Date:
December 3, 2007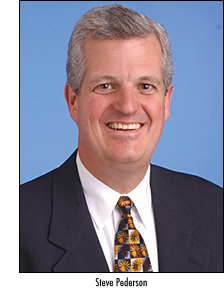 Pederson departed Pitt in December 2002 to become athletic director at his alma mater, the University of Nebraska. He returns to Pittsburgh nearly 11 years to the day of his initial Pitt appointment by Nordenberg.
"For six exciting years, Steve Pederson led the University of Pittsburgh through a period of unprecedented progress in intercollegiate athletics," Nordenberg said. "For many, the most visible development was the stunning transformation of our athletic facilities. But this also was a period in which our teams competed at dramatically higher levels, national attention was reignited, fan interest and attendance soared, programs for the overall development of our student-athletes were strengthened, and uncompromising standards of institutional integrity were maintained. In my judgment, and this assessment is shared by countless others, Steve Pederson is one of this country's most talented and accomplished athletic directors, and I am very pleased that he is returning to Pitt."
"I am grateful to Chancellor Nordenberg for the opportunity to again be part of this great University, city, and region," Pederson said. "Leaving here five years ago was the hardest professional decision of my life. Coming back was the easiest. As great as the past has been at Pitt, the future is even brighter. I am thrilled to be able to work with Pitt's great coaches and staff, and I'm anxious to get to know our student-athletes. My wife, Tami, and I are also excited to renew acquaintances with our great Pitt fans and welcome many new fans to the Panther family."
"Steve was the person who originally convinced me to come to the University of Pittsburgh back in 1999," Pitt men's basketball coach Jamie Dixon said. "He has continued to be a tremendous friend and a person I have regularly sought out for advice and direction over the years. I am incredibly excited that Steve and his family are returning to our University. Everyone in our department is going to benefit from his leadership."
During his initial Pitt tenure, Pederson hired six Big East Conference Coach-of-the-Year honorees (football, men's and women's basketball, baseball, track and field, and volleyball), an unprecedented achievement by a Big East athletic director.
In 1999, he charged an unknown coach from Northern Arizona University with the task of resurrecting the Panthers' struggling men's basketball program. That coach, Ben Howland, would build Pitt into a Big East power and was named the consensus National Coach of the Year in 2002.
Pitt, which had not been to the NCAA Tournament in nine years, advanced to the "Sweet 16" in 2002 after posting a school-record 29 victories. The following season, Pitt would reach No. 2 in the polls, capture its first Big East Tournament championship, and again advance to the NCAA regional semifinals.
Since that time, Pitt basketball has become one of the nation's most consistent winners, advancing to six consecutive NCAA tournaments from 2002 to 2007.
Pitt football was revitalized under Pederson's watch. Upon his arrival, the Panthers were coming off seven consecutive seasons without a bowl. By the end of his tenure, Pitt earned four bowl berths in six years, including back-to-back postseason wins in 2001 and 2002.
The '02 team finished 9-4, the program's best mark in 20 years, and ranked No. 18 in the final polls.
Pitt enjoyed tremendous achievements in attendance under Pederson. In NCAA Division I men's basketball, Pitt ranked among the nation's top five schools in attendance increase for two consecutive years (2001-02 and 2002-03).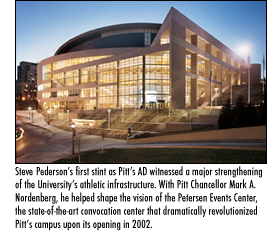 The 2002-03 basketball season—the inaugural campaign in the 12,508-seat Petersen Events Center—was sold out.
In football, Pederson formed a marketing and ticket-pricing plan that resulted in record attendance for the 2003 season. Season tickets were sold out for the '03 campaign as the Panthers averaged an all-time record 59,197 fans for their home season, surpassing the previous mark of 54,818 set in 1982.
Pederson's tenure witnessed a major strengthening of Pitt's athletic infrastructure. With Nordenberg, he helped shape the vision of the Petersen Events Center, the state-of-the-art convocation center that dramatically revolutionized Pitt's campus upon its opening in 2002.
The Petersen Center is widely considered one of the finest college basketball venues in the country, and it also has been a major asset for student life, providing outstanding recreational facilities and an impressive venue for graduation ceremonies.
Pederson was at the forefront of the football program's move into the UPMC Sports Performance Complex, which included the forging of a unique relationship between UPMC, a professional sports franchise, and college athletic program.
Pitt football gained a sparkling new home in Heinz Field under Pederson's watch in 2001.The Panthers created a prominent presence at the new stadium with their logos on the seating, gates and signage. Pederson additionally initiated the renaming of Martindale Street to "Tony Dorsett Drive" to further enhance Pitt's identity on the North Shore.
Fitzgerald Field House underwent a major renovation in 1998-99, providing Pitt's Olympic sports programs with new locker and training facilities. Trees Field also underwent major upgrades to accommodate both baseball and Pitt's new softball program.
Pederson and his wife have three children: Mark, Kari, and Kristin.
Other Stories From This Issue
There are no stories for the issue at this time.
On the Freedom Road

Follow a group of Pitt students on the Returning to the Roots of Civil Rights bus tour, a nine-day, 2,300-mile journey crisscrossing five states.
Day 1: The Awakening
Day 2: Deep Impressions
Day 3: Music, Montgomery, and More
Day 4: Looking Back, Looking Forward
Day 5: Learning to Remember
Day 6: The Mountaintop
Day 7: Slavery and Beyond
Day 8: Lessons to Bring Home
Day 9: Final Lessons