Issue Date:
March 30, 2009
Pitt Magazine's Phenomenal Women
Pitt Magazine's Winter 2009 issue highlights the successes and contributions of 12 University of Pittsburgh women. To mark March's nationally celebrated Women's History Month, the magazine's editors and publisher assembled a contemporary cross-section of women from the Pittsburgh campus, representing students, faculty, staff, alumni, and trustees. The editors then profiled each of them, along with the Pitt women who began it all, Stella and Margaret Stein. The Pitt Chronicle reprinted six of those profiles in the March 16 and 23 issues; here is the reprint of the remaining six women's profiles.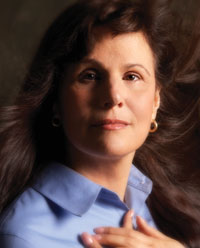 Susan G. Amara
Thomas Detre Professor and Chair
School of Medicine Department of Neurobiology
Codirector, Center for Neuroscience
University of Pittsburgh
Member, National Academy of Sciences
Fellow, American Association for the
Advancement of Science
As a child, Susan Amara loved to explore her family's garden. Her natural curiosity led her to extract liquids from plants and to corral bugs for study. Once, she wanted to pull up her bedroom carpet to build a chemistry lab, but her mother intervened. Years later, Amara's curiosity and creativity are the cornerstones of her pioneering science.
In junior high school, she was influenced by a field trip to a pharmaceutical company and became interested in pharmacology. After undergraduate studies at Stanford University, she completed her PhD in physiology and pharmacology at the University of California, San Diego, and soon joined the faculty at Yale as a Howard Hughes Medical Institute fellow and, in time, a senior investigator.
In the late 1980s, her Yale University lab was the first to clone the norepinephrine transporter, one of many molecules that regulate the brain's chemical activity. Since then, her work has produced significant insights into brain chemical transporters, with implications for impairments like addiction and degenerative brain conditions.
"We've benefited greatly by looking at things in a different way," says Amara, who joined the Pitt faculty in 2003 and is now Thomas Detre Professor and chair of the School of Medicine's neurobiology department. "When you're not encumbered by preconceived notions, you notice things." She also holds a secondary appointment as professor of pharmacology and is codirector of the University's Center for Neuroscience.
Amara has received a number of coveted awards and fellowships, among them the 1992 Young Investigator Award from the Society for Neuroscience, the 1993 John J. Abel Award from The American Society for Pharmacology and Experimental Therapeutics, an investigator award from The McKnight Foundation, a 1997 MERIT Award from the National Institute on Drug Abuse, and the 2006 Julius Axelrod Award from the Catecholamine Club. She was elected to the prestigious National Academy of Sciences in 2004 and, in 2007, was elected a fellow of the American Association for the Advancement of Science for her outstanding contributions to neuroscience.
And...it all began with a youngster full of curiosity in a family garden.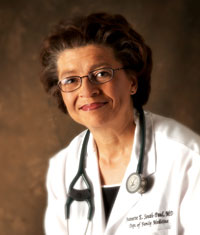 Jeannette South-Paul
MED '79
UPMC Andrew W. Mathieson Professor and Chair
School of Medicine
Department of Family Medicine
University of Pittsburgh
Jeannette South-Paul called her mother weekly during her years as a Pitt medical student in the 1970s. She missed her Philadelphia home. Few classmates could relate to the challenges of being a woman and second-generation African American whose family had emigrated from Jamaica. She worried about her ability to succeed. Every week, her mother urged her to keep going.
In 1979, she earned her medical degree from Pitt and served as a family doctor in the U.S. Army for 22 years, ultimately as vice president, chair of family medicine, and professor at the Uniformed Services University of the Health Sciences. After retiring from military service as a colonel, she returned to Pitt to become the first female chair of a Pitt medical department and the first Black female chair in the nation of a medical department at a nonhistorically Black college or university. At Pitt, she is the UPMC Andrew W. Mathieson Professor and chair of the Department of Family Medicine.
In 2004, The Joy McCann Foundation named South-Paul a McCann Scholar, with a $150,000 award—the only national honor by a private foundation to recognize mentors in medicine, nursing, and science. In 2005, she was featured as one of the preeminent women doctors in U.S. history when the National Library of Medicine included her in the exhibition Changing the Face of Medicine: Celebrating America's Women Physicians.
Several years ago, South-Paul spoke to freshman women at Pitt's Lantern Night, inspiring and urging the students to succeed, just like her mother inspired her three decades earlier. South-Paul's advice: "Remember that the difference between a successful person and one who is not is that the successful one gets up one more time than the one who fails."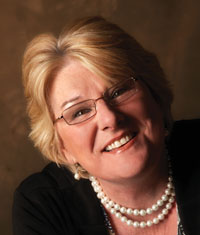 Agnus Berenato
Head Coach
Women's Basketball
University of Pittsburgh
When Agnus Berenato arrived at the University of Pittsburgh in March 2003, the women's basketball team had seven losing seasons in its past eight. Four years later, under her leadership, the Lady Panthers racked up the most wins in team history with a 24-9 record and earned a first-time berth in the NCAA tournament. The team ascended into the nation's top 25 for the first time since 1979, climbing as high as 14th in the Associated Press poll after an 11-0 run. In the 2007-08 season, the team pulled off its biggest marvel yet, advancing to the Sweet 16 in the NCAA Tournament for the first time in Pitt women's basketball history. [As of press time for this issue of the Pitt Chronicle, the team had advanced to the NCAA Tournament's Sweet 16 for the second consecutive season.]
"What she's done in a short time is nothing short of a miracle," says Paul Zeise, a sports writer for the Pittsburgh Post-Gazette who has covered Pitt women's basketball for almost a decade.
Berenato has been honored twice as Pittsburgh's Sportswoman of the Year by the Dapper Dan Charities. She makes no secret of her ambition in Pittsburgh. "I want to win a national championship," she says, without blinking. Ultimately, though, she knows she won't be remembered where it counts the most. "The X's and O's of a win-loss record are literally about 5 percent of what we do," she says. "It is about so much more than that. It's about helping to transform young women into better athletes, better students, and better people." That's what counts the most to Coach Berenato.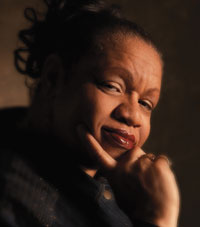 Gwen Watkins
Vice President, Steering Committee,
Staff Association Council
Community Activities Coordinator
Office of Community and Governmental Affairs
University of Pittsburgh
Every day she performs acts of kindness. As the community activities coordinator for the Office of Community and Governmental Relations at Pitt, Gwen Watkins spends much of her time helping Pitt faculty and staff volunteers reach out and give back to communities near and far. She coordinates campus blood drives. She volunteers at Family House, a "home away from home" for out-of-town patients who are being treated for serious illnesses. She organizes a winter collection for the homeless to put warm socks on cold feet. As a volunteer for Project Bundle-Up, she takes youngsters shopping for brand-new clothes. With others from campus, she serves dinner to the homeless and needy to chase away the holiday blues. And, if that's not enough, she is vice president of the steering committee and a longtime member of Pitt's Staff Association Council, which represents all staff in matters of University governance.
For Watkins, such grace comes naturally. Her stay-at-home mother, Bertha, modeled the art of nurturing and just being there; her hardworking father, Albert, a maintenance manager, taught her the value of integrity. Inspired by those whom she calls her "women of strength"—women of faith, women who are wise, women who persevere against trial—Watkins, a breast cancer survivor, makes it her own cause to mentor young women, to help them succeed, and to show them their own strengths, just as her parents did for her.
The lessons from her century-old Baptist church urged her to take her ministry beyond its walls—and that's what she does, every day.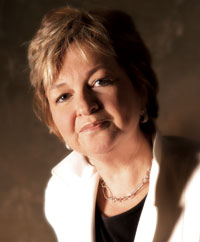 Eva Tansky Blum
A&S '70, LAW '73
Trustee and Cochair, Building Our Future
Together Capital Campaign,
University of Pittsburgh
Senior Vice President and Director of
Community Affairs, PNC Bank
Chair, PNC Foundation
As a Pitt undergraduate in the late 1960s, Eva Tansky Blum was interested in politics, democracies, and how individuals could bring about positive change within the system. She studied political science and then won a scholarship to attend Pitt's law school. "From the moment I got that scholarship, I felt that someday it would be my responsibility to make sure other students who came after me would have the same opportunities," she says. Ever since, she has been active in helping others—at Pitt and far beyond.
Today, Blum is senior vice president and director of community affairs at PNC Bank and chair of the PNC Foundation. Her volunteer activities have supported the Susan G. Komen Pittsburgh Race for the Cure, the Ellis School, and many other community ventures. In 1998, she received the YWCA Greater Pittsburgh Tribute to Women Leadership Award; in 1999, she was honored as one of Pennsylvania's Best 50 Women in Business; and in 2001, she was recognized as one of the Carlow University Women of Spirit.
A recipient of the Pitt Volunteer of the Year award in 1990, Blum remains actively involved in the University. She serves as cochair of the University's $2 billion capital campaign, along with her brother, Burton M. Tansky (A&S '61), president and chief executive officer of The Neiman Marcus Group, who is also a Pitt trustee. In 2006, the Tansky siblings—including sister Shirley Gordon of Pittsburgh—established the Tansky Family Lounge in the William Pitt Union in honor of their parents.
Eva Tansky Blum also is a member of the executive committee of Pitt's Board of Trustees; serves on the law school's Board of Visitors; and is a life member and past president of the Pitt Alumni Association, whose Alumnae Council named her a Distinguished Alumna in 2007. She recently received the 2008 Distinguished Alumnus Award from the School of Law.
Blum learned her early Pitt lessons well. She's a wonderful example of how individuals can, indeed, work within the system to create positive change while inspiring others to do so, too.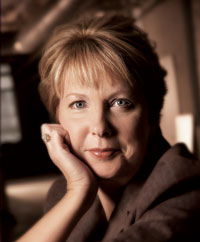 Amy Krueger Marsh
Treasurer and Chief Investment Officer
Office of Budget & Controller
University of Pittsburgh
Amy Krueger Marsh remembers grappling with new math techniques as an 8-year-old student at Starr Elementary School in Oregon, Ohio. Her father sat her down and told her, in no uncertain terms, that she would learn them. She did.
Today, as Pitt's treasurer and chief investment officer, Marsh is responsible for managing Pitt's substantial financial assets, which have benefited significantly from her leadership during her nine years at the University.
"She's always very independent minded," says Arthur G. Ramicone, Pitt's vice chancellor for budget and controller. She does her homework and makes up her own mind about whether an investment opportunity is the right opportunity for the University of Pittsburgh."
One day last spring, Marsh was tying up loose ends before flying to London, England, to meet with global fund managers. Although it is not unusual for a woman to head an endowment or foundation, the investment managers Marsh deals with more often are men. She spends a lot of time traveling each academic year, meeting with fund managers and other financial leaders around the nation and the globe.
Yet she doesn't feel like a trailblazer for women's rights. That pioneering work was performed a long time ago, Marsh says. "I find that investing cuts across gender, ethnicity, age, and other cultural or physical characteristics. People instead are looking for intellect, insights, and ideas."
Whether she is serving as a role model for her two daughters or for other women, Marsh believes the best way for her to set a good example is to excel at her work: "The greatest measure of success is being passionate about the path you have chosen."
Other Stories From This Issue
There are no stories for the issue at this time.
On the Freedom Road

Follow a group of Pitt students on the Returning to the Roots of Civil Rights bus tour, a nine-day, 2,300-mile journey crisscrossing five states.
Day 1: The Awakening
Day 2: Deep Impressions
Day 3: Music, Montgomery, and More
Day 4: Looking Back, Looking Forward
Day 5: Learning to Remember
Day 6: The Mountaintop
Day 7: Slavery and Beyond
Day 8: Lessons to Bring Home
Day 9: Final Lessons