Philosophy Prof Belnap, Katz Alum Smith Elected American Academy of Arts and Sciences Fellows
By Patricia Lomando White
Issue Date:
May 12, 2008
This is the third consecutive year a Pitt philosophy professor
has received this honor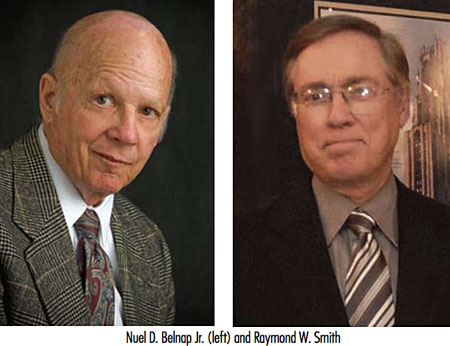 Nuel D. Belnap Jr., Pitt's Alan Ross Anderson Distinguished Professor of Philosophy, and former Pitt trustee and business school alumnus Raymond W. Smith have been elected 2008 Fellows of the American Academy of Arts and Sciences (AAAS). This is the third consecutive year a Pitt philosophy professor has received this honor.
Belnap also is a professor of the history and philosophy of science and a fellow of Pitt's Center for Philosophy of Science. Smith is chair of Rothschild North America in New York City and chair of the executive committee of Arlington Capital Partners in Washington, D.C.
Belnap and Smith are among 212 scholars, scientists, artists, and civic, corporate, and philanthropic leaders from 20 states and 15 countries to be elected this year. The honorees range in age from 37 to 86.
Among the 190 new fellows and 22 new foreign honorary members in addition to Belnap and Smith are such renowned figures as U.S. Supreme Court Senior Associate Justice John Paul Stevens, mathematician and philanthropist James H. Simons, soprano Dawn Upshaw, Nobel Prize winners Linda Buck and Craig Mello, computer company founders Michael Dell of Dell Inc. and Charles M. Geschke and John E. Warnock of Adobe Systems, former U.S. Secretary of State and former White House Chief of Staff James A. Baker III, astronomer Adam Riess, father of X-ray lithography Henry Smith, Academy Award-winning filmmakers Ethan and Joel Coen and Milos Forman, Emory University provost and historian Earl Lewis, Darwin biographer Janet Browne, Pulitzer Prize-winning novelist Edward P. Jones, and blues guitarist B.B. King.
Prior to joining the Pitt faculty in 1963, Belnap was a professor at Yale University. He was a visiting professor of philosophy at the University of California at Irvine in 1973; the Visiting Oscar R. Ewing Professor of Philosophy at Indiana University in the fall semesters of 1977, '78, and '79; and the Visiting Leibniz-Professor, Zentrum für Höhere Studien, at Leipzig University in the summer of 1996.
Belnap is author of Facing the Future: Agents and Choices in Our Indeterminist World, with Michael Perloff and Ming Xu (Oxford University Press, 2001); The Logic of Questions and Answers, with Thomas B. Steel (Yale University Press, 1976); Entailment: The Logic of Relevance and Necessity, Vol. 1, with Alan Ross Anderson, and Vol. 2, with Anderson and J. Michael Dunn (Princeton University Press, 1976, 1992); and The Revision Theory of Truth, with Anil Gupta (The MIT Press, 1993).
Belnap has served on the editorial boards of American Philosophical Quarterly, The Journal of Philosophical Logic, Notre Dame Journal of Formal Logic, Philosophy of Science, Studia Logica, and Philosophical Research Archives.
In observance of his 60th birthday, a Festschrift titled Truth or Consequences: Essays in Honor of Nuel Belnap, edited by Dunn and Gupta (Kluwer Academic Publishers, 1990) was published.
Belnap's other honors include a Guggenheim Fellowship in 1975-76; a fellowship at the Center for Advanced Study in the Behavioral Sciences in 1982-83; a 1993 Chancellor's Distinguished Research Award, Senior Category; and a Doctor of Philosophy Honoris Causa from Leipzig University in 2000.
Belnap is a member of the American Philosophical Association and the American Association for the Advancement of Science and has served as an officer of the Association for Symbolic Logic, the Society for Exact Philosophy, and the Mind Association. His present interests lie principally in philosophical logic as well as in metaphysics, the philosophy of the social sciences, and computer science.
Belnap received a BA degree from the University of Illinois in 1952 and MA and PhD degrees from Yale University in 1957 and 1960, respectively.
Smith began his career as an engineering trainee at Bell of Pennsylvania in 1959. During his tenure, Smith held various positions in the company, earning the title of president and CEO in 1983. When the company merged to become Bell Atlantic in 1985, he was named vice chair and CFO, rising to chair, president, and CEO in 1989, positions he held until 1998. At Bell Atlantic, he oversaw the acquisitions of NYNEX and GTE, two of the largest transactions in business history. In 1999, Smith became chair of Verizon Ventures.
In 2005, Smith was named a Pitt Legacy Laureate; he was formerly recognized with the University's Bicentennial Medallion of Distinction. He served on the President's Committee on the Arts and Humanities, the National Forum on Education and Technology, and advisory boards of the U.S. House of Representatives and the Library of Congress.
A longtime supporter of civil rights, Smith launched a campaign at Bell Atlantic to help major civil rights and social justice organizations create a presence on the World Wide Web, as well as to raise awareness of racist activity on the Web. Smith is the first recipient of the Mickey Leland Award for Diversity in Telecommunications from the National Association of Black Telecommunications Professionals. The NAACP honored him for his continuing service to equal opportunity, and Harvard Business Review recognized him as a pioneer in the transformation of corporate cultures.
Among Smith's other honors are being named CEO of the Year by CNBC, Top Manager of the Year by Business Week, and Outstanding Corporate Leader and CEO of the Year by Financial World. He also received the Spirit of Achievement Award from the National Center for Learning Disabilities in 2005.
An actor in high school and college, Smith has written a dozen plays. He is writing his autobiography and in 2005 published a history of Dormont, Pa., where he was born and raised.
In addition to earning an MBA degree at Pitt's Joseph M. Katz Graduate School of Business in 1969, Smith received a BS degree in industrial engineering in 1959 and a BS degree in electrical engineering in 1960, both from Carnegie Mellon University (then Carnegie Tech), as well as a BA degree in English literature in 1962 from Duquesne University.
Represented among the newly elected AAAS members are more than 50 universities and more than a dozen corporations, as well as museums, national laboratories and private research institutes, media outlets, and foundations.
Pitt has eight other faculty members among the academy's approximately 4,000 American Fellows and 600 foreign honorary members. They are Thomas B. Starzl, transplant pioneer and Distinguished Service Professor of Surgery, elected to the academy in 1971; Adolf Grünbaum, Andrew Mellon Professor of Philosophy and cochair of the Center for Philosophy of Science, 1976; John Henry McDowell, University Professor of Philosophy, 1992; John S. Earman, University Professor of the History and Philosophy of Science, 1993; Robert Brandom, Distinguished Service Professor of Philosophy, 2000; Peter L. Strick, professor of neurobiology and psychiatry and codirector of the Center for the Neural Basis of Cognition, 2004; Anil K. Gupta, Distinguished Professor of Philosophy, professor of history and philosophy of science, and a fellow of Pitt's Center for Philosophy of Science, 2006; and Mark L. Wilson, professor of philosophy, director of graduate studies, and a fellow of Pitt's Center for Philosophy of Science, 2007.
Founded in 1780 by John Adams, James Bowdoin, John Hancock, and other scholar-patriots, the academy has elected as fellows and foreign honorary members the finest minds and most influential leaders from each generation, including George Washington and Benjamin Franklin in the 18th century, Daniel Webster and Ralph Waldo Emerson in the 19th century, and Albert Einstein and Winston Churchill in the 20th century. The current membership includes more than 170 Nobel laureates and 50 Pulitzer Prize winners. An independent policy research center, the academy undertakes studies of complex and emerging problems. Current academy research focuses on science and global security, social policy, the humanities and culture, and education.
Other Stories From This Issue
There are no stories for the issue at this time.
On the Freedom Road

Follow a group of Pitt students on the Returning to the Roots of Civil Rights bus tour, a nine-day, 2,300-mile journey crisscrossing five states.
Day 1: The Awakening
Day 2: Deep Impressions
Day 3: Music, Montgomery, and More
Day 4: Looking Back, Looking Forward
Day 5: Learning to Remember
Day 6: The Mountaintop
Day 7: Slavery and Beyond
Day 8: Lessons to Bring Home
Day 9: Final Lessons