Pitt's 2008 New Student Orientation Offers Full Schedule
Issue Date:
August 19, 2008
Chancellor's Convocation, Tours, and Information Sessions Will Welcome Students
The 2008 New Student Orientation will officially launch the college careers of more than 3,500 freshmen and transfer students at the University of Pittsburgh Aug. 19-24. "Your Journey Begins Here" will feature various programs and events geared toward assisting the class of 2012 and their families in making a successful transition to college life.
Pitt Chancellor Mark A. Nordenberg and distinguished members of the University community will welcome the incoming class at the Freshman Convocation Ceremony in the Petersen Events Center from 3 to 4 p.m. Aug. 20. The Chancellor's Welcome Picnic follows the ceremony from 4 to 5 p.m., giving students and their families the opportunity to mingle with University faculty, staff, and students.
The traditional Lantern Night Ceremony will be held in Heinz Memorial Chapel from 7:30 to 9:30 p.m. Aug. 24.
Presentations and seminars will be held on numerous aspects of campus life, including student organizations, health services, and campus safety. Highlighting these informational activities will be "Campus Safety: What You Need to Know," from 3 to 4 p.m. Aug 19; "Student Life: The Importance of Getting Involved," from 11 a.m. to noon Aug. 20; and "The Straight A's of Personal Student Finance," from 5 to 6 p.m. Aug 20. All events will be held in the William Pitt Union.
Multiple guided tours of the University and the city of Pittsburgh also will be available. Tours include such landmarks as Pitt's Nationality Rooms, Heinz Memorial Chapel, Phipps Conservatory, and the Carnegie Museums of Art and Natural History. Several events are being planned to acquaint students and their families with the University and its surrounding communities. Activities include "Getting to the Point: What's Right About Pittsburgh and Our Region," a lecture on Pittsburgh's economic and environmental transformation, from 4 to 5 p.m. Aug. 19, and "Get Lost!" an Oakland-area scavenger hunt, from 5 to 7 p.m. Aug. 22. Both activities will commence in the William Pitt Union.
Scheduled entertainment and social activities will include student-produced plays, film screenings, and a luau. The Pitt Program Council will host "Live @ the Union: Comedy & More," a comedic and entertainment showcase, from 8:30 p.m. to midnight Aug. 22.
Nordy's Place will be the scene for both the "Oakland Teahouse," from 11 p.m. Aug. 22 to 1 a.m. Aug. 23, and "Open Mic Night," from 11 p.m. Aug. 22 to 2 a.m. Aug. 23. Pitt's "Music Extravaganza," beginning at 9 p.m. Aug. 23, will feature karaoke, a drum circle, dance party, and a late-night snack. All events will be held in the William Pitt Union.
Among the activities focused exclusively for parents and guardians will be "The Art of College Parenting," from 10 to 11 a.m. Aug 20 in the William Pitt Union, and "Educating the Whole Student: What Every Parent Should Know," from 6 to 7:30 p.m. Aug 20 in Alumni Hall. Both presentations will address questions and concerns of students' parents and guardians as well as to provide information on University programs. In addition, parents will have an opportunity to socialize with each other at one of two Panther Parents Association Information Sessions in the William Pitt Union, from 4 to 5 p.m. Aug. 19 and from 11:15 a.m. to noon Aug. 20.
University staff will be available to answer questions and provide information at "Orientation Station," open from 10 a.m. to 7 p.m. Aug. 19-22 in the William Pitt Union's Lower Lounge. Students will be able to sign up for social activities and find out about programs offered through the New Student Orientation.
For more information or a complete schedule of events, call 412-648-1074 or visit www.orientation.pitt.edu.
Pitt's Traditional Lantern Night Ceremony Set for Aug. 24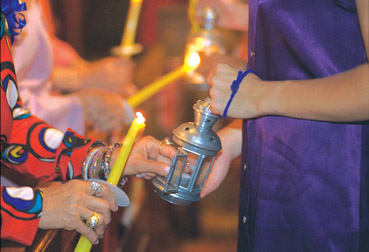 Nearly 400 incoming freshmen and first-year transfer women will receive the "light of learning" from University of Pittsburgh alumni "flame-bearers" during the 88th annual Lantern Night Ceremony at 7:30 p.m. Aug. 24 in Heinz Memorial Chapel.
The student participants will gather at 7 p.m. in the Cathedral of Learning Commons Room to receive a lantern and prepare for the 7:25 p.m. procession to the chapel.
With unlit lanterns, the women will process on the parallel sidewalks located between the cathedral's Bellefield Avenue entrance and the chapel to the 7:30 p.m. ceremony. During the event, Pitt alumni "flame-bearers," including several mothers and grandmothers of incoming students, will light the lanterns, which will remain lit for the remainder of the program.
Carrying the burning lanterns, the new students will process back to the Commons Room for a reception.
Donna Sanft (EDUC '74, '89), Pitt executive associate athletic director, will give the Lantern Night Address. Other program participants include Patti Mathay (KGSB '92), who will offer a greeting and history of Lantern Night; Whitney Hawkins, president of Pitt's Panhellenic Association, who will provide the student welcome; Jack Smith (A&S '69, MED '73), Pitt Alumni Association president-elect, who will give the alumni welcome; and Pitt Chancellor Mark A. Nordenberg who will deliver the University welcome. Following the remarks, "flame-bearers" will light the lanterns.
Lantern Night is one of the University's oldest traditions. The Alumnae Council of the Pitt Alumni Association and Pitt's Office of Student Life cosponsor the ceremony.
Go Green Oakland Campaign Kicks Off
The Oakland Task Force, in partnership with Carlow University, Carnegie Mellon University, and the University of Pittsburgh, is unveiling SHOOTING FOR THE TOP an educational campaign to highlight the green efforts undertaken by Oakland's big and small institutions. The campaign features a call for the Oakland community to significantly reduce the use of plastic bags and to encourage use of reusable shopping bags.
The Go Green Oakland campaign will be launched with the distribution of a resource guide highlighting Oakland's green initiatives, Oakland's eco-friendly businesses, and listings of local and regional green organizations. The guide will be distributed inside a reusable shopping bag to the nearly 5,000 incoming freshmen at the three universities during this week's new student orientation programs.
The Oakland Task Force is a partnership of institutions, community organizations, businesses, and public agencies working to improve the Oakland neighborhood in the city of Pittsburgh, the third-largest employment center in Pennsylvania. There are more than 25 Oakland Task Force member organizations, which boast a variety of small- and large-scale green initiatives that contribute to the environmental health of the Oakland community. Included among those initiatives are comprehensive recycling programs, a farmers' market, furniture recycling, green building initiatives, the Oakland Transportation Management Association's annual walk challenge, and toxic waste and hazardous material remediation.
The Go Green Oakland educational campaign was funded by Pennsylvania State Senator Jay Costa and by the Pennsylvania Department of Education. More information is available at www.oaklandtaskforce.org.
Welcoming the New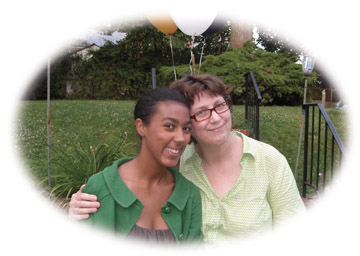 Incoming Pitt freshman Claire Onley (left) and her mother, Terry Savage, of Takoma Park, Md., attended Pitt's African American Alumni Council (AAAC) "Welcome Freshmen to Pitt Cookout and Sendoff" for the Washington, D.C., Maryland, and Virginia region. Linda Wharton Boyd, president of Pitt's AAAC, hosted the July 27 event for 30 people at her home in Washington, D.C.

Shooting for the Top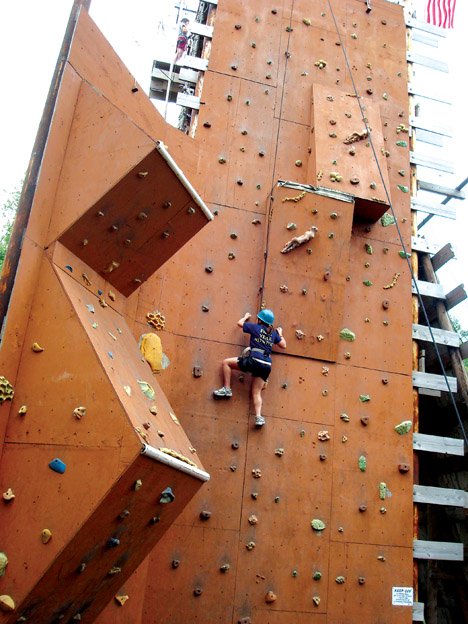 An incoming Pitt freshman scales a climbing wall during Pitt Odyssey, a new student orientation program held this summer in the Laurel Highlands. The voluntary program was offered on five separate overnights at Outdoor Odyssey in Boswell, Pa. Participating students had opportunities to meet other freshmen, learn about campus life, and experience rope courses, rock walls, and other team-building challenges.
Other Stories From This Issue
There are no stories for the issue at this time.
On the Freedom Road

Follow a group of Pitt students on the Returning to the Roots of Civil Rights bus tour, a nine-day, 2,300-mile journey crisscrossing five states.
Day 1: The Awakening
Day 2: Deep Impressions
Day 3: Music, Montgomery, and More
Day 4: Looking Back, Looking Forward
Day 5: Learning to Remember
Day 6: The Mountaintop
Day 7: Slavery and Beyond
Day 8: Lessons to Bring Home
Day 9: Final Lessons