Pitt's 2015 Distinguished Alumni Fellow Awards
By Anthony M. Moore
Issue Date:
June 1, 2015
The University of Pittsburgh has named its 2015 Distinguished Alumni Fellow Award recipients: Eva Tansky Blum, chair-elect of Pitt's Board of Trustees and retired executive vice president and director of community affairs for PNC Bank, and John C. Mascaro, founder and chair of the Mascaro Construction Company.
The Distinguished Alumni Fellow Award is the University's premier alumni honor, recognizing Pitt graduates who have extraordinary records of professional achievement and community service. Pitt Chancellor Patrick Gallagher presented the awards during the 2015 Alumni Awards Gala on May 15 in Alumni Hall.
Also recognized with awards for their service to the University and broader community were Janice M. Holder, the first female chief justice of the Tennessee Supreme Court, who received the Kenneth P. Dietrich School of Arts and Sciences Distinguished Alumni Award; Thomas G. Bigley, a Pitt trustee and retired managing partner for Ernst & Young Global Limited, who won the 'ROC' Spirit Award, which recognizes outstanding displays of enthusiasm, loyalty, pride, and spirit in support of Pitt; the late Neil H. Alexander, founder of the Live Like Lou Center for ALS Research at the University of Pittsburgh Brain Institute, honored posthumously with the Bill Baierl Distinguished Alumni Service Award; Stuart W. Benson III, a partner with the firm Dapper, Baldasare, Benson, Behling & Kane, P.C., and Valerie Thomas-Njie, executive director and vice president of the Bidwell Training Center, who each received the Volunteer Excellence Award; and Nicholas J. Burdette, a project engineer with HDR, Inc., who earned the Ivan and Mary Novick Award for Young Alumni Leadership.
Biographical information for the Distinguished Alumni Fellows follows.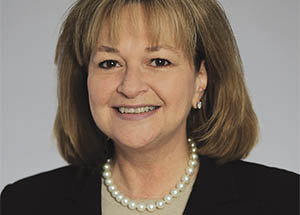 Eva Tansky Blum held numerous executive-level leadership positions during her career at PNC, which spanned more than 35 years. In addition to her role as executive vice president and director of community affairs at PNC Bank at the time of her retirement in March 2015, she also served as the chair and president of the PNC Foundation, where she directed the organization's philanthropic programs. Through the foundation, Blum established and oversaw PNC's Grow Up Great, a highly successful program dedicated to improving early childhood education. Blum joined PNC in 1977 after practicing law at the U.S. Department of Commerce and USAir.
A Pitt trustee since 2004, Blum will assume the role of board chair later this month. She is a past president of the Pitt Alumni Association and currently chairs the Board of Visitors for Pitt's Graduate School of Public Health. In 2013-14, Blum led Pitt's search committee to identify a new chancellor, resulting in the unanimous election of Patrick Gallagher as the University's 18th chancellor.
With her brother, fellow Pitt alumnus Burton M. Tansky, Blum served as cochair of Pitt's $2 billion "Building Our Future Together" capital campaign, a historic and record-breaking fundraising venture that successfully positioned the University for an ambitious future.
In 2012, Blum was among a select group of notable alumni presented with Pitt's 225th Anniversary Medallion, which recognized graduates whose achievements have brought honor to Pitt and whose efforts have contributed to the University's progress. She also has been designated a Distinguished Alumnus by the University of Pittsburgh School of Law and was granted Pitt's Volunteer Excellence Award.
In addition to her Pitt-related accolades, Blum was named a Distinguished Daughter of Pennsylvania in 2009. She also has been honored with the Women of Spirit Award from Carlow University, the Tree of Life Award from the Jewish National Fund, and the Allerton Award for Lifetime Achievement from the YWCA of Greater Pittsburgh.
Blum has been a member of both the Pennsylvania and Allegheny County bar associations. She has served on the Board of Directors for the Business Civic Leadership Center, the Advisory Board of the Carnegie Science Center, and the Board of Trustees for the Jewish Healthcare Foundation.
Blum earned her Bachelor of Arts in political science at Pitt's Kenneth P. Dietrich School of Arts and Sciences in 1970 and her Juris Doctor at Pitt's School of Law in 1973.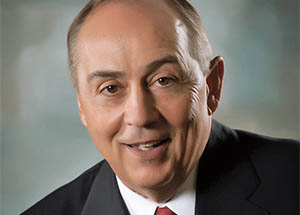 John C. Mascaro's professional accomplishments and civic engagements have made him a key figure in Western Pennsylvania's engineering and construction industries for nearly 50 years. He founded the Mascaro Construction Company, L.P., one of the region's largest construction contracting management firms. Now semi-retired, Mascaro continues to serve as the firm's chair, and he is widely known as a champion for sustainability at the University of Pittsburgh, in the region, and beyond.
Notable local projects completed by Mascaro Construction include the construction of Heinz Field, Theater Square, the Children's Museum of Pittsburgh, and the Southwestern Pennsylvania World War II Memorial. The company has been lauded locally and nationally for its dedication to professional excellence, including an American Business Ethics Award from the Foundation for Financial Service Professionals.
Mascaro's vision of the future has been a catalyst for the University of Pittsburgh's emerging reputation as a national leader in sustainability. In 1997, he pushed for—and financially supported—a green construction program at the University in the civil and environmental engineering department. Out of this venture emerged a cornerstone of Pitt's pursuits—the Mascaro Center for Sustainable Innovation. He also established the John C. Mascaro Learning Center, and the Peter J. Mascaro Endowed Fund. In 2009, Mascaro funded a high-tech facility at Benedum Hall to house the Mascaro Center as well as other research and education programs in sustainable engineering. In April 2014, the University announced a major initiative to extend sustainability principles throughout Pitt's academic programs and research ventures—to honor the 10th anniversary of the Mascaro Center. Launched with $37.5 million, the initiative leveraged the collective power of various endowments and other assets, including the essential footing supplied by Mascaro to support a new era of sustainability-related enterprises.
In addition, the University honored Mascaro with a Chancellor's Medal in 2013. In 2010, he was named a University of Pittsburgh Legacy Laureate, which honors Pitt alumni for their outstanding professional and personal accomplishments. Mascaro is listed in the Swanson School of Engineering's Hall of Fame, and he was named a Swanson School Distinguished Alumnus—the school's highest honor—in 2004.
In addition to his Pitt-related accolades, Mascaro received the Special Lifetime Achievement Award from the Association of Fundraising Professionals in 2011. Other honors include the Service to Humanity Award from the Pennsylvania Chapter of the March of Dimes, the William Metcalf Lifetime Achievement Award from the Engineers' Society of Western Pennsylvania, and the Pittsburgh Civil Engineer of the Year Award from the Pittsburgh section of the American Society of Civil Engineers.
Throughout his career, Mascaro has held leadership positions within various professional and civic organizations, including as director and president of the Master Builders Association of Western Pennsylvania as well as a founding benefactor of the National Aviary.
Mascaro earned his Bachelor of Science in civil engineering and Master of Science in civil engineering at Pitt's Swanson School in 1966 and 1980, respectively.
Other Stories From This Issue
There are no stories for the issue at this time.
On the Freedom Road

Follow a group of Pitt students on the Returning to the Roots of Civil Rights bus tour, a nine-day, 2,300-mile journey crisscrossing five states.
Day 1: The Awakening
Day 2: Deep Impressions
Day 3: Music, Montgomery, and More
Day 4: Looking Back, Looking Forward
Day 5: Learning to Remember
Day 6: The Mountaintop
Day 7: Slavery and Beyond
Day 8: Lessons to Bring Home
Day 9: Final Lessons