Pitt's Campus Improvements 2007
Issue Date:
August 22, 2007
The following is a summary of ongoing and recently completed construction and renovation projects on the Pittsburgh campus, based on information provided by Pitt's Office of Facilities Management.
1. & 2.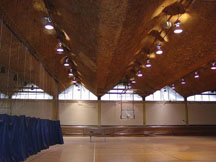 3.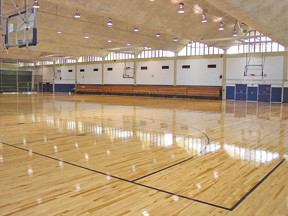 4.
5.
Top photos (1 & 2): The Cathedral of Learning before and after this year's exterior preservation. Bottom photos ( 3 & 4): Trees Hall's large gym before and after its floor was replaced and ceiling painted. Bottom photo (5): The newly renovated Litchfield Towers food service area.

Classroom Upgrades: This year, the University's annual classroom improvement program provided physical renovations, technology upgrades, and new furnishings in classrooms in the Cathedral of Learning and in Allen, Clapp, Langley, and Salk halls.
Project Cost: $951,219.
Cathedral of Learning Exterior Preservation: Easily the most visible recent improvement to the campus, this project includes cleaning 70 years' worth of soot and grime from the exterior of the 42-story Gothic Revival tower, as well as replacing and restoring damaged stones and deteriorated mortar joints. The project, scheduled for completion in September, required an unprecedented coordination of effort between Facilities Management custodial staff members, trades staff, and the contractor in order to minimize inconvenience to students, faculty, staff, and even the peregrine falcons that nest atop the building.
Project cost: $4.8 million.
Darragh Street Housing: Set to be completed in September, the 184-bed facility on Oakland's Darragh Street will include one- and two-bedroom efficiency apartments for Pitt medical students.
Project cost: $18.2 million.
Hillman Library—Interior Upgrades: These included new lighting, painting, and carpeting as well as new and improved light fixtures in stairwells and lobbies.
Project cost: $835,200.
Hillman Library—Plaza Renovation: The existing plaza is being replaced with textured and multicolored pavers, updated landscaping material, and refurbished furniture. The resulting plaza will allow students and faculty to freely use this outdoor space; access previously had been restricted because of deteriorated conditions. This project is scheduled to be completed in mid-September.
Project cost: $2.5 million.
Hillman Library—Thornburgh Center: Construction of the Thornburgh Resource Center in Hillman Library has been completed.
Project cost: $776,099.
Litchfield Towers Food Court: The comprehensive renovation of the Litchfield Towers' food service area included upgrades of seven food court facilities as well as the introduction of more modern and aesthetically pleasing dining areas with "window to the outside" skylights and other lighting improvements. Other improvements include wood furnishings and decorative fabrics.
Project cost $9.78 million.
Petersen Events Center Pathways: The current dirt/mulch pathways and temporary wooden staircase linking Pitt's upper-campus residence halls with the Petersen Events Center will be replaced with concrete walkways. Also, the plaza outside the second-level entrance will be expanded to accommodate outdoor seating. This project is scheduled to be completed in mid-September.
Project cost: $564,000.
Sutherland Hall Coffee Bar: Interior renovations of Sutherland Hall's lobby included reconfigurations of the computer center and mailroom as well as the addition of a coffee bar serving breakfast and lunch to student residents. Adjacent to the coffee bar is a new lounge that includes café seating as well as "soft seating" (couches, cushions, etc.) and a TV area.
Project cost: $800,000.
Trees Hall Gym and Pool: This project involved installing a new wooden floor in the large gym as well as painting the gym's ceiling and the floor of the pool.
Project Cost: $369,677.
Trees Hall HVAC Work: Construction has begun on new heating, ventilation, and air- conditioning systems serving the weight room, band room, multipurpose room, and dance studio. The work is set to be completed in October.
Project cost: $499,910.
William Pitt Union: The union's sixth and eighth floors and basement are being renovated to provide Pitt student organization offices, food service facilities, and recreation space. The project is scheduled for completion in mid-September.
Project Cost: $2.75 million.
Other Stories From This Issue
There are no stories for the issue at this time.
On the Freedom Road

Follow a group of Pitt students on the Returning to the Roots of Civil Rights bus tour, a nine-day, 2,300-mile journey crisscrossing five states.
Day 1: The Awakening
Day 2: Deep Impressions
Day 3: Music, Montgomery, and More
Day 4: Looking Back, Looking Forward
Day 5: Learning to Remember
Day 6: The Mountaintop
Day 7: Slavery and Beyond
Day 8: Lessons to Bring Home
Day 9: Final Lessons