Pitt's Carl Kurlander to Screen His My Tale of Two Cities Nov. 28
Issue Date:
November 17, 2008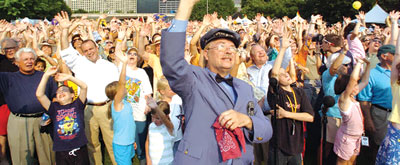 Visiting Pittsburgh and family for the Thanksgiving weekend? A University of Pittsburgh faculty member is doing his part to keep everyone entertained. My Tale of Two Cities, a documentary film about Pittsburgh by Carl Kurlander—Pitt visiting distinguished senior lecturer, Hollywood screenwriter, television writer-producer, and native Pittsburgher—will be screened at 7 p.m. Nov. 28 at the Byham Theater, 101 Sixth Ave., Downtown. The event is part of the City of Pittsburgh's "Pittsburgh Homecoming" 250th birthday celebration. At noon that same day, the Pitt Panthers will take on the West Virginia University Mountaineers in the "Backyard Brawl" at Heinz Field.
Following a 20-year career in Hollywood, Kurlander returned to his hometown to teach at Pitt and explore other opportunities. In addition to teaching, Kurlander is faculty advisor for Pitt in Hollywood, a student-run organization formed to encourage and support the interaction between the entertainment industry and Pittsburgh's university communities.
Kurlander's Hollywood credits include serving as a screenwriter for St. Elmo's Fire and a writer-producer for the television show Saved by the Bell. He has written screenplays under contract for Universal, Disney, Sony, Orion, and Paramount studios. His hometown credits include cofounding the Steeltown Entertainment Project.
My Tale of Two Cities has many elements involving the University—both in front of and behind the camera—including scenes with transplant pioneer, Pitt Distinguished Professor of Surgery, and recipient of the National Medal of Science Thomas Starzl; and Pitt alumnus and MacArthur "genius" award-winner William Strickland (A&S '70), a member of Pitt's Board of Trustees and founder of the Manchester Craftsmen's Guild; as well as a cameo appearance by Pitt Chancellor Mark A. Nordenberg.
According to Kurlander, when his dermatologist, Doug Kress, initially offered to fund the project, Kurlander's cameraman insisted on filming Kurlander asking for the money as part of a movie-within-a-movie approach. Cameraman Mark Knobil had two of Kurlander's former students, Jonathan Hill and Nathan Cornett, operate a second camera focusing on Kurlander. In addition, more than two-dozen Pitt students and recent graduates worked on the film, which was ultimately funded by several Pitt alumni.
Scores of Pitt alumni also were among the hundreds that turned out for the film's finale to sing Fred Rogers' theme song, "Won't You Be My Neighbor?" in New York City's Times Square, in Beverly Hills, and at The Point.
A little-known production note is that while filming the Los Angeles scene across from the Beverly Hills Hotel, Kurlander met Pitt alumnus and Lionsgate producer John Dellaverson (A&S '68). The meeting turned out to be fruitful. Dellaverson returned to his hometown to speak at a Pitt in Hollywood event, and while in town helped advocate for a change in Pennsylvania's tax law that led to more than $100 million worth of movies being shot in Western Pennsylvania this past year.
The Pittsburgh 250th birthday screening will benefit the Youth and Media Initiative of the Steeltown Entertainment Project and Holy Family Institute. After the screening, former Pittsburgh Steeler Franco Harris and other cast members will join David Newell, aka Mr. McFeely, who will lead the audience in singing "Won't You Be My Neighbor?" For tickets to the Byham event, which begin at $10, visit www.pgharts.org or call 412-456-6666. For more information on the documentary, visit www.mytaleoftwocities.com.
Steeltown Entertainment Project is a nonprofit organization whose missions are to nurture promising talent and to incubate meaningful and commercially viable entertainment projects in Southwestern Pennsylvania. For further information, visit www.steeltown.org.
Other Stories From This Issue
There are no stories for the issue at this time.
On the Freedom Road

Follow a group of Pitt students on the Returning to the Roots of Civil Rights bus tour, a nine-day, 2,300-mile journey crisscrossing five states.
Day 1: The Awakening
Day 2: Deep Impressions
Day 3: Music, Montgomery, and More
Day 4: Looking Back, Looking Forward
Day 5: Learning to Remember
Day 6: The Mountaintop
Day 7: Slavery and Beyond
Day 8: Lessons to Bring Home
Day 9: Final Lessons