Pitt's Dick Thornburgh Faculty Academic Support Grants Awarded
By Diane Hernon Chavis
Issue Date:
June 17, 2013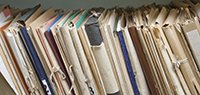 The University of Pittsburgh Dick Thornburgh Forum for Law and Public Policy has announced the winners of the Dick Thornburgh Faculty Academic Support Grants. They are Brian Beaton, an assistant professor in Pitt's School of Information Sciences, and Pitt alumnus and College of General Studies adjunct professor Richard J. Joyce.
The Thornburgh Faculty Academic Support Grants were created to expand the use of the Dick Thornburgh Archives, a collection of personal papers that Pitt alumnus and emeritus trustee Dick Thornburgh (LAW '57) donated to Pitt in 1998. The papers—which chronicle Thornburgh's distinguished public career as U.S. Attorney for Western Pennsylvania, two-term governor of Pennsylvania, attorney general of the United States, and United Nations under-secretary-general for administration and management—are housed in the University Library System's Archives Service Center and encompass topics ranging from education and the Three Mile Island nuclear emergency to international drug control, welfare reform, and the Americans with Disabilities Act.
The Thornburgh Faculty Academic Support Grants are designed to incorporate the Thornburgh archival material into new or existing Pitt courses, encourage student research in the Dick Thornburgh Archives, and increase students' recognition of the value of primary source material.
Beaton

is developing a new three-credit graduate-level course in Pitt's School of Information Sciences that will examine the central role of information technology and knowledge production within relatively recent economic history. He will use the Dick Thornburgh Archives to develop case studies and a primary source document reader that his students will use to gain a fuller sense of Pennsylvania's history of economic reinvention from 1980 through the present time.
Joyce—who earned his master's degree in Pitt's Graduate School of Public and International Affairs in 2012—teaches the undergraduate Pitt course Legal Issues in Public Service. He will use the Dick Thornburgh Archives to create the Governor Thornburgh Case Study Project, which will examine the application of conflict resolution and negotiation skills in the areas of governance and public service. The project will illuminate episodes of Thornburgh's public career across several areas, among them executive branch oversight and regulation, public policy implementation, crisis management and communication, administration of justice, diplomacy, and civil rights.
The personal papers in the Dick Thornburgh Archival Collection provide a comprehensive record of Thornburgh's life and career, from his community participation in the early 1960s through and including his significant positions at state, national, and international levels. The collection is a cornerstone of the University Library System's State and Local Government Archives Program. The more than 1,500 cubic feet of papers, photographs, videos, and memorabilia provide opportunities for students and scholars to research issues of leadership and public policy development. Visit www.library.pitt.edu/thornburgh for more information.
Established in 2007, the Dick Thornburgh Forum for Law and Public Policy at the University of Pittsburgh fosters public education and civic action on important public policy issues, building on the legacy of Thornburgh. Among the forum's goals are to promote able and principled governance at all levels, to advance the rule of law at home and abroad, and to assist the government's response to the special needs of persons with disabilities, many of them wounded in service to their country.
Other Stories From This Issue
There are no stories for the issue at this time.
On the Freedom Road

Follow a group of Pitt students on the Returning to the Roots of Civil Rights bus tour, a nine-day, 2,300-mile journey crisscrossing five states.
Day 1: The Awakening
Day 2: Deep Impressions
Day 3: Music, Montgomery, and More
Day 4: Looking Back, Looking Forward
Day 5: Learning to Remember
Day 6: The Mountaintop
Day 7: Slavery and Beyond
Day 8: Lessons to Bring Home
Day 9: Final Lessons