Pitt's Greek Community Emphasizes Community Service
Issue Date:
August 19, 2008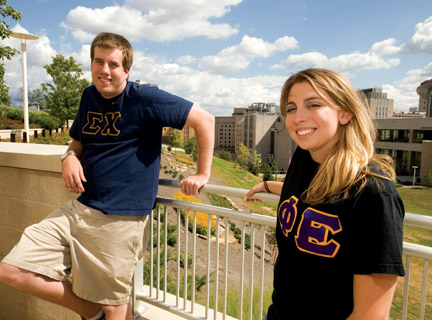 Peter Hammerle and Alexandra Conlon, both Pitt seniors, are in charge of Greek Week this year. Greek Week, which actually runs throughout the school year, comprises activities that Pitt's fraternities and sororities organize to raise money for charities and other organizations.
Junior Chelsea Zimmerman, a member of Pitt's chapter of the Alpha Epsilon Phi sorority, has found a number of excellent service opportunities through the University of Pittsburgh's Greek organizations. Among her favorites: afternoons at the Harry and Jeanette Weinberg Terrace, an assisted-living facility in Squirrel Hill.
Zimmerman and some of her Alpha Epsilon Phi sisters have planted flowers there, called bingo games, and lent their attentive ears to the facility's elderly residents. The sorority maintains a regular schedule of volunteer activities at the facility.
An English writing and psychology major from Ambler, Pa., Zimmerman is the first to acknowledge that the experience has been as rewarding for her as for those she serves. "It's one of my favorite service activities because I am able to provide the residents with some companionship," she says. "They seem to appreciate having someone to tell their stories to because not all of them have families who visit on a regular basis," says Zimmerman, Alpha Epsilon Phi's vice president for programming.
It is this kind of commitment to community service that University officials have come to expect from Pitt's Greek organizations, says Lauren Cavallaro, former coordinator for leadership in Pitt's Office of Cross-Cultural and Leadership Development within Pitt's Division of Student Affairs. (She left her Pitt position Aug. 6.) Over the years, the University's fraternities and sororities have emerged as much more than social clubs, often rising above expectations in their efforts to serve Pitt and its surrounding communities.
n the 2007-08 academic year, Pitt's Greek organizations logged more than 20,000 hours of community service.
"All fraternities and sororities were founded on principles of service and leadership, and Pitt's Greeks have really embraced those core values," says Cavallaro, who served as the coordinator of Pitt's 37 fraternities and sororities. "The exciting thing about Greeks at Pitt is that they are pushing community service. They already have a strong record, and they continue to show that they want to build on these principles."
In 2005, Pitt's Greek fraternities and sororities together pledged to raise $500,000 for the University of Pittsburgh Cancer Institute (UPCI); to date, $285,000 has been raised. Yearlong fundraising activities are held to support UPCI and other charitable organizations, such as Ronald McDonald House, Make a Wish Foundation, and the Pittsburgh Food Bank.
Collectively, the fundraising activities are part of so-called Greek Week—even though the activities occur throughout the school year. The fundraisers include events such as the 3K/5K Campus Classic, a dance marathon, and a dodge-ball tournament. Individual Greek organizations determine how their funds will be raised and distributed.
"We encourage them to seek out organizations they want to support," said Cavallaro. "By allowing students to be creative and find activities they enjoy, the prospect of the Greek fraternities and sororities continuing with their fundraising activities is more likely."
Nabil Rahman is the president of Kappa Sigma fraternity. His chapter has recorded more than 4,400 community service hours during the 2007-08 academic year with such activities as blood drives, auctions, and a choreographed dance competition. As a four-year member of Kappa Sigma, he says being active in community service helps make fraternity and sorority members become more well-rounded individuals.
"You're making a contribution to society, but you are also learning about organizing events, communicating with people, and learning things about yourself," says the senior economics major. "It is an all-around learning experience."
Other Stories From This Issue
There are no stories for the issue at this time.
On the Freedom Road

Follow a group of Pitt students on the Returning to the Roots of Civil Rights bus tour, a nine-day, 2,300-mile journey crisscrossing five states.
Day 1: The Awakening
Day 2: Deep Impressions
Day 3: Music, Montgomery, and More
Day 4: Looking Back, Looking Forward
Day 5: Learning to Remember
Day 6: The Mountaintop
Day 7: Slavery and Beyond
Day 8: Lessons to Bring Home
Day 9: Final Lessons