Issue Date:
August 22, 2007
Reborn and thriving, the Pymatuning Laboratory of Ecology offers students and faculty researchers a taste of the wild life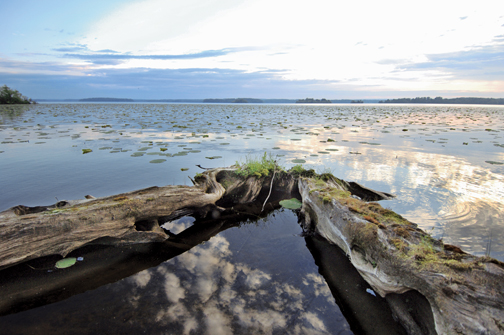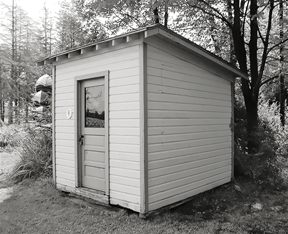 1.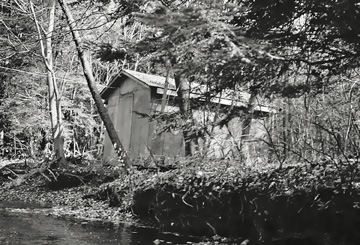 2.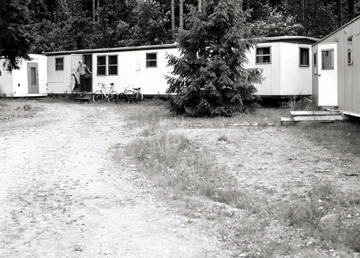 3.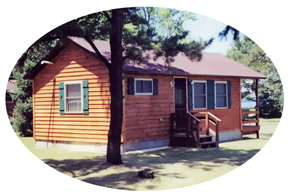 4.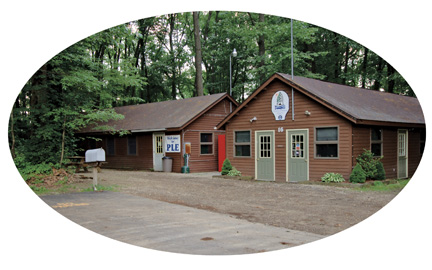 5.
Above photos (1): An old boat house (2): a wooden shack. (3) trailers that once served as labs and housing at the PLE. (4): The newer buildings that replace the older buildings, with insulation and modern windows, roofs, and plumbing. (5): The PLE's main offices await visitors on the shore of Sanctuary Lake.
At the University of Pittsburgh's Pymatuning Laboratory of Ecology (PLE) this summer, Pitt professor Rick Relyea and his students followed up on Relyea's earlier research that exposed Roundup®, the world's most popular pesticide, as an unmitigated killer of amphibians—much to the manufacturer's publicized dismay.
In his cabin at the PLE's housing site, Duke University biologist Steve Nowicki plucked globs of baby swamp sparrow excrement from a makeshift nest on his kitchen table, pausing every 30 minutes to ladle food into the young birds' insistent mouths. A few hours later, he drove through the night, sparrows in tow, back to his North Carolina lab where he studies the function, meaning, and evolution of bird songs. He started this project at the PLE in 1998 and continues it there with professors from other universities.
In the PLE's 60-plus years, scores of ecology researchers like Relyea and Nowicki—as well as generations of students—have been drawn to the unspoiled setting. The 370-acre outpost is two hours north of Pittsburgh and deep within the 21,000-acre Pymatuning State Park, surrounded by a variety of local ecosystems, ranging from forests to marshes and from lakes to swamps.
For fledgling and established ecologists alike, the PLE boasts research potential in every field and pond. Plus, students and professors have access to the neighboring state-run gamelands, fish hatcheries, and other reserves.
Pitt has spent more than $1 million in the last decade buttressing PLE's natural bounty with well-equipped laboratories and housing that a researcher could comfortably live in for weeks on end. This infusion of funding followed a mid-1990s program evaluation that found the PLE had changed little since 1949, when the University established it along the Pymatuning Reservoir on land leased from the state.
"Let's just say it had been neglected for a long time," said W. Richard Howe, associate dean for administration and planning in Pitt's School of Arts and Sciences.
As a result of the University's investment, the PLE today is the largest year-round ecology laboratory in the Northeast and the centerpiece of Pitt's ecology and evolutionary biology program, part of the biological sciences department in the School of Arts and Sciences.
Nowicki first visited the PLE in 1995 to study sparrows with then-Pitt professor William Searcy, now at the University of Miami. (Searcy still conducts research at the PLE.)
Impressed by the abundance of natural habitats, Nowicki decided to base his own research at the PLE. Unlike some other universities' ecology labs, Pymatuning welcomed guest researchers, he said. Over the years, Nowicki brought students and colleagues with him and they, in turn, rooted their research at the PLE, perpetuating the lab's good reputation.
Melissa Hughes, today an associate professor at the College of Charleston in South Carolina, was a postdoctoral student in Nowicki's research group from 1994 to 1996. She has since established her own research on bird songs at the PLE, specializing in song sparrows. She brings undergraduate students from her university with her. At the PLE, students experience ecology in its purest form, she said.
"It's total immersion," Hughes declared. "This is an intense research atmosphere, and it helps students make decisions about graduate school, to decide if this is what they want."
Through the years, improvements to the PLE have included Pitt's construction of six new buildings—cabins and a seven-apartment dormitory that replaced weathered boathouse residences—and the restoration of 19 more. The buildings were insulated and their windows, roofs, and plumbing renovated. Five labs, field kits, newer computers, and a library rounded out the upgrade.
Most importantly, the University bought an additional 227 acres of research property and secured access to the adjoining state land.
"I've worked in various places, but this place is my bread-and-butter," said Duke's Nowicki. "And the improvements have kept me coming."
"It's an onsite facility where people do cutting-edge work," said Graham Hatfull, who is a Howard Hughes Medical Institute Professor and the Eberly Family Professor of Biotechnology and chair in Pitt's biological sciences department. "I don't see how we could have an ecology and evolutionary biology program without it, and [without it] I don't see what reason faculty in that program would have to stay here. Their lab is the natural world. They deal in real ecology at the PLE, not abstract ecology. Not every university offers that. Very few do, actually.
"Professors in this department who work at the molecular level learn from them," Hatfull, himself a microbiologist, continued. "We want as much interaction between the disciplines as possible so we can offer students a cohesive and multidisciplinary biology program. The PLE is part of that mission—it's not just an appendage."
Despite its name, the PLE has always served Pitt as a teaching facility as well as a laboratory, said Relyea, who is PLE's interim director and a Pitt biological sciences professor.
At his lab on a 134-acre farm that Pitt bought in 2000, Relyea and his students investigate the link between pesticides and the global decline in amphibians, an ominous trend that could one day extend to other species—including humans, according to Relyea. (See accompanying story.)
One day at the PLE this summer, Pitt senior Devin Jones was preparing plastic containers of pesticide-laced water used to determine the levels most lethal to tadpoles. Methodically, Jones removed the sunken corpses of pesticide-killed tadpoles from old water samples, setting the used containers aside for refilling.
Each summer, an average of 140 students like Jones—from Pitt and other universities—take courses and conduct experiments in the field at the PLE, practicing ecology rather than just learning about it in classrooms.
Some students who work and study at the PLE, even undergraduates, see their work published in peer-reviewed journals.
"This just couldn't be done in Oakland," Relyea noted. "We couldn't collect animals in nature or observe them in their natural habitat there. Here, students learn ecology hands-on and outdoors. They're conducting top-tier research that has publishable results. This facility is a real treasure."
Other Stories From This Issue
There are no stories for the issue at this time.
On the Freedom Road

Follow a group of Pitt students on the Returning to the Roots of Civil Rights bus tour, a nine-day, 2,300-mile journey crisscrossing five states.
Day 1: The Awakening
Day 2: Deep Impressions
Day 3: Music, Montgomery, and More
Day 4: Looking Back, Looking Forward
Day 5: Learning to Remember
Day 6: The Mountaintop
Day 7: Slavery and Beyond
Day 8: Lessons to Bring Home
Day 9: Final Lessons