Pitt's University Club Revamping Planned
Issue Date:
January 7, 2008
Changes are part of campuswide, $66.86 million renovation package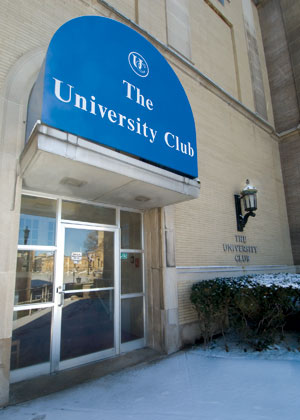 The University Club will undergo a major overhaul as part of a $66.86 million package of campuswide construction and renovation projects approved recently by the University Board of Trustees' Property and Facilities Committee.
Ever since Pitt purchased the University Club in 2005, constituents both on and off campus have weighed in with suggestions for its use. The Property and Facilities Committee incorporated several of the most popular ideas into the club's renovations, which will cost $20.2 million.
Together, the package's nine construction and renovation projects across the campus are expected to create 359 construction and 144 construction-support jobs. In addition, the University will pay building permit taxes of $53,437 on the construction costs and $19,683 annually in real estate taxes on a third-party lease that is part of the deal.
Three of the most popular uses recommended for the University Club, located at 123 University Place, will be incorporated into the renovation: a faculty/staff club, a conference center, and a recreational facility, all housed on the lower level to the fourth floor of the building.
"I am delighted that the renovations to the former University Club are going to include a new faculty club," said John Baker, president of Pitt's Senate Council. "Many Pitt faculty and staff have expressed interest in having a faculty/staff club, and it is gratifying that the administration listened. The inclusion of a 4,000-square-foot fitness center in the new club will also be a big plus for the University's Fitness for Life program."
The University Club overhaul will also include renovating the lower-level through fourth floors to include a banquet facility, a 4,000-square-foot kitchen facility, a coffee shop off the main lobby, and 8,000 square feet of offices.
Also renovated will be the grand main lobby area and a roof terrace. Finally, the upper floors (fifth through eighth) will be converted into a facility to be leased to Family House, Inc., a local nonprofit organization that provides housing for families of hospital patients undergoing long-term treatment for serious and/or life-threatening medical conditions.
Two additional highlights of the campuswide renovation and construction project are:
Construction of a $2.3 million Wall Street-type financial analysis laboratory in the Joseph M. Katz Graduate School of Business' Mervis Hall. The lab, which will resemble an actual financial trading room with tote display boards and ticker, will train business students on the same equipment used in the capital markets industry and will give students exposure to real-time financial market activity. The renovations include significant technology, telecommunications, and infrastructure upgrades. Occupying about 3,000 square feet, the lab will house 58 computer stations in a classroom arrangement and will be equipped with a raised floor system, lectern, projectors and screens, cameras for presentations, and plasma TVs. It will comprise a classroom, a breakout room, a laboratory manager's office, an operations equipment room, and a flexible office for doctoral students.
A $16.8 million expansion of the Mascaro Sustainability Initiative (MSI) in the Swanson School of Engineering. MSI is dedicated to research and education in green construction and design and sustainable water use with an emphasis on multidisciplinary, collaborative research. The addition will connect Benedum Hall and Benedum Auditorium and provide a total of 32,000 net square feet of new and newly renovated state-of-the-art research space. The design objective is to incorporate advanced building systems throughout the new addition, thus allowing for MSI's innovative research to be accomplished in a way that uses the building itself as a vehicle for research.
Other project expenditures that were approved include:
$3.25 million to renovate the former Old Engineering Hall Second-Floor Library, converting it into modern laboratories designed to support the University's nanoscience research initiative. The renovated areas will be used for wet biology, wet chemistry, and optical laser laboratories;
$5.5 million to renovate the fourth floor of Chevron Hall to provide five new organic chemistry teaching laboratory modules, as well as chemical stockroom and preparation areas. This renovation will consolidate Pitt's undergraduate organic chemistry laboratory program in a suite of laboratories and support facilities;
$4.4 million to improve the mechanical, electrical, and plumbing infrastructure for the first floor of Langley Hall, which houses laboratory accommodations for a variety of instructional programs in the Department of Biological Sciences, the K-12 science outreach program, and research labs for the department's environmental and ecology programs;
$2.3 million in mechanical systems upgrades to the Victoria Building, which houses the School of Nursing;
$9.8 million for three additional energy-efficient boilers and related equipment to increase the capacity of the Carrillo Street Steam Plant; and
$2.3 million in electrical and mechanical system upgrades for the University's computer center at the Regional Industrial Development Center in Blawnox.
In addition, the committee approved two leases:
A five-year sublease between the University and Magee Women's Research Institute and Foundation. The Center for Research in Reproductive Physiology in Pitt's School of Medicine will be relocated to the third floor of the Magee Women's Research Institute at 204 Craft Ave. The lease, for 9,777 square feet of space at an initial annual rental cost of $537,735, will run through Dec. 14, 2012; and
A 10-year lease between the University and M&P Investment Company to house at 120 Atwood St. the University's Payment Processing and Financial Records Services departments, both within the Office of Budget and Controller. The lease, for 8,270 square feet of space at an initial annual rental cost of $132,320, will run through July 14, 2018.
Other Stories From This Issue
There are no stories for the issue at this time.
On the Freedom Road

Follow a group of Pitt students on the Returning to the Roots of Civil Rights bus tour, a nine-day, 2,300-mile journey crisscrossing five states.
Day 1: The Awakening
Day 2: Deep Impressions
Day 3: Music, Montgomery, and More
Day 4: Looking Back, Looking Forward
Day 5: Learning to Remember
Day 6: The Mountaintop
Day 7: Slavery and Beyond
Day 8: Lessons to Bring Home
Day 9: Final Lessons