Pitt Alumni Association Elects New Slate of Officers
By Patricia Lomando White
Issue Date:
July 7, 2008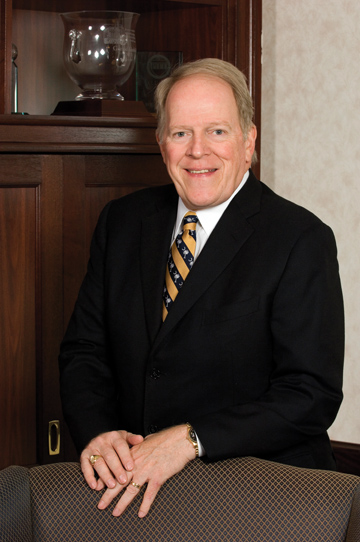 F. James McCarl (CGS '73), chair of the board, chief executive officer, and president of The McCarl Group, LLC, a Pittsburgh-based management and development consultant firm, was elected president of the University of Pittsburgh Alumni Association, and Jack D. Smith (A&S '69, MED '73), an orthopedic surgeon in Greensburg, was named president-elect at the association's board meeting.
Other newly elected Alumni Association officers were Vice President Bryant J. Salter (A&S '71), CEO of Business Diplomacy Consulting (BDC); Vice President Michelle D. Tallarico (A&S '01), regional clinical research associate at Clinimetrics Research Associates; Secretary Mary Francis Gargotta (CGS '79), executive vice president and chief executive resources officer of MARC USA in Pittsburgh; and Treasurer Mary Ellen Callahan (A&S '90), partner with Hogan and Hartson law firm in Washington, D.C.
A nationally known entrepreneur, industry leader, and philanthropist for more than 30 years, McCarl recently served as president-elect of Pitt's Alumni Association. He started his career at the helm of McCarl's, Inc., a family-owned business that he helped grow to national prominence.
During his tenure with McCarl's and since selling the company in 2000, McCarl has cultivated diverse leadership experiences.
McCarl has received numerous awards, including Pitt's Distinguished Alumnus Award in 2002, the Pitt Alumni Association Volunteer of the Year Award in 1993, the ARC Beaver County Chapter Distinguished Community Service Award, and the Community Champion Award for Western Pennsylvania.
McCarl and his son, Foster (CGS '98), created the McCarl Center for Nontraditional Student Success in Pitt's College of General Studies. And, to honor Pitt athletes, McCarl, along with his wife, established the F. James and Carol McCarl Hall of Champions in the Petersen Events Center. Honored by CGS as an outstanding graduate in the mid-1990s, McCarl also is founder and chair of the board of Gateway Bank of Pennsylvania.
Smith, after completing a residency in orthopedic surgery at the University's health center in 1978, was in private practice until 2007, when he joined the Excela Health System as practice director of orthopedic surgery. He has served as team physician for Greensburg Salem High School athletics since 1978.
Involved in Westmoreland County community affairs, Smith has been active with the Greensburg YMCA and is past president of its board, has served as the president of the board of directors of Westmoreland Museum of American Art for 10 years, was a member of the Boy Scouts of America Council, and has served on the advisory board at Pitt-Greensburg. He has been chair of the Pitt Department of Orthopaedics' alumni association for nearly 10 years, has served as a Pitt Alumni Association director, and was vice president of the association for the past two years.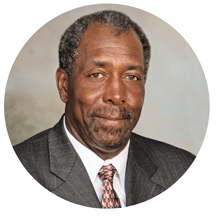 Salter is an international business consultant and director of BDC client Enterprise Florida's African Trade Expansion Program, which he created and has managed since 2000. He has led trade missions to South Africa, Morocco, Ghana, Botswana, Kenya, Uganda, and Nigeria. A former U.S. diplomat, Salter served as the permanent charge d'affaires at the U.S. Embassy in Antigua; consul at the U.S. Consulate in Merida, Yucatan, Mexico; and consul general at the U.S. Embassy in Buenos Aires, Argentina. Prior to his 22-year foreign-service career, Salter played professional football for NFL teams in San Diego, Washington, and Miami. He has a Pitt bachelor's degree in sociology and a master's degree in public administration from Harvard University's Kennedy School of Government. Salter was a four-year letterman on Pitt's track and field team and lettered three times in football. The Pitt Varsity Letter Club has honored him as an Awardee of Distinction.
Tallarico, with Clinimetrics since September 2007, specializes in oncology clinical trials. From 2001 to 2007, she was program director of the Cancer Control Program at Georgetown University, where she managed numerous National Cancer Institute-funded clinical studies and published several articles based on her research. As president of the Chesapeake and Potomac Pitt Club from 2003 to 2008, Tallarico oversaw establishment of the club's endowed scholarship fund and was key in implementing a four-year grant to aid need-based students from the Washington, D.C., metro area. She also has served as a member of the Alumni Leadership Council, chair of the Membership and Student Recruitment Committee, and regional director of the Pitt Alumni Association. In 2007, the association named her the first recipient of the Ivan and Mary Novick Award for Young Alumni Leadership.
Gargotta spent more than 20 years at Alcoa before joining MARC USA. She has helped to create and implement the company's Standards of Excellence and leads succession planning for the company. Her program, Total Compensation, won the 10 Best Companies for Employee Financial Security award, a national awards program, and the S.T.A.R. Performance Management System, an automated performance review and development system, garnered a People Do Matter award. Gargotta was one of the 2004 Pennsylvania Best 50 Women in Business, was in the United Who's Who Women Executive Registry and the Who's Who Executive Registry in 2005, and was a Girl Scouts of Western Pennsylvania Woman of Distinction in 2006.
Callahan, who was a Chancellor's Scholar at Pitt as an undergraduate student, received her law degree from the University of Chicago Law School. She specializes in antitrust law and has extensive litigation experience in First Amendment cases involving telecommunications and Internet policies and filtering. A Pitt Truman Scholarship winner, Callahan graduated magna cum laude and received the Bachelor of Philosophy degree from Pitt's Honors College in 1990. An active member of Pitt's Alumni Association, Callahan has previously served as both alumni association treasurer and vice president.
Other Stories From This Issue
There are no stories for the issue at this time.
On the Freedom Road

Follow a group of Pitt students on the Returning to the Roots of Civil Rights bus tour, a nine-day, 2,300-mile journey crisscrossing five states.
Day 1: The Awakening
Day 2: Deep Impressions
Day 3: Music, Montgomery, and More
Day 4: Looking Back, Looking Forward
Day 5: Learning to Remember
Day 6: The Mountaintop
Day 7: Slavery and Beyond
Day 8: Lessons to Bring Home
Day 9: Final Lessons