Pitt Alumnus, Football Hall of Famer Dan Marino To Deliver Pitt's 2008 Commencement Speech
Issue Date:
April 14, 2008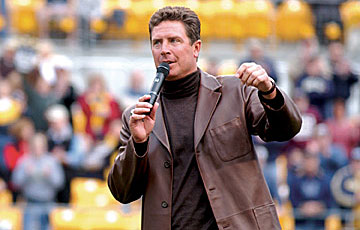 University of Pittsburgh alumnus Dan Marino will be the featured speaker at Pitt's 2008 Commencement at 1 p.m. April 27 in the Petersen Events Center.
Marino, a member of both the Pro Football Hall of Fame and the College Football Hall of Fame, is currently an in-studio host of CBS-TV's The NFL Today and a former cohost of HBO's award-winning football show Inside the NFL. He and his wife, Claire, are two of the nation's leading advocates and philanthropists for the care of children with autism and special needs through the Dan Marino Foundation.
"Over the course of the years, the University of Pittsburgh has been represented by an amazingly talented, accomplished, and committed group of individuals, on and off the field," said Pitt Chancellor Mark A. Nordenberg. "Dan Marino, saluted by many as the greatest quarterback in football history, is a champion—both in sport and in life. He also is an extraordinary human being. The people of Pitt—and Pittsburgh—will enthusiastically open their arms to welcome back a genuine hometown hero."
A Pittsburgh native who grew up in the shadow of Pitt's Cathedral of Learning in Oakland, Marino already was a nationally acclaimed athlete when he came to Pitt in the fall of 1978. He was named a Parade magazine High School All American for his performance as quarterback for Central Catholic High School in Pittsburgh; he also was drafted to play baseball for the Kansas City Royals.
During one of the most accomplished college football careers in the sport's history, Marino established several National Collegiate Athletic Association (NCAA) season and career records for pass attempts and completions, yardage, and touchdowns. Named a first-team All-American his junior year, he led the Panthers to victory in three of the four national bowl games in which he played, as well as to No. 1 ranking for parts of the 1980 and 1981 seasons (with final-season ranking of No. 4 and No. 10, respectively, and a No. 2 final ranking in 1980). His uniform number, 13, was retired by Pitt in 1982, and in 2003, Marino was honored for his outstanding NCAA career with induction into the College Football Hall of Fame.
Marino earned his Bachelor of Arts degree in communication science at Pitt in 1983 and was drafted in the first round by the NFL's Miami Dolphins.
He continued his athletic success as a professional, setting more than 20 individual-season and career passing records during his 17-year NFL career that culminated in his induction into the Pro Football Hall of Fame in 2005. Marino was named Most Valuable Player in 1984 by the Pro Football Writers of America, the Newspaper Enterprise Corporation, and the NFL, which also named him 1984 Offensive Player of the Year. In 1994, United Press International named Marino the AFL-AFC Player of the Year, and the NFL named him Comeback Player of the Year. He was selected to the Pro Bowl nine times during his career and was named an All-Pro eight times.
Off the field, Marino served as the Dolphins' United Way representative and performed in dozens of television shows and such movies as Ace Ventura: Pet Detective, starring Jim Carrey; Holy Man, starring Eddie Murphy; and Little Nicky, starring Adam Sandler.
The Dolphins retired Marino's jersey number, which also was 13, and inducted him into the team's honor roll in a halftime ceremony during a game in 2000. In a year of accolades from the franchise he led so long and so well, the Dolphins also installed a life-size bronze statue of him at Pro Player Stadium and renamed Stadium Street as Dan Marino Boulevard.
Motivated by experiences in raising the second of their six children, Michael, who has autism, the Marinos created the Dan Marino Foundation in 1992 to meet the need for comprehensive and integrated treatment programs for children with developmental disabilities and chronic medical problems.
Six years later, the Marinos, with Miami Children's Hospital, created the Dan Marino Center in Weston, Fla., a freestanding pediatric medical center that provides the most comprehensive and integrated diagnostics and treatments for children with developmental disabilities, autism, and chronic medical problems. The center, which now serves 25,000 children annually, is recognized internationally for providing the finest integrative care for children with autism.
Other projects of the foundation include:
Childnett.tv, a 24-hour free Web TV channel dedicated to the subject of autism and other neurodevelopmental disorders;
The Marino Autism Research Institute, which sponsors cross-university collaborative research in the understanding, treatment, and prevention of autism; and
Summer STEPS (Supported Training and Employment Program for Special Needs), which gives young adults work experience in a supported environment that teaches communication, social, and teamwork skills. The foundation also is developing after-school programs to reinforce those skills.
In November 2007, the Marinos received the Public Service Award for Outstanding Contributions to Public Health, one of the International Health and Medical Media Awards presented by MediMedia; and in January 2008, they were recognized by Nova Southwestern university with the President's Community Award for their outstanding contributions to the university and the South Florida community.
Last month, Florida Governor Charlie Crist named Marino cochair of the Task Force on Autism Spectrum Disorders, which will deliver, by March 2009, recommendations on ways to address the growing health crisis autism presents.
Dan and Claire Marino live in Weston, Fla., with their sons Daniel, Michael, and Joey and daughters Alexandra, Lia, and Niki.
Other Stories From This Issue
There are no stories for the issue at this time.
On the Freedom Road

Follow a group of Pitt students on the Returning to the Roots of Civil Rights bus tour, a nine-day, 2,300-mile journey crisscrossing five states.
Day 1: The Awakening
Day 2: Deep Impressions
Day 3: Music, Montgomery, and More
Day 4: Looking Back, Looking Forward
Day 5: Learning to Remember
Day 6: The Mountaintop
Day 7: Slavery and Beyond
Day 8: Lessons to Bring Home
Day 9: Final Lessons