Pitt Amateur Radio Club Wins Top Award, Builds Global Community
Matt Cichowicz
Issue Date:
December 1, 2016
The basic rules of an amateur radio contest are simple: contact as many other stations as possible during the allotted time period. In the case of an international competition, reaching more countries works to multiply your total number of points. There are other rules pertaining to frequencies, operating configurations, and what constitutes a "contact," but the gist is to spend 48 hours talking to as many other people as you can over a ham radio.
Results are in from the American Radio Relay League's (ARRL) 2016 International DX Contest, and the University of Pittsburgh's Panther Amateur Radio Club (PARC) won first place in the Atlantic Division of the Northeast Region. The PARC team also finished in the top 16 percent of 3,897 entrants across North America, and second place in the category of Multioperator, Single Transmitter, Low Power.
"The victory shows more than anything else that our members are really good operators," said Michael Grasser, who studies computer science at Pitt and became president of PARC last spring.
Not only that, but the competition was in a whole other alphabet: "This was a CW competition—which stands for continuous wave—and means the entrants had to use Morse code. The PARC operators had to be fully fluent in Morse code by ear only, and then, able to write in code on the spot."
This accomplishment happens to come just in time for the 100th anniversary of the club's call sign, W3YI, issued in 1915. PARC operates out of 1213 Benedum Hall—a spot which members call "The Shack"—with access to heaps of equipment and a variable dimension, computer-controlled antenna atop the building.
But conditions weren't always so cozy. "We've been all over the campus, working out of closets," said Juan Manfredi, vice provost for undergraduate studies at Pitt and club trustee and advisor.
Manfredi has been a member of the club since he joined the Pitt faculty 27 years ago; he now oversees the 15 PARC student members. In addition to the enjoyment he and the students get out of maintaining, building, and operating the radios, he sees the benefits of becoming a member.
"I always say that students in the club are going to have excellent careers. Sometimes you have to operate all night long, you learn to work in less than optimal conditions, and you build an outstanding network. If you're ever interviewed by another ham radio enthusiast, you're going to get that job," he jokes.
Many of the student members are enrolled in the Swanson School of Engineering, but students majoring in other subjects have joined PARC as well. Grasser, who will enter his sophomore year this fall, found amateur radio because of an interest in the frequencies of various devices when he began studying computer science in high school.
"The main academic benefit is working with the electronics," says Grasser, "but a lot of younger people are getting interested in radio despite easy access to the internet and mass communication. I can go online and talk to my friends anytime, but I'm not going to stumble into a random conversation with someone who can tell me stories about meeting Fidel Castro and building a radio from scrap parts found on the side of the road. Everything in radio just seems more genuine."
Many amateur radio operators began and continue operating because of the desire to build a network of friends all over the world. PARC has collected QSL cards—receipt-like postcards that confirm a communication between radio users—from operators in North America, Europe, Africa, the Middle East, Asia, and islands in the Pacific Ocean. There's also a stack of PARC QSL cards featuring the club's logo, the Pitt Panther, their call sign and the Cathedral of Learning. Any time PARC makes a new connection in another country, the operators can swap QSL cards.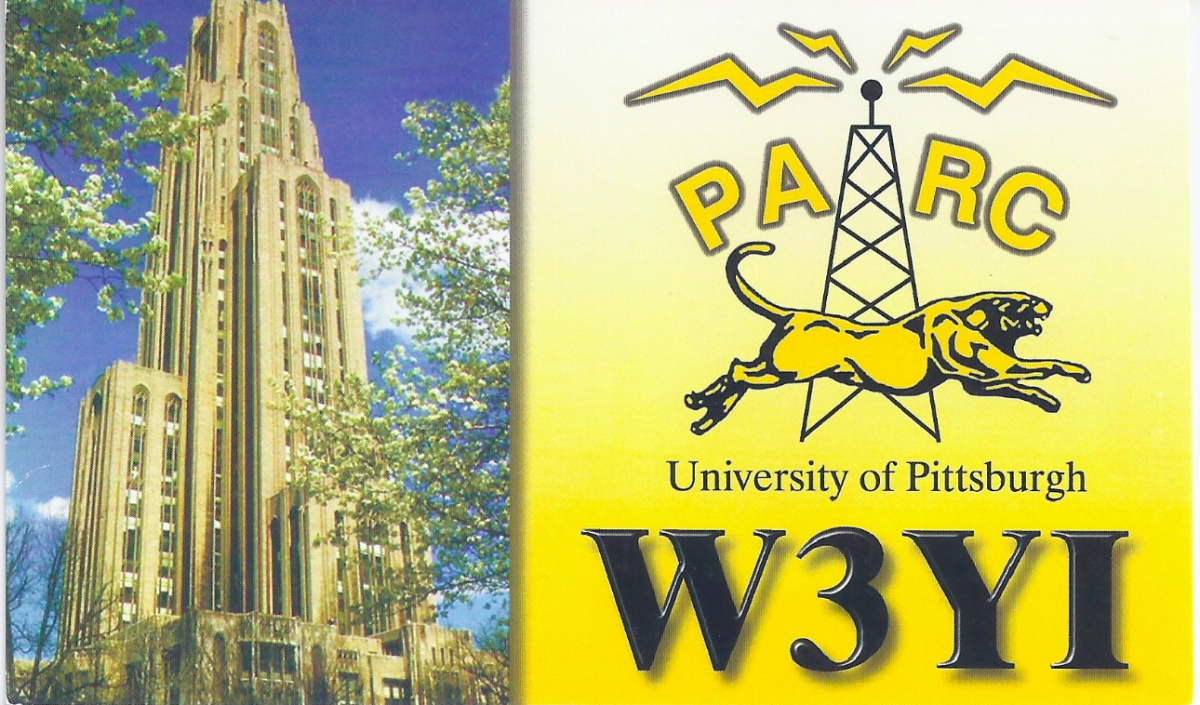 "There are many social aspects of radio communication. You can get to know other people and cultures and have a network of friends across the world. The ham radio operator is a global citizen," said Manfredi.
Aside from the academic and social components of PARC, the club also serves a practical purpose. In the event of extreme weather conditions, public emergencies, or any situation in which primary lines of communication fail, amateur radio enthusiasts are often called on to relay important information to the public.
"We support agencies like Pennsylvania Emergency Management Agency (PEMA) and American Red Cross when their commercial communications fail or become overloaded. This might happen during events like floods, severe storms, or widespread power outages," said Harry Bloomberg, who graduated from Pitt in 1975 with a degree in electrical engineering. Bloomberg serves as PARC's Repeater Trustee. A repeater is a special radio transmitter situated in a strategic position that repeats the communications heard from smaller stations. PARC's repeater is located at the top of the Cathedral of Learning. The repeater trustee is the person who makes sure the repeater is working in compliance with FCC regulations.
During the Pittsburgh Marathon each year, PARC uses the repeater to receive signals from handheld and mobile radios to connect medical aid stations.
Last year, PARC participated in a large disaster drill at the Pittsburgh International Airport. The Federal Aviation Administration brought in a fuselage to simulate a commercial jetliner crash. Local rescue teams, the airport's fire department, and volunteer fire departments were trained in how to fight a fire and evacuate survivors. PARC helped transmit the rosters of the volunteer firemen to the drill's command post using VHF radios and Open Source software developed by the amateur radio community
In addition to the repeater at the top of the Cathedral of Learning, the club has a big computer-controlled antenna at the top of Benedum Hall, close to the shack, which is the one used for contests and for transcontinental contacts.
As the Internet and other technologies continue to redefine the world of mass communications, radio seems to be integrating itself into the fold, rather than becoming obsolete. There are smartphone apps that can connect operators directly to a frequency, and software-defined radios that can digitize all the typical radio hardware. However, amateur radio continues to provide an analog experience in an increasingly digital world.
"Many of our students are majoring in technology," said Bloomberg. "Most of their classes are very theoretical. Amateur radio gives our students hands-on experience with modern technology."
PARC meets Wednesdays at 6 p.m. at the station in 1213 Benedum Hall. Contact President Michael Gasser via email MIG59@pitt.edu if you'd like to join.
Other Stories From This Issue
There are no stories for the issue at this time.
On the Freedom Road

Follow a group of Pitt students on the Returning to the Roots of Civil Rights bus tour, a nine-day, 2,300-mile journey crisscrossing five states.
Day 1: The Awakening
Day 2: Deep Impressions
Day 3: Music, Montgomery, and More
Day 4: Looking Back, Looking Forward
Day 5: Learning to Remember
Day 6: The Mountaintop
Day 7: Slavery and Beyond
Day 8: Lessons to Bring Home
Day 9: Final Lessons