By John Harvith
Issue Date:
September 11, 2006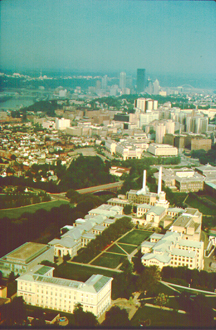 Listed Among 25 U.S. "Best-Neighbor" Urban Colleges and Universities
Pittsburgh only city with two universities named in "Saviors of Our Cities" list
The University of Pittsburgh and Carnegie Mellon University are among the nation's 25 "best-neighbor" urban colleges and universities in a list released recently by Evan Dobelle, president of the New England Board of Higher Education.
Dobelle chose for his list institutions of higher education that "because of their strong positive contributions of careful strategic planning and thoughtful use of resources, have dramatically strengthened the economy and quality of life of their neighboring communities and have become 'Saviors of Our Cities.'"
Pittsburgh was the only city on the list represented by two separate "Saviors of Our Cities" institutions; Pitt and Carnegie Mellon have long been known for working together to strive for the kinds of "very positive impact on their communities" Dobelle said he was aiming to recognize with his list.
According to an Aug. 21 article on the list syndicated by the Scripps Howard News Service, the 25 academic institutions "have figured prominently in lengthy cooperative efforts with community leaders to rehabilitate the cities around them, using their money and expertise to further the projects." Dan K. Thomasson, who authored the Scripps Howard article, wrote that Dobelle's list "is a long-overdue approach that measures the school's stature on the strength of its commitment to helping save the nation's cities from increasing blight."
Dobelle's criteria, according to the article, included long-term commitment, the amount of real dollars invested from endowments, relationships with city officials, continuing student and faculty involvement, and sustainability of projects.
"These are engines of renewal and revitalization in cities and towns that would be spiraling downward" in every quality of life index "without their [the universities'] direct and indirect involvement in neighborhoods and communities," Dobelle was quoted as saying in the article.
In a news release announcing his list, Dobelle wrote, "The extraordinary efforts of these [25 institutions] and other colleges have made higher education one of the great growth industries in America and have given a sense of confidence and hope as well as stability to cities that would otherwise be struggling in a world of mergers, downsizing, and global outsourcing that has eroded the traditional urban economic base."
Other Stories From This Issue
There are no stories for the issue at this time.
On the Freedom Road

Follow a group of Pitt students on the Returning to the Roots of Civil Rights bus tour, a nine-day, 2,300-mile journey crisscrossing five states.
Day 1: The Awakening
Day 2: Deep Impressions
Day 3: Music, Montgomery, and More
Day 4: Looking Back, Looking Forward
Day 5: Learning to Remember
Day 6: The Mountaintop
Day 7: Slavery and Beyond
Day 8: Lessons to Bring Home
Day 9: Final Lessons