Pitt and Lubrizol Form Strategic Alliance
By Joe Miksch
Issue Date:
August 18, 2014
Chemical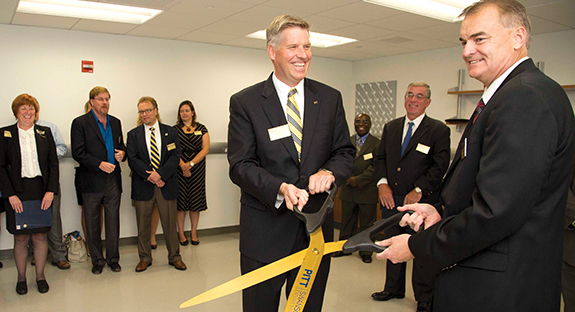 and petroleum engineering students don't usually interact with industry until landing an internship or a job, and rarely in the classroom or lab.
Thanks to a new four-year, $1.2 million partnership between the University of Pittsburgh's Department of Chemical and Petroleum Engineering and The Lubrizol Corporation, promising Pitt engineering students will learn about industry needs and have a chance to develop ideas and products in the new Lubrizol Innovation Laboratory.
"Half of these funds will be dedicated to an extremely progressive educational initiative for our students, literally and physically enabling them to turn their ideas into reality," said Steven Little, associate professor, CNG Faculty Fellow, and chair of the Department of Chemical and Petroleum Engineering within Pitt's Swanson School of Engineering.
"Overall, this is the largest, broadest-reaching relationship between a company and the department in at least three decades," Little continued, "and it is the culmination of a commitment we made several years ago to develop such a strategic alliance."
Little, who was a lead player in cementing Pitt's relationship with Lubrizol, said that the National Academy of Engineering has long been recommending that engineering educators find a way to encourage entrepreneurship and risk-taking among students. But, he said, that's a difficult tactic to integrate into the curriculum. Having a corporation aboard with a real need to innovate—to create new products in order to thrive—will allow students to discover "why they're learning all this," Little said.
"Now, instead of waiting until their senior year to work on developing a product for a customer, they'll do it in their sophomore year and follow it all the way through," he added.
Cliff Kowall, technical fellow of process development at Lubrizol and an adjunct instructor at Pitt, led the alliance from Lubrizol's end. "For about a year, I've invested a great deal of time at Pitt, getting to know the leadership, faculty, students, and the curriculum," he said. "I've found that Pitt and Lubrizol have had direct alignment around this project from the very beginning. We share a similar vision for the alliance, which is to have a mutually beneficial relationship that is fundamentally collaborative."
Gerald D. Holder, U.S. Steel Dean of Engineering at Pitt, praised the cooperation between the University and Lubrizol, and said he is excited about the opportunities being presented to University students. "As the engineering profession evolves and more employers are looking for more diverse skills from future engineers, it's partnerships with corporations like Lubrizol that will help to give our students a greater advantage in the job market," he said. "Of course, developing distinctive initiatives such as this also requires innovation on the part of academia and industry. Steve and Cliff, as well as the senior leadership at Lubrizol, are to be commended for shepherding this concept to fruition for the benefit of our students."
Robert Graf, corporate vice president of research and development at Lubrizol, said, "As an organization focused on inspiring innovation, our new relationship with the University of Pittsburgh provides the capability for both of our entities to leverage each other's experience and expertise. We are extremely excited about the opportunities this partnership will provide, and we look forward to a strong alliance over the years."
According to Little, declared chemical and petroleum engineering majors will be able to access the program as sophomores. "Students will take a course to learn about chemically engineered products and processes, also learning about customer needs and how corporations respond to them," he said.
Pitt and Lubrizol officials celebrated the new collaboration Aug. 12 with a ribbon-cutting ceremony at the new Lubrizol Innovation Lab in Benedum Hall.
Lubrizol Corporation is a specialty-chemical company that produces and supplies technologies to customers in the global transportation, industrial, and consumer markets.
Other Stories From This Issue
There are no stories for the issue at this time.
On the Freedom Road

Follow a group of Pitt students on the Returning to the Roots of Civil Rights bus tour, a nine-day, 2,300-mile journey crisscrossing five states.
Day 1: The Awakening
Day 2: Deep Impressions
Day 3: Music, Montgomery, and More
Day 4: Looking Back, Looking Forward
Day 5: Learning to Remember
Day 6: The Mountaintop
Day 7: Slavery and Beyond
Day 8: Lessons to Bring Home
Day 9: Final Lessons