Pitt Announces New Kenneth P. Dietrich School of Arts and Sciences and College of General Studies Dean
By Anthony M. Moore
Issue Date:
May 18, 2017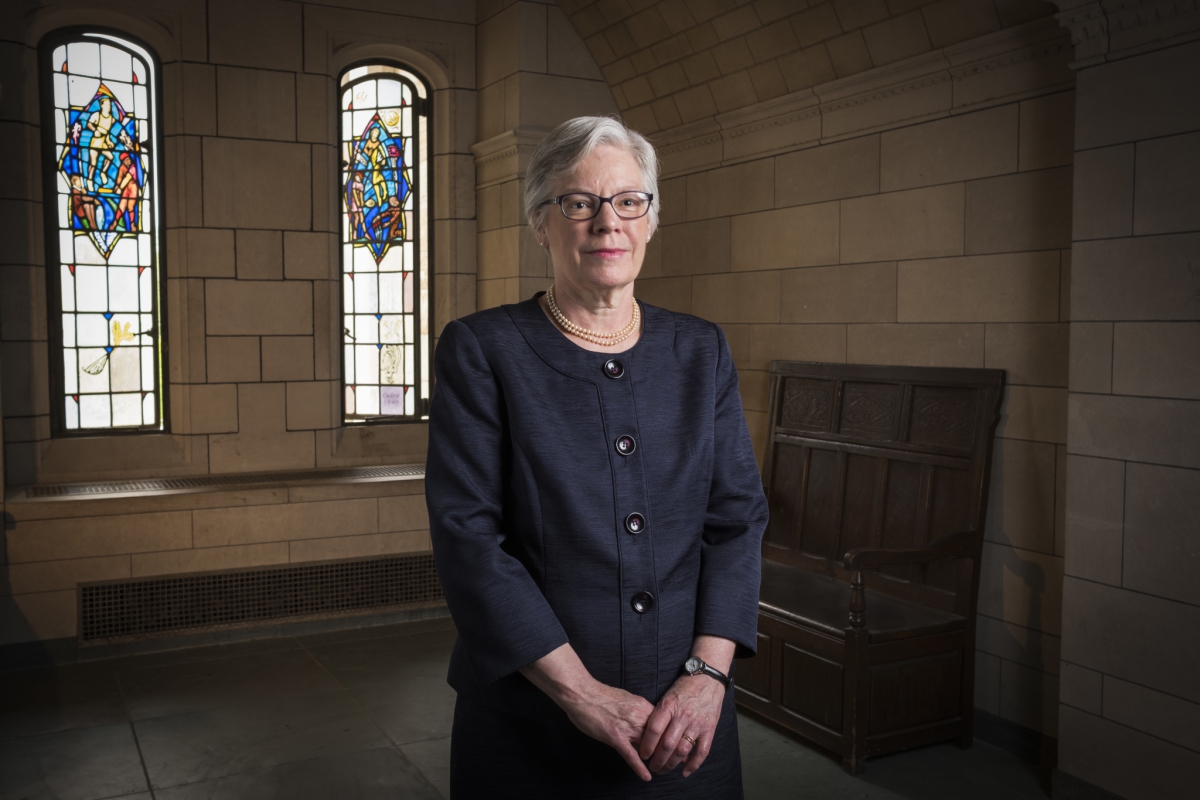 Kathleen M. Blee has been named the Bettye J. and Ralph E. Bailey Dean of the University of Pittsburgh's Kenneth P. Dietrich School of Arts and Sciences and the dean of the College of General Studies. She currently is the Dietrich School's associate dean and a distinguished professor in the school's Department of Sociology. Blee's deanship will commence on Aug. 15, 2017.
Of her appointment, Blee said: "The continued excellence of the Dietrich School and College of General Studies is essential to maintaining Pitt's position as a world-class university. I'm humbled and honored by this opportunity to partner with the provost, chancellor and our outstanding community of faculty, students, staff and alumni to ensure that the school's future builds on our long tradition of exemplary education, impactful research and scholarship, and significant service to the wider community."
"Kathy is a distinguished scholar, an experienced and collaborative administrator and an innovative leader. These exceptional qualities — matched by a remarkable commitment to our students and her dedication to supporting our faculty members — truly set her apart," said University of Pittsburgh Chancellor Patrick Gallagher. "I am confident that under Kathy's leadership, our Dietrich School of Arts and Sciences and our College of General Studies will advance to new levels of excellence and achievement."
Pitt Provost and Senior Vice Chancellor Patricia E. Beeson said that "Kathy brings to the deanship a collaborative leadership style grounded in the core values of academic excellence, innovation and diversity along with a deep understanding of the school's strengths and opportunities. As such, I am confident in her ability to lead the Dietrich School in developing a clear, comprehensive and inclusive vision for the next chapter in its history."
Blee succeeds N. John Cooper, who has served as dean of the Dietrich School since 1998. Cooper said of Blee: "It has been a great pleasure to work with Kathy over the past decade, first as chair of sociology and then as associate dean for graduate studies and research. I cannot imagine a better leader for our faculty, staff and students going forward nor one more committed to true excellence now and in the future."
A Pitt faculty member since 1996, Blee came to the University as a full professor of sociology and was appointed a Distinguished Professor of Sociology in 2007. As the associate dean for graduate studies, she provides oversight of PhD and master's programs and degrees in 40 departments and interdisciplinary programs in the natural sciences, social sciences and humanities.
In addition to her most recent roles, Blee served as the director of Pitt's Gender, Sexuality and Women's Studies Program from 1996 to 2001, and chair of the Department of Sociology from 2008 to 2011. Her University affiliations include the Center on Race and Social Problems; Cultural Studies Program; Department of History; Department of Psychology; and Gender, Sexuality and Women's Studies Program. Prior to coming to Pitt, Blee served as a faculty member and senior administrator at the University of Kentucky for more than 15 years.
Focusing on social divisions within American society, Blee has researched activist groups and racial violence for more than 30 years. She has ongoing projects that focus on the deradicalization of violent racial extremists, the experience of urban bus riding, and underreported hate crimes. Blee has taught undergraduate and graduate courses in research methods, the sociology of family, global feminism, social movements and writing for publication.
The author of four books, Blee most recently published "Democracy in the Making: How Activist Groups Form" (Oxford University Press, 2012), based on a three-year study of new and emerging activist groups in Pittsburgh. The book won the 2013 Charles Tilly Award for Best Book from the American Sociological Association and the 2012 Outstanding Book in Nonprofit and Voluntary Action Research Award from the Association for Research on Nonprofit Organizations and Voluntary Action. Her latest book, "Understanding Racist Activism: Theory, Methods and Research," will be published later this year. Additionally, Blee has authored more than 90 articles that have appeared in top journals, including the American Journal of Sociology, Annual Review of Sociology, and Sociological Methods & Research.
Earlier this year, Blee was honored with the 2016­­-17 Robin M. Williams Jr. Lectureship award from the Eastern Sociological Society. In 2016, her career accomplishments were recognized with the University of Notre Dame's John D. McCarthy Award for Lifetime Achievement in the Scholarship of Social Movements and Collective Behavior. She also is the recipient of the Award for Distinguished Contribution to Scholarship from the Pennsylvania Sociological Society and was elected to the Sociological Research Association. At Pitt, Blee has won all three of the University's major teaching and scholarship awards: the Chancellor's Distinguished Research Award, the Chancellor's Distinguished Teaching Award and the Provost's Award for Excellence in Mentoring.
Blee earned her Bachelor of Arts degree in sociology at Indiana University in 1974 as well as Master of Science and PhD degrees in sociology at the University of Wisconsin-Madison in 1976 and 1982, respectively.
Other Stories From This Issue
There are no stories for the issue at this time.
On the Freedom Road

Follow a group of Pitt students on the Returning to the Roots of Civil Rights bus tour, a nine-day, 2,300-mile journey crisscrossing five states.
Day 1: The Awakening
Day 2: Deep Impressions
Day 3: Music, Montgomery, and More
Day 4: Looking Back, Looking Forward
Day 5: Learning to Remember
Day 6: The Mountaintop
Day 7: Slavery and Beyond
Day 8: Lessons to Bring Home
Day 9: Final Lessons