Pitt Announces Partnership With China's Sichuan University to Establish Joint Engineering Institute
By B. Rose Huber
Issue Date:
April 1, 2013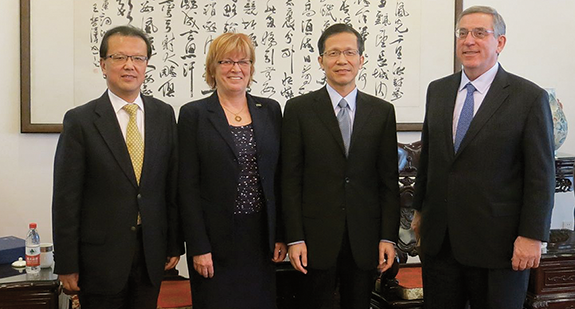 (From left, Shijing Yan, vice president, Sichuan University's International Affairs Office; Pitt Provost and Senior Vice Chancellor Patricia E. Beeson; Guangxian Li, executive vice president, Sichuan University; and Gerald D. Holder, U.S. Steel Dean of Engineering and professor in Pitt's Swanson School, in China for the joint institute signing ceremony.)
The University of Pittsburgh and Sichuan University in China announced a partnership on April 1 that will establish an innovative joint engineering program to educate undergraduate students and foster collaborative research. The Sichuan University Pittsburgh Institute, as it will be named, expects to enroll its first class in the fall of 2014.
Pitt is one of only five U.S. universities to have entered into a large-scale partnership agreement with a Chinese university; the others are Carnegie Mellon University, Duke University, New York University, and the University of Michigan. Sichuan University is the premier university in western China, located in Chengdu within the Sichuan Province, and it is consistently ranked among the top 10 universities in China. Sichuan University will initially invest nearly $40 million to support the construction and equipping of a new 100,000-square-foot building to house the institute on its campus.
"This extraordinary partnership marks a milestone in the history of the University of Pittsburgh, expanding the University's influence as a force for educational and research innovation while allowing Pitt to benefit from an alliance with Sichuan University, one of China's preeminent institutions of higher education," said University of Pittsburgh Chancellor Mark A. Nordenberg. "We at Pitt are fortunate to partner with such an esteemed university, are grateful for the strong commitment it has made to this joint endeavor, and look forward to what we expect will be an enduring and fruitful relationship between our two leading research universities."
"Pitt's partnership with Sichuan University creates a framework for students and faculty from both universities to share knowledge, culture, and experience," said Pitt Provost and Senior Vice Chancellor Patricia E. Beeson. "Because the universities are well matched in their overall academic strength and global commitments, the impact of this new partnership will extend beyond the field of engineering and beyond the U.S. and China, making it global in scope and presenting exciting possibilities for the future."
"This partnership will enable our students to be much better prepared for practicing their profession globally," said Gerald D. Holder, U.S. Steel Dean of Engineering and professor in Pitt's Swanson School. "The large number of American companies that do work in China or sell products there will benefit from the intercultural education that the joint institute provides. And the American and Chinese students who participate in this program will be in great demand by employers. I hope the program will open many doors for future opportunities with Sichuan University."

With emphases on advanced sustainable manufacturing and educational innovation, the institute will initially offer three undergraduate degree programs: industrial engineering, mechanical engineering, and materials science and engineering. Students in the institute will be recruited from the United States, China, and possibly other countries, with the first class in fall 2014 expected to comprise 100 students. Within seven years, enrollment is projected to grow to a final total of 1,600.
Students will spend the first two years of the program immersed in the Pitt curriculum in China with the option of transferring to Pitt's main campus during their third year in the program. Students who transfer to Pitt directly after their sophomore year will earn a bachelor's degree from both Sichuan University and Pitt, and all students will receive an institute certificate upon completion of their studies. Qualified students will also be able to continue their graduate studies at Pitt.
Faculty from around the world will be recruited to teach at the institute, with 20 in 2014 and an expected total of 80 by 2018. All faculty will undergo rigorous training to ensure that they will provide appropriate course content in an active learning format. Pitt faculty interested in a semester or yearlong sabbatical to teach in the institute will be considered. All Pitt-curriculum-based courses will be taught in the English language. Sichuan University will cover not only the institute's operating costs, but also faculty start-up funds.
Members from both universities comprise the project team responsible for spearheading this partnership. Led by Holder, key contributing members from Pitt's Swanson School of Engineering are Bopaya Bidanda, chair and Ernest E. Roth Professor in the Department of Industrial Engineering; Minking Chyu, chair and Leighton and Mary Orr Chair Professor in the Department of Mechanical Engineering and Materials Science; Larry Shuman, Distinguished Service Professor and senior associate dean for academic affairs; and Qing-Ming Wang, director of the mechanical engineering graduate program and professor in the Department of Mechanical Engineering and Materials Science.
Provost Beeson played an instrumental role in moving the partnership forward and will continue to provide her leadership as the partnership develops. In addition, Lawrence Feick, Pitt's senior director of international programs, director of the University Center for International Studies, acting codirector of the Asian Studies Center, and professor of business administration in the Joseph M. Katz Graduate School of Business, has played and will continue to play a significant role in coordinating various entities within Pitt and the connection between Pitt and Sichuan University.
The project team members from Sichuan University are Guangxian Li, executive vice president; Shijing Yan, vice president of the International Affairs; Ping Guan, deputy director of the International Office; and Liying Yao, director of major projects in the International Office.
Swanson School of Engineering
The University of Pittsburgh's Swanson School of Engineering is one of the oldest engineering programs in the United States. The Swanson School has excelled in basic and applied research during the past decade and is at the forefront of 21st-century technology, including energy systems, sustainability, bioengineering, microsystems and nanosystems, computational modeling, and advanced materials development. Approximately 120 faculty members serve more than 3,200 undergraduate and graduate students in six departments, including bioengineering, chemical and petroleum engineering, civil and environmental engineering, electrical engineering, industrial engineering, and mechanical engineering and materials science. In 2011, the Swanson School was the top-ranked U.S. school in the percentage of doctoral degrees awarded to women in engineering, according to a ranking based on 2010-11 data from the American Society for Engineering Education.
Sichuan University
Sichuan University is one of the oldest national universities in China and is ranked No. 8 among Chinese universities in Shanghai Jiaotong University's Academic Ranking of World Universities. It is a research university with a wide range of disciplines covering 11 categories: agriculture, economy, education, engineering, history, law, liberal arts, management, medicine, philosophy, and science. There are more than 40,000 undergraduate students, 20,000 master's degree and PhD candidates, and 1,000 foreign students and students from Hong Kong, Macau, and Taiwan. Sichuan University has established contacts and cooperative relationships with more than 150 renowned colleges and universities as well as research institutes from 42 countries and regions.
Other Stories From This Issue
There are no stories for the issue at this time.
On the Freedom Road

Follow a group of Pitt students on the Returning to the Roots of Civil Rights bus tour, a nine-day, 2,300-mile journey crisscrossing five states.
Day 1: The Awakening
Day 2: Deep Impressions
Day 3: Music, Montgomery, and More
Day 4: Looking Back, Looking Forward
Day 5: Learning to Remember
Day 6: The Mountaintop
Day 7: Slavery and Beyond
Day 8: Lessons to Bring Home
Day 9: Final Lessons