Pitt Board of Trustees Chair Stephen R. Tritch Explains Search Process for Finding a Successor
Issue Date:
July 2, 2013
(This is a statement from Stephen R. Tritch, chair of the University of Pittsburgh Board of Trustees, regarding the search for a successor to Chancellor Mark A. Nordenberg.)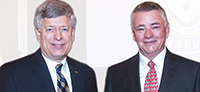 The University of Pittsburgh is extremely fortunate to have been led by Chancellor Mark Nordenberg for the last 18 years. During this period, our University has made tremendous progress in almost every measurable way. This includes the increased size and dramatically improved academic credentials of each successive freshman class, the extraordinary growth in the size and impact of our research programs, and the enormous contributions that Pitt has made to the economic strength and social vibrancy of its home communities. Everyone who cares about Pitt always will be grateful for the contributions he has made to our University.
Now that Chancellor Nordenberg has advised the Board of Trustees of his intention to leave his position in the summer of 2014, we must begin the search for a worthy successor. This is the single most important task that the Board has undertaken since the election of Chancellor Nordenberg. We move forward with the expectation that the strength and momentum that characterize the University of Pittsburgh today will attract a pool of highly qualified candidates.
Though the Board of Trustees ultimately is responsible to elect a new Chancellor, we look forward to working with representatives of other important groups—including alumni, faculty, staff, and students—as we move forward with the process of attracting and assessing candidates.
Chancellor Nordenberg frequently has spoken with pride about the Pitt culture, which he has said is characterized by a deep commitment to the overall good of the institution and to collegiality and civility in dealings with each other. Those community qualities also will be important as we move forward through a successful search.
To ensure that the University has the best possible transition, I will be constituting and charging two committees with separate but interlocking responsibilities and intend to maintain regular contact with both committees, particularly as we reach milestones in the transition process.
Board Vice Chair Eva Blum, who serves as executive vice president and director of community affairs for PNC Bank and also serves as chairwoman and president of the PNC Foundation, will chair the Search Committee. Eva earned her undergraduate and law degrees from Pitt and has crafted a distinguished professional career leading to many prestigious honors, including being named one of Pennsylvania's Best 50 Women in Business and a Distinguished Daughter of Pennsylvania. She is a past president of the Pitt Alumni Association and served as cochair of our just concluded, and highly successful, $2 billion capital campaign. As a Trustee, she has served as chairperson of the Student Affairs Committee of the Board and as a member of its Executive, Compensation, Institutional Advancement and Nominating committees. She also chairs the Board of Visitors of the Graduate School of Public Health.
Provost Emeritus James Maher has agreed to serve as vice chair of the Search Committee. Jim has been a major contributor to Pitt's progress, is a highly respected faculty member, and will be an important source of academic perspectives as we move forward with the search. Board Secretary B. Jean Ferketish will serve as secretary to the Search Committee. Jean brings to this assignment invaluable experience in board relations, organizational development, and executive searches, including experience gained as secretary in the most recent Provost search.
Other members of the Search Committee will be appointed in the weeks ahead. A key reason that Chancellor Nordenberg publicly announced his decision at the June Board meeting was to ensure that there is adequate time for a successful search, and it is my hope that the committee as a whole can be constituted early in the new academic year so that the group can be formally charged and press forward with its important work.
Board Vice Chair Morgan O'Brien, who serves as president and chief executive officer of Peoples Natural Gas Company LLC, will chair a separate Transition Committee. This group will be charged with ensuring that Chancellor Nordenberg's last year in office is as productive as it possibly can be and that his successor has the support necessary to get off to a strong start. Morgan is one of the most respected of the region's business leaders and also is one of the most civically engaged members of that group. He currently serves, among other roles, as chair of the United Way Board and as vice chair of the board of the Allegheny Conference on Community Development. As a Trustee, he has served as chairperson of the Audit Committee of the Board and as a member of its Executive, Athletics, Compensation, Conflicts of Interest and Nominating committees. He also serves as chairperson of the Advisory Council of the Center for Energy in the Swanson School of Engineering.
G. Reynolds Clark, chief of staff and vice chancellor for external relations, will serve as vice chair of the Transition Committee. Renny has wide-ranging contacts, not only from his 13 years at Pitt, including his service as vice chancellor for governmental relations and as vice chancellor for community initiatives, but also from his earlier, and very distinguished, career at Westinghouse, including his service as chair of the Westinghouse Foundation. As chief of staff within the Chancellor's Office, he also has developed unique perspectives on the challenges and opportunities related to the position of Chancellor at the University of Pittsburgh.
Like so many others, I admire all that Mark Nordenberg has accomplished as Chancellor, have been pleased to work with him, and regret that his service in that role will be coming to an end. However, to our good fortune, his tenure in the office already has been unusually long, and we all knew that this day eventually would come. Now, we must do our very best to identify and recruit the best possible successor. The Board and I look forward to your ideas and support as we move forward with this important process.
Other Stories From This Issue
There are no stories for the issue at this time.
On the Freedom Road

Follow a group of Pitt students on the Returning to the Roots of Civil Rights bus tour, a nine-day, 2,300-mile journey crisscrossing five states.
Day 1: The Awakening
Day 2: Deep Impressions
Day 3: Music, Montgomery, and More
Day 4: Looking Back, Looking Forward
Day 5: Learning to Remember
Day 6: The Mountaintop
Day 7: Slavery and Beyond
Day 8: Lessons to Bring Home
Day 9: Final Lessons