Pitt-Bradford to Name New Residence Hall For Retired Zippo Manufacturing Executive Howard Fesenmyer
By Kimberly Marcott Weinberg
Issue Date:
July 7, 2008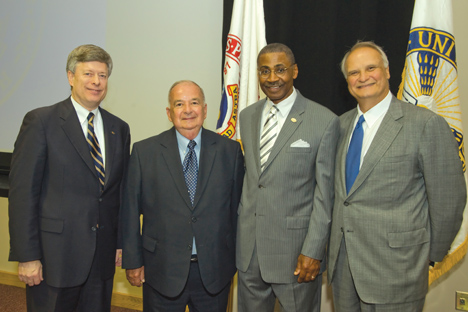 The University of Pittsburgh at Bradford will name its new residence hall in honor of Howard Fesenmyer, a retired Zippo Manufacturing Co. executive who is executive secretary of the Blaisdell Foundation, a Zippo board member, and a member of the advisory board of Pitt-Bradford, where he is a leader in the school's fundraising efforts.
The University of Pittsburgh Board of Trustees approved the naming of Fesenmyer House at its June 27 annual meeting in Pittsburgh. Fesenmyer attended the meeting.
Fesenmyer House will become home to 144 students this fall. Pitt-Bradford broke ground for the $7.3 million residence hall last July. It is located near Blaisdell Hall.
"Never in my wildest dreams would I ever have thought this could happen to me," Fesenmyer said. "I am humbled, honored, and pleased, and I thank Pitt-Bradford for this remarkable recognition."
Livingston Alexander, president of Pitt-Bradford, said, "Howard is not only a major fundraiser for Pitt-Bradford, but he also is our greatest cheerleader and advocate.
"What drives Howard to ask for a gift is precisely what motivates our donors to give—an unselfish dedication to our campus and an abiding commitment to our students."
Fesenmyer has been chair of the institutional advancement council of Pitt-Bradford's advisory board for more than a decade, helping to lead teams of volunteers to successfully raise $10 million for the campus' Campaign 2000. During that same time, he has also been serving as chair of the Complete the Campus Campaign, which raised $13.1 million for campus construction; the Reed-Coit Scholarship Challenge, which raised $2 million for scholarships; and the Blaisdell Fine Arts Challenge, which raised $3.4 million to build Blaisdell Hall. He is currently spearheading the fundraising campaign for a campus interfaith chapel, to be built solely with private donations.
In 1998, Pitt-Bradford awarded Fesenmyer its highest honor, the Presidential Medal of Distinction, given to those who make significant contributions to the campus and the community.
"I cannot think of a single volunteer who has had more of an impact on raising support for Pitt-Bradford and advancing the college than Howard," said Karen Niemic Buchheit, Pitt-Bradford's executive director of institutional advancement. "His enthusiasm for, and devotion to, Pitt-Bradford is contagious—which is the reason he has been so successful in garnering such support."
Fesenmyer House will bring Pitt-Bradford's on-campus resident capacity to 800 students. It is a three-story building with 21 four-person suites, 10 five-person suites, and five two-person suites. Each bedroom will have a private bathroom, cable hookup, telephone jack, and computer port. Students will share a living room, kitchen, and storage area.
A formal ribbon-cutting and dedication ceremony is planned for Sept. 5.
Fesenmyer, who earned the Bachelor of Science degree at Clarion University of Pennsylvania, was an executive at Zippo from 1953 to 1991, when he retired as executive vice president. In addition to performing his extensive volunteer work for Pitt-Bradford, Fesenmyer is a trustee of the Bradford Family YMCA, the YWCA of Bradford, Guthrie Medical Center (Sayre, Pa.), and the Bradford Area Public Library. He is a member of the board of directors of Beacon Light Behavioral Health Systems, the Bradford Educational Foundation, the Bradford Exchange Club, the Friendship Table, and Isbrand Co. (Denmark). He also is a member of the Bradford Area Alliance.
Fesenmyer and his wife, Dorothea, live in Bradford.
Other Stories From This Issue
There are no stories for the issue at this time.
On the Freedom Road

Follow a group of Pitt students on the Returning to the Roots of Civil Rights bus tour, a nine-day, 2,300-mile journey crisscrossing five states.
Day 1: The Awakening
Day 2: Deep Impressions
Day 3: Music, Montgomery, and More
Day 4: Looking Back, Looking Forward
Day 5: Learning to Remember
Day 6: The Mountaintop
Day 7: Slavery and Beyond
Day 8: Lessons to Bring Home
Day 9: Final Lessons