Pitt Cancer Institute Appoints New Director
By Courtney McCrimmon
Issue Date:
November 17, 2008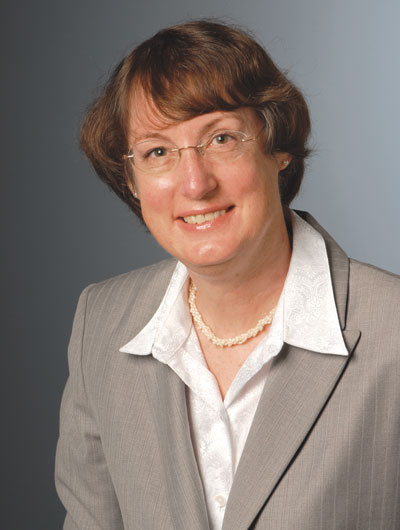 Nancy E. Davidson, an internationally renowned expert in breast cancer research and treatment, has been named director of the University of Pittsburgh Cancer Institute (UPCI) at the University of Pittsburgh and the University of Pittsburgh Medical Center (UPMC). Davidson also will serve as associate vice chancellor for cancer research and as chief of the Division of Hematology-Oncology in the University's Department of Medicine.
Davidson's appointment is effective March 1, 2009. She will have overall responsibility and authority for all aspects of cancer research, care, and education within the integrated UPCI and UPMC Cancer Centers organization.
"Being able to attract a cancer research leader of such stature is a testament to not only the strength of UPCI, but also of the University of Pittsburgh, UPMC, and, of course, the Pittsburgh community. We are thrilled to have Dr. Davidson join us," said Arthur S. Levine, senior vice chancellor for the health sciences and dean of the School of Medicine at Pitt. "Under Dr. Davidson's guidance, we anticipate that UPCI will continue to play a national and international leadership role in understanding the etiology of cancer and in developing new therapies to treat and prevent various forms of the disease."
In September 2007, Ronald B. Herberman, founding director of UPCI and director of the UPMC Cancer Centers, announced his intention to step down and devote more time to his research interests. A comprehensive search for his successor has been under way since then.
Davidson currently serves as director of the Johns Hopkins Kimmel Cancer Center's Breast Cancer Program in Baltimore and as professor of oncology at Johns Hopkins School of Medicine, where she also holds the Breast Cancer Research Chair in Oncology. She holds a joint appointment in the Department of Biochemistry and Molecular Biology.
While at Johns Hopkins University, Davidson has integrated basic scientific investigation of the biology of breast cancer with a nationally renowned clinical program focused on new therapies for the disease. She has published key findings on the role of hormones, particularly estrogen, on gene expression and cell growth in breast cancer. She also has guided several important national clinical trials of potential new therapies, including the use of chemoendocrine therapy for premenopausal breast cancer and antiangiogenesis therapy for advanced disease.
"I am tremendously excited to take on this role," Davidson said. "As the preeminent institution in Western Pennsylvania for the delivery of cancer care, the conduct of basic and translational research, and the education of the next generation of cancer researchers and physicians, UPCI is exceptionally well positioned to contribute to the global effort to reduce the burden of cancer. My goal is to extend the notable successes achieved under the leadership of Dr. Herberman to improve cancer care and the health of our citizens."
Herberman said Davidson "is an outstanding physician-scientist whose research has made a tremendous impact in the cancer field. Under her leadership, UPCI will continue to grow its commitment to the prevention, early detection, and eventual cure of this disease."
Davidson received her bachelor's degree from Wellesley College and medical degree from Harvard Medical School, after which she conducted her residency in internal medicine at Johns Hopkins Hospital and a fellowship at the National Cancer Institute (NCI).
Founded in 1985, the University of Pittsburgh Cancer Institute became an NCI-designated Comprehensive Cancer Center in only five years, a record time. UPCI, the only cancer center in Western Pennsylvania with this elite designation, serves the region's population of more than six million. Presently, UPCI receives a total of $174 million in research grants and is ranked 10th in funding from NCI
Other Stories From This Issue
There are no stories for the issue at this time.
On the Freedom Road

Follow a group of Pitt students on the Returning to the Roots of Civil Rights bus tour, a nine-day, 2,300-mile journey crisscrossing five states.
Day 1: The Awakening
Day 2: Deep Impressions
Day 3: Music, Montgomery, and More
Day 4: Looking Back, Looking Forward
Day 5: Learning to Remember
Day 6: The Mountaintop
Day 7: Slavery and Beyond
Day 8: Lessons to Bring Home
Day 9: Final Lessons