Pitt, Carnegie Mellon to Honor Tutu With Honorary Doctorate
By John Harvith
Issue Date:
October 22, 2007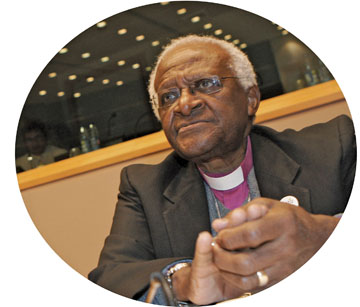 The Most Rev. Desmond Mpilo Tutu, Archbishop Emeritus of Cape Town and former Primate of the Anglican Church in the Province of Southern Africa, will participate in an "Interfaith Service for Justice and Peace" at 10 a.m. Thursday at Calvary Episcopal Church of Pittsburgh during which he will deliver a sermon and receive an honorary degree from the University of Pittsburgh and Carnegie Mellon University.
The honorary Doctor of Humane Letters degree will be conferred jointly during the Calvary service by University of Pittsburgh Chancellor Mark A. Nordenberg and Carnegie Mellon University President Jared L. Cohon. This is the first time that the two universities have jointly conferred an honorary degree.
Tutu will take part in the service at the invitation of Calvary Rector The Rev. Dr. Harold T. Lewis, a member of the board of Shared Interest, a New York-based not-for-profit organization whose purpose is to assist grassroots businesses in South Africa by making loans to them.
Beginning Friday, Pitt will post on its Web site video coverage of the service.
Tutu is traveling to Southwestern Pennsylvania for his first Pittsburgh visit to be in Oakland's Carnegie Music Hall on Wednesday evening as the guest of honor at a gala fundraising dinner for Shared Interest, on whose board he serves as honorary chair.
Through a future symposium and other local activities, Shared Interest plans to engage community leaders to continue the challenge Tutu will present in his message.
"It will be our honor and privilege to welcome the archbishop to Calvary," Lewis said. "Dr. Tutu, the 1984 recipient of the Nobel Peace Prize, is arguably the most beloved figure in Anglicanism today. Most noted for his fearless witness against apartheid and for his indefatigable work as chair of South Africa's Truth and Reconciliation Commission, he continues to stand as a beacon of hope for the elimination of economic injustice, racism, and poverty."
The Thursday service is open to the public on a space-available basis. Doors to the church, which seats approximately 1,100, will open at 8:30 a.m.
At 9 a.m., there will be an hour of live music performed by organists Alan Lewis, director of music at Calvary, and Nicholas Will; the Calvary Adult Choir; and the CAPA (Pittsburgh High School for the Creative and Performing Arts) Choir.
The 10 a.m. service will begin with a procession from the back of the nave including the Calvary Adult Choir; an academic contingent led by mace bearers for the University of Pittsburgh and Carnegie Mellon University—Professor of Dental Medicine John Baker, president of the University Senate, for Pitt, and Gordon Rule, associate professor of biological sciences, for Carnegie Mellon—and Nordenberg and Cohon, followed by Pitt Provost James V. Maher and Carnegie Mellon Vice Provost for Education Indira Nair, as well as presidents and representatives from other Pittsburgh-area colleges and universities and standard bearers carrying the official Pitt and Carnegie Mellon flags; and, finally, an assemblage of interfaith clergy, among them Tutu; Lewis; Episcopal Bishops The Rt. Rev. Robert Duncan and The Rt. Rev. Henry Scriven; The Rt. Rev. Arthur B. Williams Jr., Suffragan Bishop of Ohio, retired; The Rev. Paul Roberts, pastor of Eastminster Presbyterian Church; Pittsburgh Roman Catholic Bishop David A. Zubik; Rabbi Aaron Bisno of Congregation Rodef Shalom; Rabbi Alvin Berkun, president of The Rabbinical Assembly, the worldwide association of Conservative Rabbis, and Rabbi Emeritus of Tree of Life Congregation in Pittsburgh; and Amal Namangani of the Islamic Center of Pittsburgh.
Lewis will officiate at the service, which will include readings by Bisno, Namangani, and Roberts, as well as the sermon and closing blessing and hymn delivered by Tutu, who will receive his joint Carnegie Mellon-Pitt honorary degree at the conclusion of his sermon.
A reception in the church's Parish Hall will follow the service.
Other Stories From This Issue
There are no stories for the issue at this time.
On the Freedom Road

Follow a group of Pitt students on the Returning to the Roots of Civil Rights bus tour, a nine-day, 2,300-mile journey crisscrossing five states.
Day 1: The Awakening
Day 2: Deep Impressions
Day 3: Music, Montgomery, and More
Day 4: Looking Back, Looking Forward
Day 5: Learning to Remember
Day 6: The Mountaintop
Day 7: Slavery and Beyond
Day 8: Lessons to Bring Home
Day 9: Final Lessons