Pitt Chancellor Mark A. Nordenberg To Leave Position in 2014 but Will Remain at Pitt
Issue Date:
July 2, 2013
Has led the University through a period of exceptional progress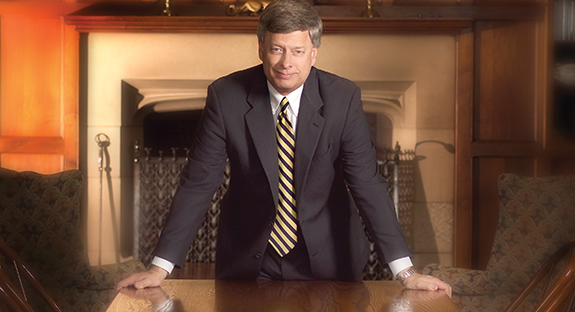 University of Pittsburgh Chancellor Mark A. Nordenberg has advised the University's Board of Trustees of his intention to leave that position in the summer of 2014. The announcement was made during the June 28 meeting of the Pitt Board, held on the University's Oakland campus. When he steps down as Chancellor, Nordenberg will have served 19 years in the position. He already is one of the most senior presidents or chancellors heading a major American research university and has led Pitt through one of the most impressive periods of progress in its 226-year history.
In commenting on his decision, Nordenberg stated, "Serving as Chancellor of the University of Pittsburgh has been the greatest privilege of my professional life. In fact, in many respects, the position has been a perfect one for me. It has provided daily opportunities to make meaningful contributions to an institution to which I am fully committed and owe so much and to team with large numbers of amazingly talented people whose collective efforts have propelled Pitt forward.
"I am very proud of all that we have accomplished and remain energized, both by my work and by the momentum we have built. However, I also recognize that my tenure has been a long one, know that even good things ultimately must come to an end, and believe that we should move forward with the process of identifying a successor whose leadership skills will help ensure that Pitt continues to add to its extraordinary record of achievement and impact in the years ahead.
"Because I will continue to serve as Chancellor for another year, it would be premature to offer expressions of fond farewell," Nordenberg continued. "However, it never is too early to express thanks. I am deeply grateful to the Trustees of the University, not only for giving me this special opportunity, but for being so supportive for the past 18 years. I always will be indebted to the talented and committed professionals who have served as members of the University's senior leadership team, as well as on the staff of the Chancellor's Office—people who have contributed so much to Pitt's progress and with whom I have had the good fortune of working so closely. I also treasure the opportunities that I have had to work with so many truly outstanding faculty, staff, students, and alumni of the University and am proud of the partnerships we have forged that have made both Pitt and its home region stronger, particularly our partnerships with UPMC, Carnegie Mellon University, and the Pittsburgh Steelers."
In reflecting on Pitt's remarkable and ongoing rise within the ranks of the country's top universities, Stephen R. Tritch, the chair of the University's Board of Trustees and the retired chair and CEO of the Westinghouse Electric Company, stated, "Mark Nordenberg has been an absolutely outstanding Chancellor. He assumed this important position at a time when institutional progress on many fronts seemed to be stalled, assembled an outstanding leadership team, and energized all of the University's many constituent groups. Everyone who cares about Pitt always will be grateful for the contributions he has made to our University."
Turning to the process of transition, Tritch added, "Now that Chancellor Nordenberg has advised us of his intention to leave that position, the Board of Trustees, assisted by other members of the University community and with appropriate professional support, must begin the search for his successor. This will be the single most important task that this Board has undertaken since Mark was elected Chancellor. Given the stature and strength of the University, as well as the vibrancy of Pittsburgh, I would expect Pitt to attract strong interest from highly qualified candidates."
Further describing the transition process, Tritch stated, "I have asked Board Vice Chair Eva Tansky Blum, executive vice president and director of community affairs for PNC Bank, to chair the search committee that will be charged with identifying candidates to be presented to the Board for its consideration. I have asked Board Vice Chair Morgan K. O'Brien, president and chief executive officer of Peoples Natural Gas Company LLC, to chair a transition committee that will be charged with ensuring that Chancellor Nordenberg's last year in office is as productive as it possibly can be and that his successor has the support needed to get off to a strong start. These two committees will have separate, but interlocking responsibilities, and I expect to work closely with both of them."
In commenting on his own future, Nordenberg said, "My short-term goal is clear. I intend to work as hard as I can during my final year as Chancellor to make certain that it is another great year for Pitt. My clear intention is to remain in Pittsburgh and at Pitt once that next year has concluded, and I have agreed to make myself available, as requested, to assist my successor, particularly in matters involving external relations. Beyond that, I would expect to teach and to remain engaged in public service projects focused on the advancement of the region. However, the specifics will have to wait until I have more time to plan for them."
Other Stories From This Issue
There are no stories for the issue at this time.
On the Freedom Road

Follow a group of Pitt students on the Returning to the Roots of Civil Rights bus tour, a nine-day, 2,300-mile journey crisscrossing five states.
Day 1: The Awakening
Day 2: Deep Impressions
Day 3: Music, Montgomery, and More
Day 4: Looking Back, Looking Forward
Day 5: Learning to Remember
Day 6: The Mountaintop
Day 7: Slavery and Beyond
Day 8: Lessons to Bring Home
Day 9: Final Lessons