Pitt Chefs Get a Taste of Vegan Cooking
By Sharon S. Blake
Issue Date:
March 22, 2017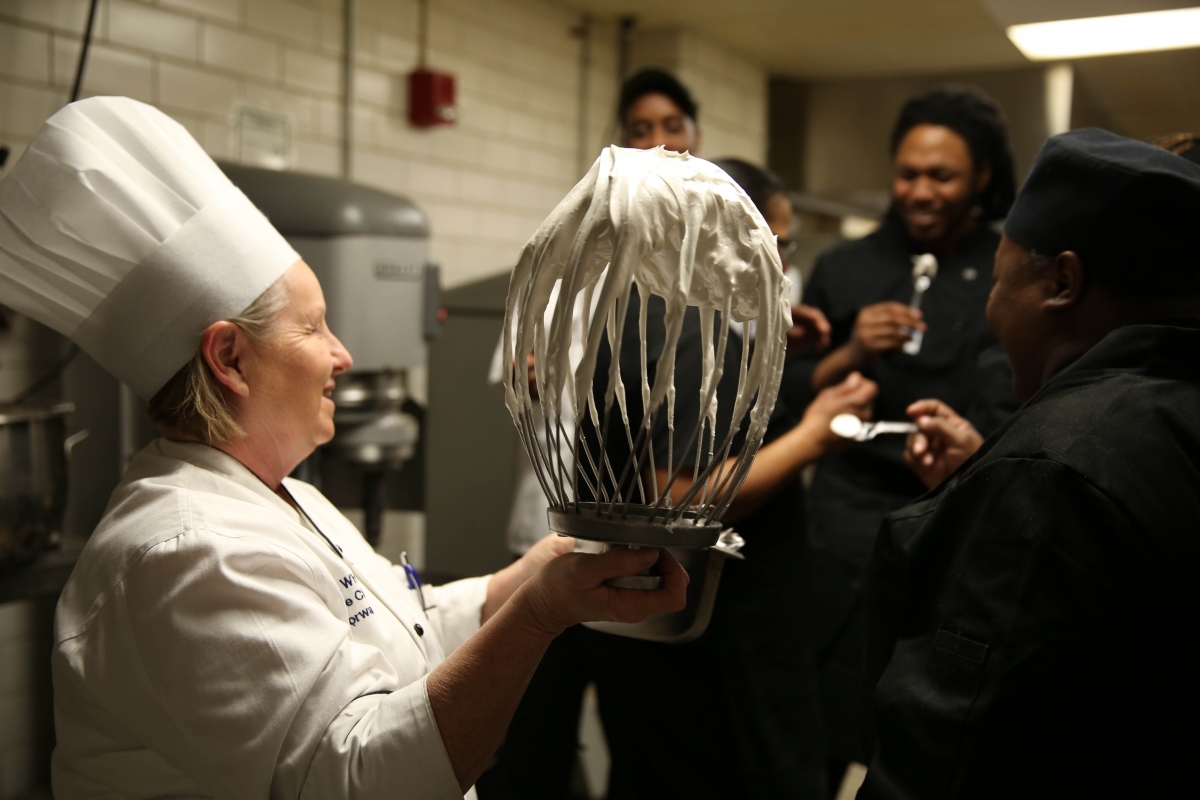 From Apteka, a late-night vegan spot in Bloomfield, to Onion Maiden, offering vegan comfort food in Allentown, new local eateries that serve plant-based meals are popping up everywhere. And as more people of all ages begin to eliminate meat from their diets, Pitt's Dining Services is right on trend.
On March 9 and 10, a team from the Humane Society of the United States set up shop in Market Central to train the Dining Services culinary team on how to add even more tasty and appealing meatless dishes to its menu. The program, called "Forward Food: A Culinary Experience," has been making the rounds to university kitchens nationwide.
"The goal is to offer more variety by moving vegetables to the center of the plate," said Abdou Cole, resident district manager of Pitt Dining by Sodexo. "Studies show that millennials, which includes our students, are demanding more plant-based options and are generally eating less meat."
Variety was the name of the game at the two-day training session. The chefs chopped, sliced, diced, and roasted, as they prepared mushroom and asparagus risotto, quinoa with butternut squash, five-spice barley with kale and tofu, and a host of other items.
The chefs were divided into 10 teams of two, and each team had three dishes to learn.
The finished entrees, snacks, soups, and desserts were served at a lunch buffet each day.
"The chefs were so enthused as they sampled new flavors," said Cole. "I heard them comment that they didn't realize plant-based foods could taste so good. And a lot of them said they would prepare the dishes at home for their families."
A particular favorite were the aquafaba meringue cookies. Chickpeas are drained and the bean liquid, or aquafaba, is reserved. The chefs poured the liquid into a bowl, beat it with an electric mixer until stiff peaks formed, and then gradually added sugar and a little vanilla extract until the mixture was a glossy meringue. Spoonfuls were dropped onto cookie sheets and baked for two hours, then allowed to cool.
Cole said he was impressed at seeing a new way of using the bean liquid, which is normally discarded.
What sounds more appetizing — "vegan tacos" or "mushroom street tacos with cilantro cream"? Part of the Forward Food program involves showing the chefs a way to present the food without using the v-word that might drive some eaters away.
Nick Goodfellow, sustainability coordinator for Pitt Dining Services, talks regularly with students about eating lighter fare. He said in one-on-one sessions, food committee meetings, and on social media, he hears continuous interest and requests for more dishes that don't contain meat.
"There's a good amount of awareness about how animal products, especially red meat, impact your health and the environment," he said. Goodfellow also thinks that since many students are now away from home and responsible for feeding themselves, they are more aware of what they're putting in their bodies.
While vegan Pitt students have been able to find dishes to their liking for more than 10 years, Cole and Goodfellow are excited about adding items like garbanzo bean sliders and butternut squash soup to the mix.
Plans are in the works for a pop-up cart in Market Central featuring plant-based offerings exclusively.
"This training was a win-win," noted Cole. "For our students, our employees, and hopefully, in the long run, for our planet."
Other Stories From This Issue
There are no stories for the issue at this time.
On the Freedom Road

Follow a group of Pitt students on the Returning to the Roots of Civil Rights bus tour, a nine-day, 2,300-mile journey crisscrossing five states.
Day 1: The Awakening
Day 2: Deep Impressions
Day 3: Music, Montgomery, and More
Day 4: Looking Back, Looking Forward
Day 5: Learning to Remember
Day 6: The Mountaintop
Day 7: Slavery and Beyond
Day 8: Lessons to Bring Home
Day 9: Final Lessons