Pitt Chronicle Celebrates 10th Anniversary
Issue Date:
December 6, 2010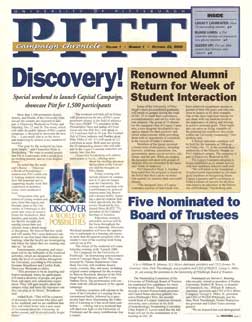 The first issue of the Pitt Campaign Chronicle rolled off the presses and hit campus newsstands on Oct. 23, 2000. A strategic communications initiative founded by Pitt Vice Chancellor for Public Affairs Robert Hill, the Chronicle is the University's official newspaper. During the past 10 years, the publication has covered Pitt's biggest news and events, a smattering of which are highlighted below. While the Chronicle is published weekly, its staff works daily to ensure that the coverage conveys Pitt's broad mission: To be a leader in education, a pioneer in research, and a partner in regional development.
Oct. 23, 2000
Fundraising campaign kick-off

Feb. 5, 2001
Black History Month series begins
Apr. 29. 2001
Special Commencement Issue debuts
May 29, 2001
Booster Booster immunization campaign
Aug. 20, 2001
First Back to School Issue
Oct. 22, 2001
Launch of Pitt Profiles: Deans & Schools
Nov. 12, 2001
Special Undergraduate Issue
Feb. 11, 2002
During campus address, President Bush dubs Pittsburgh "Knowledge Town"
Apr. 15, 2002
Editorials on Middle States accredidation praise Pitt
July 1, 2002
Campaign goal doubled to $1 billion
Sept. 15, 2003
Pitt-UPMC Health Sciences foundation formed
Oct. 13, 2003
Paul Lauterbur wins Nobel Prize in Physiology or Medicine
Oct. 11, 2004
Wangari Maathai wins Nobel Peace Prize
Oct. 18, 2004
Jeopardy! comes to Pitt
Jan. 10, 2005
Pitt goes to Fiesta Bowl
June 20, 2005
Hillman $20 million donation to Pitt's cancer institute
July 5, 2005
Nordenberg Endowed Chair announced
Nov. 7, 2005
Gold LEED for McGowan Institute
Nov. 28, 2005
Starzl awarded National Medal of Science; Chalker wins Rhodes
Jan. 17, 2006
Premiere of Three Rivers Youth's 125th anniversary exhibition
June 26, 2006
Trustees double campaign goal to $2 billion
Sept. 11, 2006
70th anniversary of John Woodruff Olympics Gold Medal run
Oct. 9, 2006
Pitt receives $83.5 million for Clinical and Translational Science Institute
Nov. 27, 2006
Daniel Armanios is Pitt's second-consecutive Rhodes Scholar
Jan. 16, 2007
Hales solves Kepler Conjecture, wins award
Jan. 22, 2007
Pitt is No. 1 in Pa. for Peace Corps volunteers
Jan. 29, 2007
Freedom House documentary premieres
March 12, 2007
Cathedral of Learning restoration
Oct. 29, 2007
Desmond Tutu honorary degree
Sept. 17, 2007
PITT ARTS' 10th anniversary
Dec. 10, 2007
John Swanson honored for $41.3 million gift
Jan. 22, 2008
Black History Month named for K. Leroy Irvis
Feb. 11, 2008
Tuskegee Fly Boys documentary premieres
March 24, 2008
Pitt wins Big East championship in men's basketball
April 7, 2008
Nordenberg issues report on local government
Oct. 13, 2008
Free At Last? exhibition announced
Oct. 20, 2008
Pitt among top 10 U.S. universities in federal R&D obligations
Nov. 10, 2008
Pitt launches tractor-trailer mobile laboratory
Jan. 12, 2009
First No. 1 ranking for Pitt men's basketball
Jan. 26, 2009
Doorway to Distinction premieres
July 6, 2009
Office of Veterans Services created
Sept. 30, 2009
G-20 Special Issue; Medvedev, Barroso visit
Oct. 12, 2009
AAAC launches $3 million campaign; Saviors of Our Cities ranks Pitt No. 1 among public research universities
Nov. 30, 2009
Eleanor Ott named third Rhodes Scholar in five years
Jan. 19, 2010
World-Premiere screening of Pittsburgh Courier documentary
Feb. 8, 2010
Race in America conference announced
Feb. 22, 2010
Rescher donates materials to Pitt, Rescher Prize announced
April 5, 2010
Pitt premieres polio documentary
May 17, 2010
Pitt in top cluster of U.S. public research universities for fourth-consecutive year
Sept. 13, 2010
University's campaign tops $1.5 billion
Sept. 20, 2010
Pitt No. 15 U.S. public in Times Higher Education world rankings
Sept. 27, 2010
Pitt unveils Espresso Book Machine; 40th anniversary of Pitt Jazz Seminar & Concert
Oct. 18, 2010
The Pitt News celebrates 100 years
Nov. 1, 2010
AAAC campaign exceeds $2 million
Other Stories From This Issue
There are no stories for the issue at this time.
On the Freedom Road

Follow a group of Pitt students on the Returning to the Roots of Civil Rights bus tour, a nine-day, 2,300-mile journey crisscrossing five states.
Day 1: The Awakening
Day 2: Deep Impressions
Day 3: Music, Montgomery, and More
Day 4: Looking Back, Looking Forward
Day 5: Learning to Remember
Day 6: The Mountaintop
Day 7: Slavery and Beyond
Day 8: Lessons to Bring Home
Day 9: Final Lessons