Pitt Class Producing Feature Film with Local Actors in the Hill District
By Katie Fike and Ervin Dyer
Issue Date:
April 5, 2017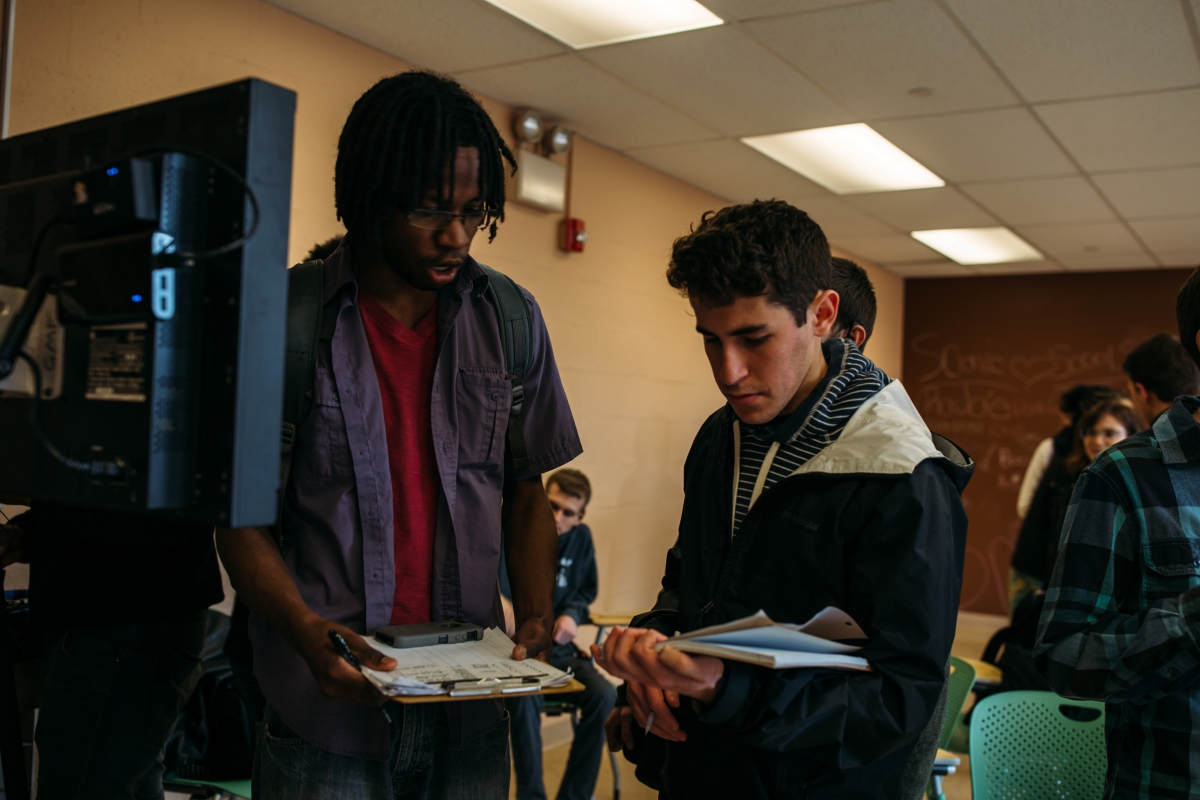 In a conference room at the Hill House in Pittsburgh's Hill District, 19 people met on the first evening in March for a table read. The gathering was a mix of Pitt students, local actors, Hill District neighbors and a woman cradling her sleeping child. The group listened to a screenplay by Demetrius Wren, a visiting assistant professor in Pitt's Film Studies Program and an award-winning documentary and feature filmmaker.
With Carl Kurlander — a Pitt senior lecturer in film studies whose writing credits include the film "St. Elmo's Fire" and television series "Saved by the Bell" — Wren is spearheading the first Steeltown Film Lab, a collaboration that merges film studies with film production, tapping into the talents and emerging efforts of student-run "Pitt Tonight," Pitt in Hollywood and UPTV.

The program puts Pitt students alongside film professionals and talent from the community both in front of and behind the camera. Students assume junior roles in which they learn about costumes, directing, lighting, sound and other aspects of filmmaking.
While Wren is teaching a class of Pitt students how to make a movie, in a meta twist, Kurlander is teaching a Making the Documentary course in which students document the filmmaking process itself.
The five-week production of Wren's film, "The Rehabilitation of the Hill," tells the story of a young woman, Gwendolyn Livingston, who is a successful app designer in San Francisco. She returns to the Hill District for her grandmother's 85th birthday and becomes involved in her family's effort to redevelop the Hill, a largely low-income, African-American community. The developers face opposition from a young woman, Kelly, who has been living and working in the Hill, and Livingston finds that trying to help her community is more challenging than she first thought.
The program is part of the University of Pittsburgh's Year of Diversity. Kurlander and Wren thought it was important to take students beyond the classroom and have them engage the local community to make a film with residents who live only blocks away from the Cathedral of Learning.
The idea was that students would be enriched by "getting outside their comfort zone," said Kurlander.
The lab is a partnership between Pitt; Wren's production company, Two Kids with a Camera; and Steeltown Entertainment Project, a nonprofit organization cofounded by Kurlander that came out of his work at Pitt and has been helping build an entertainment industry in the Pittsburgh region for more than a decade.
In conjunction with his class, Wren offered free evening community workshops during January and February. When Wren took his film class to the Hill District, he told others, "Come join us; you can make your own stories." On the first day, 60 people showed up — it was standing room only in the Hill House.
"When I saw that," Wren said, "I knew there were a lot of people in this community wanting to be a part of this project."
In many ways, Wren is returning to the communal, give-back mission that he experienced as a film student at Florida State University. For one of his first student films, his story focused on a newly single mother in Chinatown, and the first thing he did was to go to the Asian-American community in Tallahassee to make sure they were involved in the film.

Wren remembers being nervous on his first day at Florida State, when a senior walked up to him. "Welcome to film school," the older student said. That student was Barry Jenkins, the filmmaker behind this year's Academy Award winner, "Moonlight."
"Just the power of seeing somebody a few steps ahead who looks like you, doing what you want to do, helps you to dream that you can do it, too," said Wren.
With his Pitt outreach, Wren wants to show his students and members of the community how the film industry has changed and how film is a business of telling stories.
Often in Hollywood, people are not hired until they have extensive experience in the industry. "These kinds of experiences [like the one at Pitt] are meant to teach and prepare," said Wren, "and give people professional credit to open the door to opportunity."
Production of the film began March 16 and continues through April. For more information, including a video about the film, visit www.steeltown.org/fundthefilmlab/.
Other Stories From This Issue
There are no stories for the issue at this time.
On the Freedom Road

Follow a group of Pitt students on the Returning to the Roots of Civil Rights bus tour, a nine-day, 2,300-mile journey crisscrossing five states.
Day 1: The Awakening
Day 2: Deep Impressions
Day 3: Music, Montgomery, and More
Day 4: Looking Back, Looking Forward
Day 5: Learning to Remember
Day 6: The Mountaintop
Day 7: Slavery and Beyond
Day 8: Lessons to Bring Home
Day 9: Final Lessons