Pitt Day Takes University Community to Harrisburg Legislators
By Adam Reger
Issue Date:
March 24, 2014
About 300 University of Pittsburgh students, faculty, staff, alumni, and parents participated in the annual Pitt Day in Harrisburg on March 18.
Organized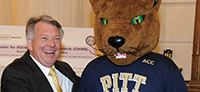 by Pitt's Office of Community and Governmental Relations and the Alumni Association, the day began at 7 a.m. when four buses departed from the William Pitt Union for the three-hour journey to the state's capital, where participants joined supporters from the University's four regional campuses.
Armed with a schedule, a list of names, backgrounds for state House and Senate members, and talking points, participants visited their state representatives' offices from 11 a.m. to 3 p.m.
The goal was to visit all 253 state legislators and for participants to tell their Pitt stories, emphasizing the importance of all that the University does, said Paul Supowitz, vice chancellor for community and governmental relations.
"Even if we don't get the chance to talk with them, we leave them a note," he said, along with "leave-behinds:" information packets specific to the county that each legislator represents, including the number of University of Pittsburgh students and employees who reside in each county.
"We're coming through a period of time when we've had huge and disproportionate cuts, followed by two years of flat funding," Supowitz said. "Our message was that it's time for the state to reinvest in public higher education. It's not only an important investment for the region but it's also critical in order to keep the state's research universities accessible to Pennsylvania students."
Pennsylvania Governor Tom Corbett's budget proposal, released in February, calls for another year of flat funding for the University. The House and Senate must pass the final budget by June 30, making the Pitt Day in Harrisburg a timely and critical opportunity for the Pitt community to make its voice heard, said Supowitz.
"It's a great opportunity to get our students, staff, and faculty to the Capitol to let legislators know what we're doing and to validate the investment they make in us," he said.
Legislators were very friendly, asking questions about students' studies and future plans, said Student Government Board President Mike Nites. One legislator spoke with Nites for 20 to 30 minutes—far longer than the usual meeting—and said that he looks forward every year to meeting with Pitt students.
"Pitt Day in Harrisburg is really important because it brings personal experiences to the legislators. And students make the connection that without state funding, they might not be able to go to Pitt," Nites said.
The day culminated with a legislative reception on the stairs of the Capitol's rotunda, with speeches by Pitt Chancellor Mark A. Nordenberg, Supowitz, Nites, and Pitt Alumni Association President Jane Allred.
While in Harrisburg, Chancellor Nordenberg was honored by resolutions in both the House and Senate.
"The comments from legislative leaders were very touching and could not have been more complimentary to the chancellor, both as a leader and as a person. That helped to make it a special day," Supowitz said.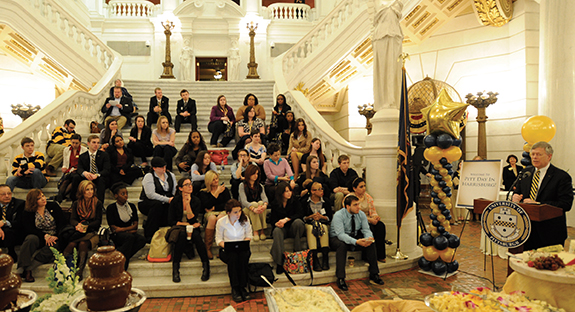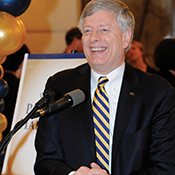 Other Stories From This Issue
There are no stories for the issue at this time.
On the Freedom Road

Follow a group of Pitt students on the Returning to the Roots of Civil Rights bus tour, a nine-day, 2,300-mile journey crisscrossing five states.
Day 1: The Awakening
Day 2: Deep Impressions
Day 3: Music, Montgomery, and More
Day 4: Looking Back, Looking Forward
Day 5: Learning to Remember
Day 6: The Mountaintop
Day 7: Slavery and Beyond
Day 8: Lessons to Bring Home
Day 9: Final Lessons